9 Benefits of DIY Kitchen: Craft Your Perfect Space with Better Kitchens
At Better Kitchens, we understand the allure and satisfaction that comes with crafting something with your own hands. Especially when that 'something' is a space as intimate and personal as your kitchen. That's why we're huge advocates of 'Do It Yourself' or DIY kitchens.

With our extensive selection of affordable kitchens, the power is in your hands to design and assemble the perfect cooking and dining space that suits your unique needs, tastes, and budget. Here are some reasons why DIY kitchens are a fantastic choice for homeowners.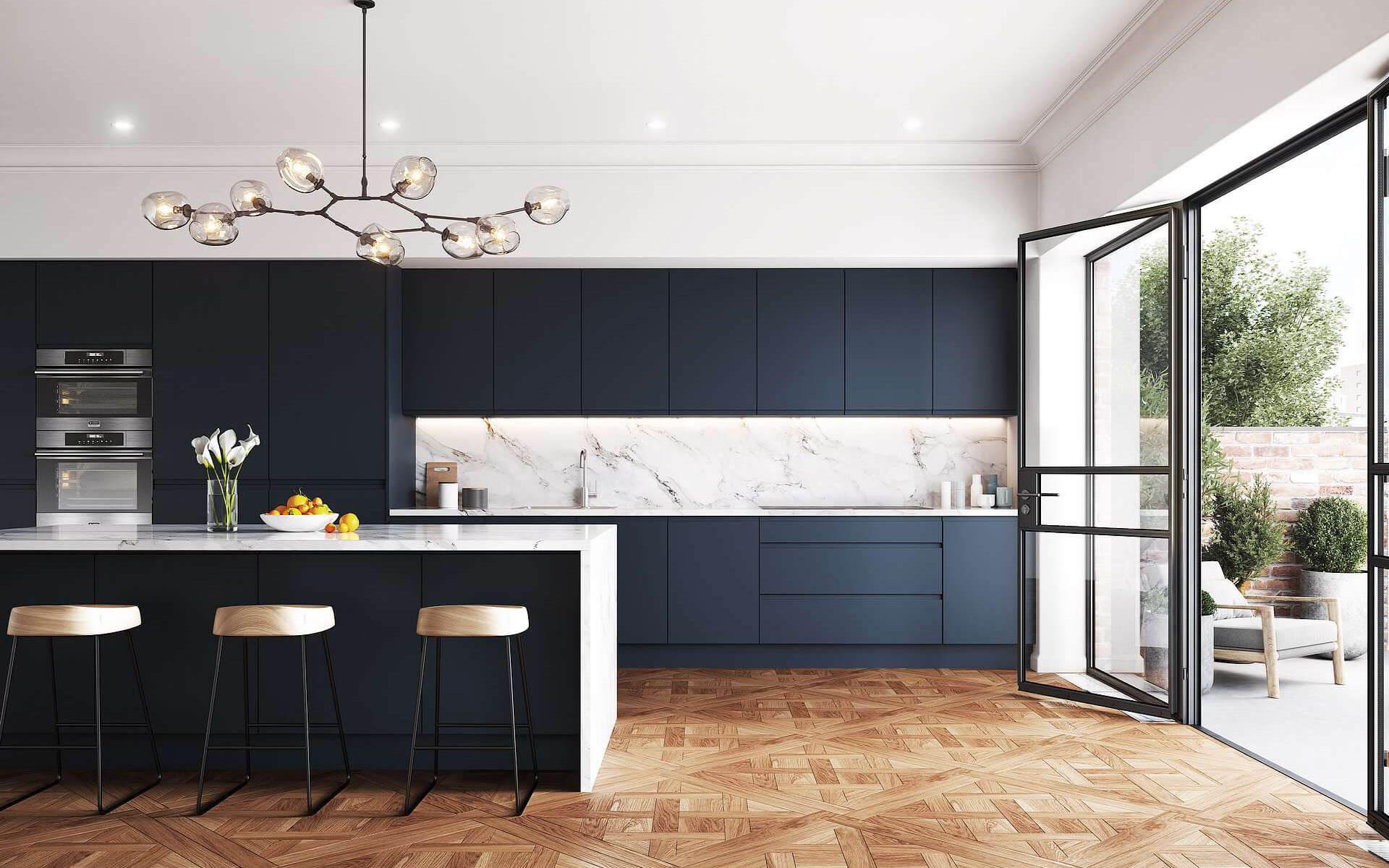 1. Cost-Effectiveness: Premium Quality at Affordable Prices
One of the most significant benefits of DIY kitchens is their cost-effectiveness. At Better Kitchens, we firmly believe that high-quality kitchen units should be accessible to everyone. Our handcrafted supply only kitchens provide the same level of quality and style you'd find in high-end stores, but at a fraction of the price.

When you opt for a DIY kitchen, you eliminate the costs associated with labour and installation. Instead of hiring professionals, you can put on your handyman hat and assemble the kitchen yourself, resulting in substantial savings.

2. Customisation: Create the Kitchen of Your Dreams
Choosing a DIY kitchen from Better Kitchens gives you the freedom to tailor your kitchen exactly to your taste. Why settle for a one-size-fits-all solution when you can craft a space that reflects your personality and lifestyle?

Whether you favour a modern aesthetic or a classic design, we offer a wide range of styles and finishes to choose from. You can mix and match different elements, from cabinets and worktops to handles and accessories, to create a kitchen that's uniquely yours.

3. Quality: Exceptional Craftsmanship
We pride ourselves on providing quality kitchen units that are not only durable and functional but also beautiful. Each piece is handcrafted by our skilled team, using only the best materials. We pay attention to every detail, from the selection of raw materials to the finish of each product, ensuring that our kitchens withstand the test of time.

Opting for a DIY kitchen does not mean compromising on quality. In fact, at Better Kitchens, it's quite the opposite. We are committed to delivering products that excel in both aesthetics and longevity.

4. Satisfaction: The Joy of Creating
There's a unique sense of accomplishment that comes from creating something with your own two hands. Assembling your DIY kitchen not only provides you with a sense of achievement, but it also allows you to appreciate the craftsmanship and quality of our products in a whole new way.

Building your kitchen can also be a fun and rewarding project to undertake with family members or friends, creating not just a beautiful space, but also memories to cherish.

5. Innovation: Constantly Evolving Designs
At Better Kitchens, we never stop innovating. We are continuously introducing new designs and products to our range, keeping abreast with the latest kitchen trends. When you choose a DIY kitchen from us, you can be sure that you're getting the most cutting-edge, stylish options available.

With our comprehensive online resources and customer support, we make the process of designing and installing your kitchen as seamless as possible. We're here to guide you every step of the way, ensuring you have the tools and knowledge you need to create your dream kitchen.

6. Realising Your Vision: The Process of DIY Kitchens
Intrigued by the idea of a DIY kitchen but unsure where to start? Don't worry, we've got you covered. Here's a quick step-by-step guide on how you can make your dream kitchen a reality with Better Kitchens.

Plan Your Space: First, take measurements of your kitchen space. Consider where your appliances will be placed and where you want your cabinets and worktops to go.

Design Your Kitchen: Using our online kitchen planner, you can design your kitchen, playing around with different layouts, styles, and finishes. Remember, this is your chance to let your creativity shine, so don't be afraid to try something new!

Order Your Kitchen: Once you're satisfied with your design, you can place your order directly from our website. We'll then handcraft your kitchen units and deliver them right to your doorstep, ready for installation.

Install Your Kitchen: Now comes the exciting part—installing your kitchen! With our detailed instructions, you'll find that assembling your kitchen is a breeze. Of course, our customer service team is always on hand to assist you if you have any questions or run into any difficulties.

7. Hear it From Our Customers: Testimonials
Don't just take our word for it—hear what our satisfied customers have to say about their DIY kitchens from Better Kitchens!

"I am so pleased with my new kitchen from Better Kitchens. The quality is far superior from the doors and hinges to the carcasses. I thoroughly recommend this company to anyone and everyone looking to install a Beautiful new kitchen." - Kevin Mills

"We liked the fact the units came assembled it saved us time. The kitchen themselves are really good and solid, they come with all doors / draws on so a huge time saving." - Samantha Marie

"Excellent quality, solid units, really well made, brilliant craftsmanship and beautiful finish. I am so pleased with my new kitchen from Better Kitchens. I thoroughly recommend this company to anyone and everyone looking to install a Beautiful new kitchen." - Tracy Davies

"It was a difficult time post covid but the communication and service was exceptional from Julian and the team. Every member of staff we encountered was polite, knowledgeable, helpful and approachable." - Rachel Garrigan

These testimonials highlight the quality of our products, the efficiency of our delivery and installation process, and our exceptional customer service. At Better Kitchens, we're committed to providing our customers with a positive and satisfying experience.

8. Comparing Your Options: DIY Kitchens vs. Traditional Kitchens
While traditional professionally installed kitchens have their benefits, DIY kitchens offer unparalleled flexibility, cost savings, and the satisfaction of creating your own space. It's the ideal solution for homeowners who love to get hands-on and those who want a personalised kitchen that truly reflects their style.

So whether you're renovating your existing kitchen or planning a kitchen for a new home, consider the benefits of a DIY kitchen. You'll not only save money but also have the freedom to design your space, choose your materials, and enjoy the satisfaction that comes with assembling your kitchen.

9. A Deeper Dive: Our Products and Services
At Better Kitchens, our range of products reflects our commitment to quality, affordability, and style. We offer a variety of kitchen units, worktops, and accessories, all crafted to the highest standards. We also provide a range of services to support you in your DIY kitchen journey, from our online kitchen planner to our friendly and helpful customer service team.

Our kitchen units are handcrafted using the best materials and come in a range of styles and finishes, from timeless classics to contemporary designs. Our worktops are available in a variety of materials, from durable laminate to luxurious granite, allowing you to choose the perfect worktop to complement your kitchen units.

And it's not just about the big things—we also offer a range of kitchen accessories, including handles, lighting, and storage solutions, to add the finishing touches to your kitchen.

At Better Kitchens, we are passionate about helping you create your perfect kitchen. We're here to support you every step of the way, from designing your kitchen to the moment you stand back and admire your handiwork.

Embracing the DIY ethos doesn't just save you money—it opens up a world of possibilities for personalising your kitchen, allowing you to create a space that truly feels like home. Whether you're a seasoned DIYer or a complete beginner, our team at Better Kitchens is ready to support