Kitchen Planner Online:
FREE 3D Kitchen Designer Tool

Plan your new kitchen in your own home or in our showroom DIY planning zone.
Start planning your new kitchen online today
You don't need to be an expert, its easy to use and our team are here to help...
About Our 3D Kitchen Design Tool


What Can It Do?
Our FREE Better Kitchens Online Planner allows you to plan any of our kitchen styles in your required layout, all from the comfort of your own home.
Is There a Charge to Use the Planner?
No, there is no charge for using the planner. However, you will need to create an account. This allows you to save your plans for future use.
Can We Do a Kitchen Plan For You?
Absolutely , our team can help you plan the kitchen. Simply enter your room dimensions and request our team for assistance with the planning process.
Kitchens Designed by Our Customers Using the Planner

Take a look at these three kitchen designs, all created by our customers using the online planner. Each showcases a unique style, offering a glimpse into the possibilities.
How to Use the Planner




Launching the 3D Planner Application
First, create your Better Kitchens account and then click the Launch Planner button.
Learning How to Use the Kitchen Planner
Before starting your plan, we advise you to navigate around the planner to familiarise yourself with the buttons and controls. Visit our Help Guide section for comprehensive instructions.
How to Get a Price for My Kitchen Plan
Once you are happy with your plan, you can either price up your kitchen plan yourself on our website or alternatively, raise a support ticket from your account and ask us to generate a price for you.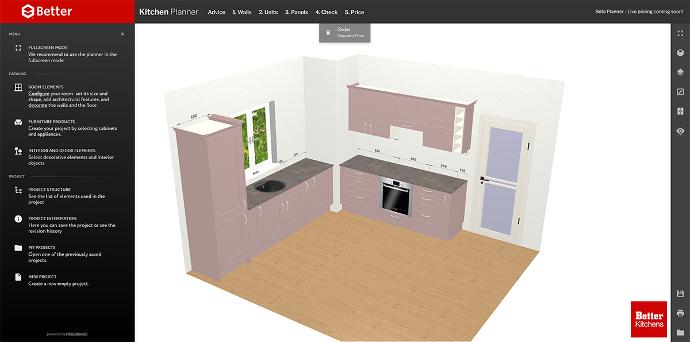 Revolutionise Your Space: The Power of Online Kitchen Planners
Discover the Magic of 3D Kitchen Design for Free
Today, we're diving into the world of online kitchen planners. These handy tools are revolutionising the way we design our kitchens, making it easier than ever to create the kitchen of your dreams from the comfort of your own home.


The Rise of the Online Design Tools
In the past, designing a kitchen involved a lot of guesswork. But with the advent of online kitchen design, you can now visualise your kitchen before a single cabinet is installed. With 3D kitchen design free tools, you can experiment with different layouts, styles, and colours until you find the perfect fit for your home.
The Magic of 3D Kitchen Design
The beauty of 3D kitchen design lies in its ability to bring your ideas to life. With kitchen 3D planner tools, you can see your kitchen from different angles, adjust the lighting, and even see how your chosen appliances will look in your space. It's like having a virtual kitchen right at your fingertips!

The Best Part? It's Free!
That's right, most online kitchen planner free tools allow you to design your dream kitchen without spending a penny. This means you can take your time, try out different ideas, and make sure you're completely happy with your design before you start the building process.
The Power of Better Kitchens
At Better Kitchens, we're proud to offer our own free kitchen design software UK. Our kitchen planner online free tool is easy to use and offers a wide range of options to help you create your perfect kitchen. Plus, with our online kitchen designer UK, you can rest assured knowing you're working with a trusted name in the industry.
The Future of Kitchen Design
With online kitchen design UK tools becoming more sophisticated and user-friendly, it's clear that the future of kitchen design is online. So why not give our online kitchen design tool UK a try and start planning your dream kitchen today?

Your Questions Answered: Online Kitchen Planning Tools
We know that the world of online kitchen planning can be a bit daunting, especially if you're new to it. That's why we've compiled a list of the most frequently asked questions to help you get started.
To sum up...
Better Kitchens offers an all-encompassing and intuitive online tool, which empowers you to craft your ideal kitchen from the cosy confines of your own abode.
The added bonus of their proficient team's guidance, coupled with the capability to tally up your kitchen design's expense, makes it an outstanding resource for anyone keen on creating a fresh kitchens with a view to them becoming fitted kitchens.
Their continual striving to enhance the planner, as well as their suite of services, exemplifies their dedication towards customer gratification and innovation within the kitchen design sector.