The Importance of Kitchen Design Software in 2024
As we move further into the digital age, the significance of kitchen design software becomes increasingly apparent.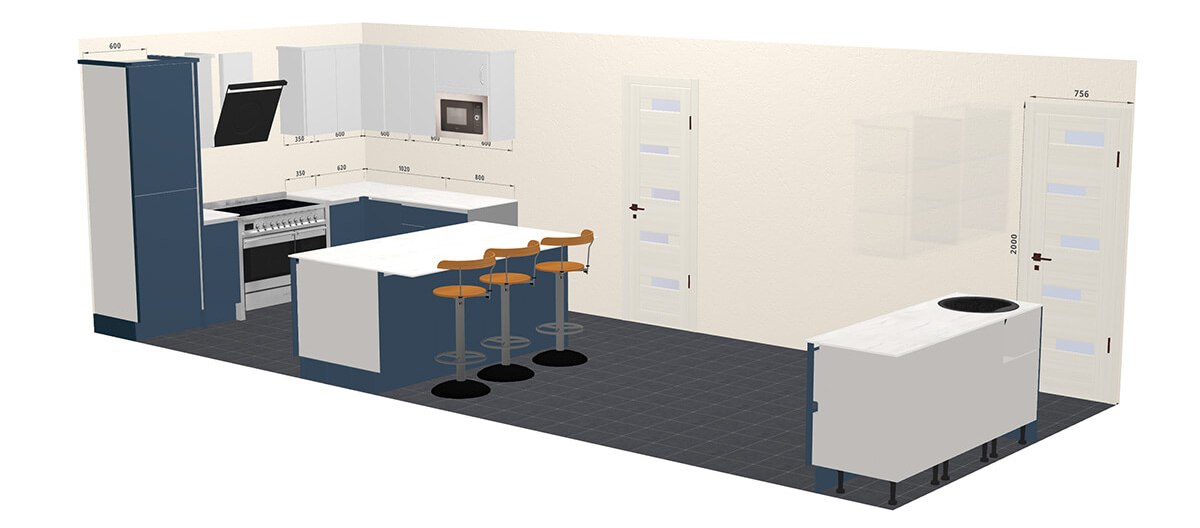 Blue True Handleless Kitchen designed on the Better Kitchen 3D Online Kitchen Planner 
You, aspiring interior designers or homeowners in 2024, leverage these tools to actualise your dream kitchen, eliminating the guesswork and reducing margin for errors. 
What exactly is kitchen design software? In essence, it's a digital platform that allows you to generate a virtual representation of your kitchen layout.
Through this software, you can plan where appliances will go, choose colour schemes, and even design intricate details, all with a few clicks. 
More than ever before, advances in technology have made kitchen design software an invaluable tool.
With features like 3D renderings and virtual reality integration, it's now possible to explore your envisioned space from an immersive, in-depth perspective.
This means less surprises and more precision when it comes to the execution of your ultimate design. 
Moreover, kitchen design software is continuously evolving, offering endless possibilities for your creativity. The advent of cloud-based platforms has allowed design access anytime, anywhere, fostering collaboration and flexibility.
With this, you can share your concepts easily, gather feedback, and make quick amendments to your planned layout, thereby improving the final product. 
"Real innovation is about pushing boundaries, and that's what kitchen design software achieves through intuitive, yet sophisticated technology."
So, why does kitchen design software matter in 2024? The answer is multi-layered. On one hand, it revolutionises the design process, making it accessible, intuitive, and interactive. On the other hand, it empowers you with effective resource management. It helps you optimise available space, suggests cost-efficient alternatives, and ensures precise estimations—saving both time and money. 
Whether for professional interior designers seeking precision and efficiency, or for homeowners hoping to realise a long-held dream kitchen, the emphasis on kitchen design software in 2024 is clear. It's not just a trend, but an evolving necessity in our digital-dominated era.
Top Features to Look for in Kitchen Design Software
Choosing the right kitchen design software can be a daunting task. If you're feeling overwhelmed by the sheer number of options available, fear not - we've got you covered.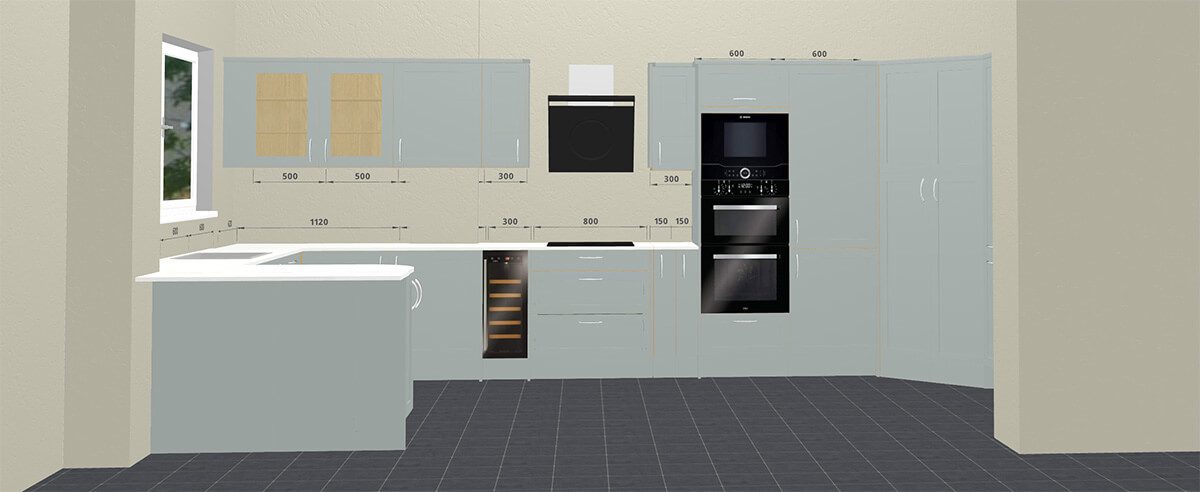 Light Blue Shaker Kitchen designed on the Better Kitchen 3D Online Kitchen Planner 
Here, we've rounded up some of the most essential features that top-notch kitchen design software should include. 
Intuitive Interface: As a user, you shouldn't have to wrestle with overly complex tools or navigate a confusing layout. An intuitive, user-friendly interface is a must—it allows you to focus more on creating your dream kitchen, and less on figuring out how to use the software.
High-Quality Graphics: When designing your kitchen, the ability to visualise the finished product is crucial. The software should offer you crisp, high-definition graphics so you can see each detail as clearly as if it were right before your eyes.
Customisability: The software should offer a broad range of design elements to choose from. This includes different kinds of appliances, tiles, countertops, cabinets, and more. The more options you have, the more customised and personalised your kitchen design can be.
3D Modelling: This is a game-changer in the world of kitchen design software. The ability to create 3D models helps you to visualise your kitchen from different angles, illuminating how your design choices might play out in a three-dimensional space.
Cost Estimation: A top-tier kitchen design software should incorporate a budgeting or cost estimation feature. This way, you can keep track of potential expenses and make adjustments to your design to ensure it stays within budget.
Remember, the best kitchen design software for you depends on your individual needs and preferences.
Consider these features when making your selection, but don't forget to factor in your level of design expertise, your budgetary constraints, and any specific requirements you might have for your dream kitchen.
Armed with this knowledge, you're well on your way to choosing the best kitchen design software of 2024.
Free Kitchen Design Software: What You Need to Know
With technology advancing at lightning speed, you now have a plethora of kitchen design software options at your fingertips. Free design software is particularly appealing, given the substantial zero price tag.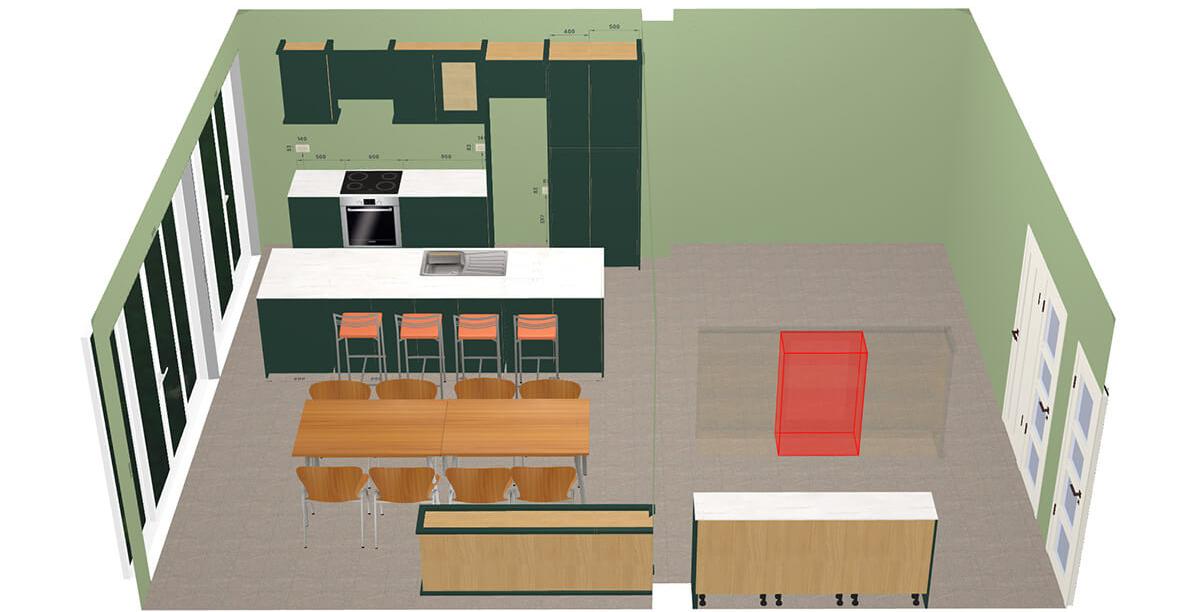 Conifer Green Handleless Kitchen designed with a large Island feature
But before making a dash for the first free option that comes your way, it's crucial to understand what you're getting into and to ensure it aligns with your design needs and abilities. 
Free design software often offers limited features compared to paid versions.
While you might be able to create basic layouts and see a three-dimensional view of your kitchen, the tools available for more advanced design such as lighting effects, custom cabinets, or complex tiling patterns, may be limited or non-existent. 
Pros of Free Software: This is typically user-friendly and straightforward to use, and obviously, it's free. It's ideal for those who are just dipping their toes in the world of interior design.
Cons of Free Software: The customisation options are often limited and you may not be able to visualise your designs as clearly as with more advanced, paid software.
Though free kitchen design software may not offer as many features as paid versions, it does have its merits. They are great for those who just want to play around with different kitchen designs or who are only interested in making minor changes.
They can also be a helpful tool in determining your basic layout before hiring a professional to add the finishing touches. 
It's important to explore multiple options before settling on one software application, as this will allow you to find the one that suits your needs best.
Spend time learning the platform, experimenting with the features, and getting a feel for the software. This can go a long way towards ensuring your success in designing the perfect kitchen. 
Remember, the best software for you is the one that best meets your individual needs, whether it's a free program with basic features or a paid version with advanced design capabilities. Choose wisely, and happy designing!

Online Kitchen Design Software: Pros and Cons
 The beauty of online kitchen design software is the sheer convenience it offers. You can access your projects anytime, anywhere as long as you've got an internet connection.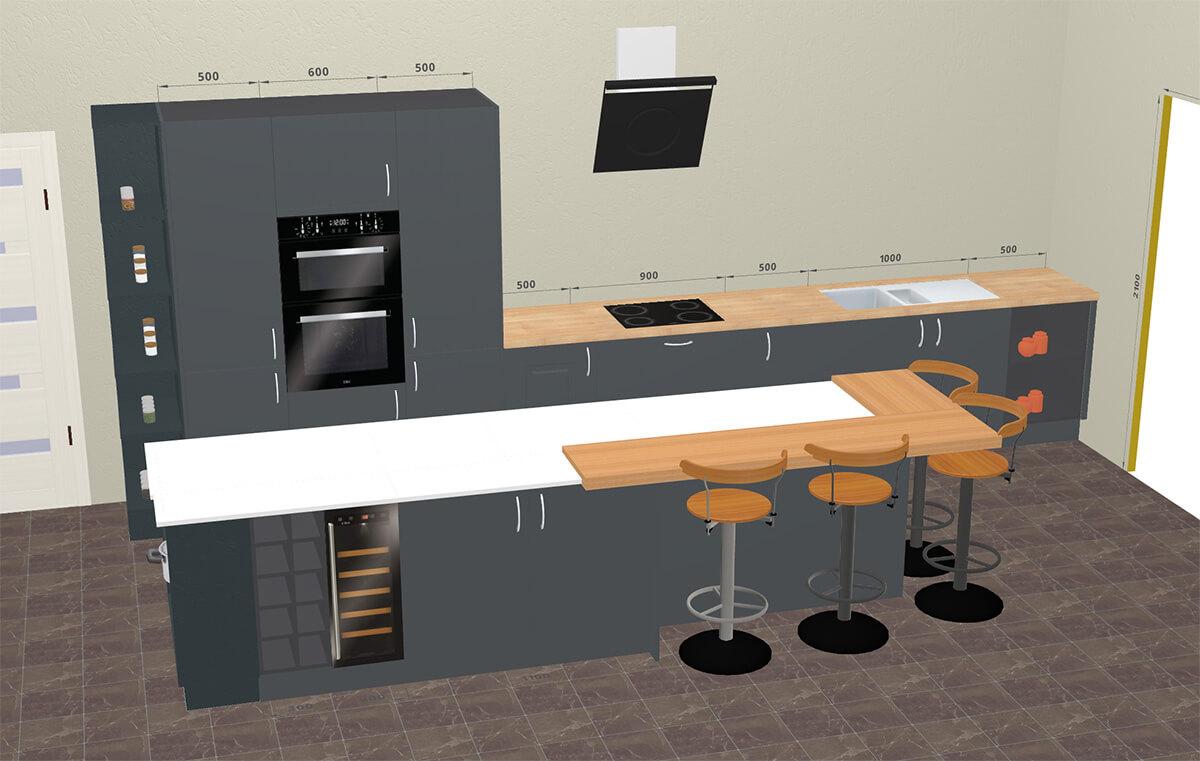 Graphite Grey Kitchen designed with a large Island and raised solid wood breakfast bar seating corner
It's that simple! Whether you're a professional designer ensuring that all the precise calculations are on the dot, or a homeowner seeking to capture that ideal kitchen framework in your mind, online kitchen design software serves both needs perfectly. 
Let's kick off the discussion with some of the advantages of such software: 
Accessibility: With online software, you can work on your project anywhere, even on a beach. Just don't let the sand get in your laptop!
Saves time: No need to download anything or worry about updates. Online design software is always up to date.
Easy sharing: Collaborating with others is fuss-free. Just share the link to your design and voila, teamwork makes the dream work!
However, it's only fair to shed light on the drawback too. 
Reliant on Internet: Without a steady internet connection, your design efforts can be hampered.
Despite this concern, the upsides of using online kitchen design software generally outweigh the downsides, particularly for those who value convenience, accessibility, and ease of use. 
It's worth noting that free and paid options vary greatly in terms of depth and feature competence, so make sure to research and choose wisely depending on what you need - a quick layout sketch or a fully realised 3D rendering.
Paid Kitchen Design Software: Is It Worth the Investment?
Deciding on whether to invest in paid kitchen design software can seem like a quandary. While free options abound, premium products often offer functionalities that can significantly simplify and streamline the design process.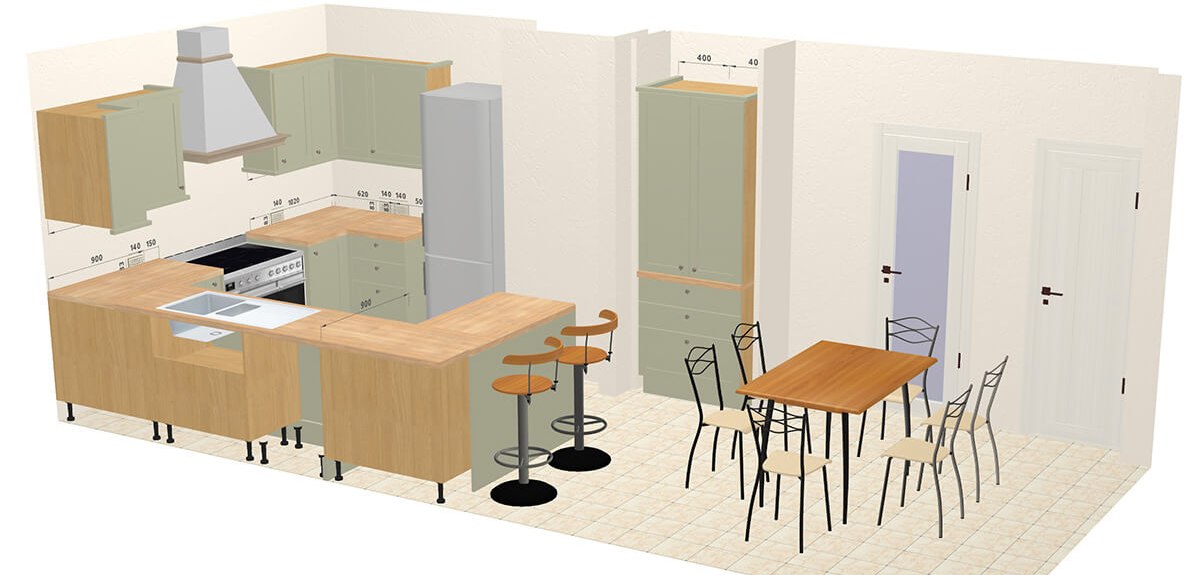 Sage Green Shaker Kitchen designed with a peninsular seating feature
So let's explore to determine if they're indeed worth the extra cost. 
Paid programs often distinguish themselves by providing not just basic layouts but also advanced tools that allow you to customise every aspect of your kitchen design. Amongst the multitude of features, you'll likely find: 
3D Rendering: Unlike basic 2D sketches, 3D renderings offer lifelike depictions of your design ideas. This virtual visualisation can provide a clear picture of how your kitchen will look once put together.
Virtual Reality Integration: Some premium software also supports VR, letting you step into your planned kitchen for a genuine feel of space and aesthetics.
Extensive Catalogue: Higher-end software usually has extensive databases of products, fixtures and finishes, letting you experiment with a vast range of options.
Construction Tools: More proficient users can benefit from complex tools such as ray tracing, light simulation, and accurate material reproduction facilitating a comprehensive visual portrayal.
That said, splurging on a paid kitchen design software won't necessarily guarantee you a kitchen straight out of a glossy interior design magazine.
As with most software, there's a learning curve. Before committing yourself to a paid plan, it's important to carefully consider your specific needs, skills and budget.
"Investment in paid software is not just about money but also time and effort. The ideal software should not only be within your budget but also complement your design acumen and patience to learn."

The bottom line is if you need a detailed, precise, realistic visualisation of your dream kitchen, and you're willing to invest time learning the software, then paying for a premium kitchen design tool could be worth it.
If you require professional-level customisation, industry-grade software can indeed give that edge.
But if you're a novice or working on a small project, a free user-friendly software might serve you just as well. Always remember to make a decision based on your personal needs and project specifics.

Comparing the Best Kitchen Design Software of 2024
When it comes to selecting the prime kitchen design software for your project in 2024, a comparative analysis proves invaluable. This section will lay down comparison criteria and provide an overview of the top contenders in the field.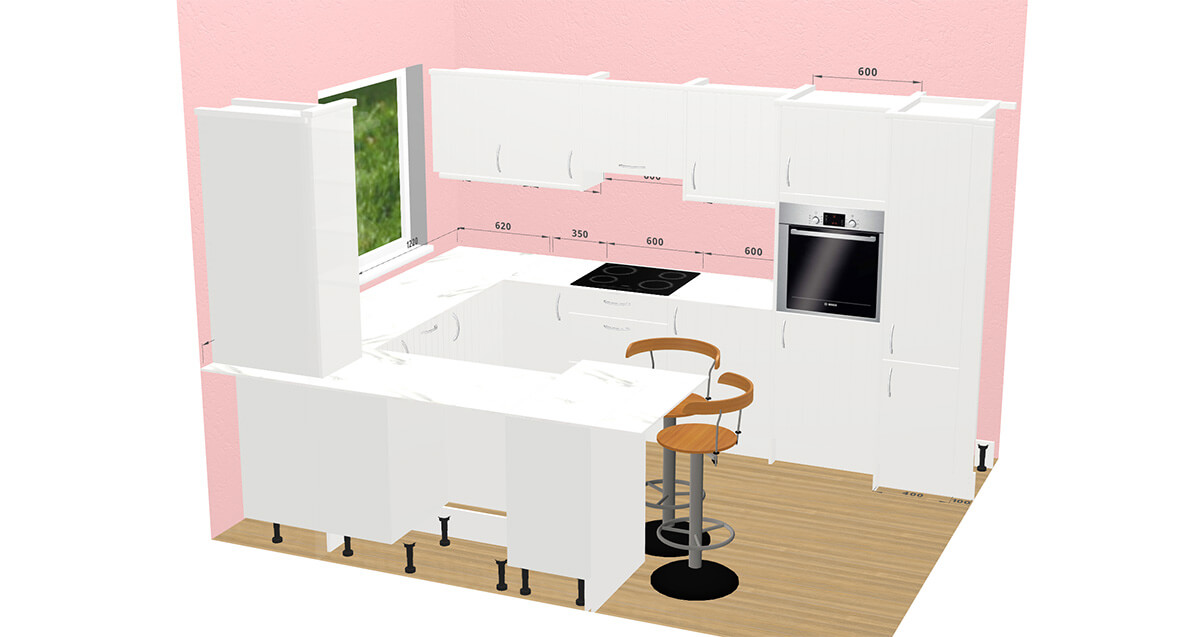 White Grey St Ives style Kitchen designed with a small but clever peninsular seating area.
The analysis will be based on different significant parameters such as user-friendliness, feature-set, price, virtual reality integration, customer reviews, and after-sales support.
We believe these parameters are core to an effective kitchen design programme. 
| Software | Description |
| --- | --- |
| Homestyler | Simple, free online 3D home design software with a specialised kitchen module for easy layout creation |
| SketchUp | Versatile design tool, great for drawing layouts and viewing them in 3D |
| IKEA 3D Kitchen Planner | Ideal for planning with IKEA products, helps design kitchen layout based on provided dimensions |
| Planner 5D | User-friendly tool for making 3D floor plans and designs with a variety of elements for customisation |
| Better Kitchens 3D Online Kitchen Planner | Offers many options in cabinet designs and appliances, great for personal-level designing with a licensed version for businesses available |
| Home Hardware Kitchen Design Software | Specific to kitchen design, with interactive 3D web visualisation tool |
| Foyr Neo | Online, fast design and visualisation software, ideal for creating realistic renders quickly with over 60k pre-modelled products |
| Online backsplash designer | Helps design backsplash and match cabinets, focusing on wall details |
| Sweet Home 3D | Simple tool with a drag-and-drop interface for basic design needs |
| AutoCAD Architecture | Professional-grade tool known for precise architectural design |
| Easy Planner 3D | Online tool for creating simple kitchen layouts |
| Lowe's Virtual Kitchen Designer | Offers a simple UI with innovative decor ideas, allowing for a 3D render of your kitchen design |
| RoomSketcher | Provides interactive floor plans and 3d imagery |
| SmartDraw | User-friendly with templates for quick design creation |
| HomeByMe | Offers realistic 3D rendering for designing kitchens |
| AutoKitchen | High-end design software with extensive cabinet catalogues and advanced rendering technology for creating accurate plans and extraordinary presentations |
Also worth mentioning are SketchUp and Better Kitchens. SketchUp leaps out for offering both a free and pro version, catering to a wider audience. Meanwhile, Better Kitchens 3D Kitchen Planner Online Software stands out for its rendering quality and is tied in to a pricing and ordering platform. 
Whichever software you choose, ensure it aligns with your specific needs, financial capabilities, and proficiency level. A more expensive and sophisticated software might not necessarily be a better fit for your requirements.
So there you have it! A crisp comparison to aid you in finding the best kitchen design software of 2024 that keeps in stride with technological advancements while facilitating functional and aesthetic designs for your dream kitchen.
User-Friendly Kitchen Design Software: Simplifying the Process
Kitchen design has been revolutionised by the introduction of user-friendly software that allows you to simplify the design process.

Light Grey Shaker style 'L' Shaped Kitchen designed using the Better Kitchens Planner
You no longer need to be a professional designer to envision and bring your dream kitchen to life. Empowering any and all users, these platforms are designed with ease-of-use as a paramount feature. 
The beauty of user-friendly kitchen design software lies in its simplicity. With an intuitive interface, you need not rack your brains over complex functionalities.
Easy navigation through the software's features, tools, and settings is the order of the day. You have the freedom to experiment and explore different design elements conveniently, without succumbing to the pressures of technical mishaps. 
Getting accustomed with a user-friendly design platform happens quite seamlessly.
The best user-friendly kitchen design software usually incorporates step-by-step tutorials or guides, ensuring you get a kick-start in your journey of designing your dream kitchen.
Additionally, there's often an online community or forum, where users share tips, hacks, and feedback on their experiences, enhancing overall usability. 
Drag-and-drop features: This can expedite your designing process, making it easier to place appliances, change colours or add cabinets anywhere in your layout.
Pre-designed templates: They provide a great starting point if you prefer not to start your design from scratch, but still want to add your personal touch.
2D and 3D views: Switch between different view modes to get a better idea of how your kitchen will look in real-life scenarios.
These features all work towards streamlining your design process, allowing you to avoid trial and error, whilst ensuring a certain degree of design versatility.
Nevertheless, as with any piece of technology, there can be a learning curve to mastering these platforms, and some might require the presence of certain system requirements to run smoothly. 
As we move forward to 2024, user-friendly kitchen design software will continue to evolve, incorporating cutting edge technology and easier customisation options, while maintaining their usability for end users.
Ultimately, the aim is to simplify a commonly perceived complex task and to make designing a kitchen a fun and creative experience for all.
Exploring Virtual Reality Integration in Kitchen Design Software
One thrilling development in the realm of kitchen design software is the advent of virtual reality (VR) integration. It offers a more comprehensive and immersive experience, enabling you to truly visualise how your dream kitchen would turn out.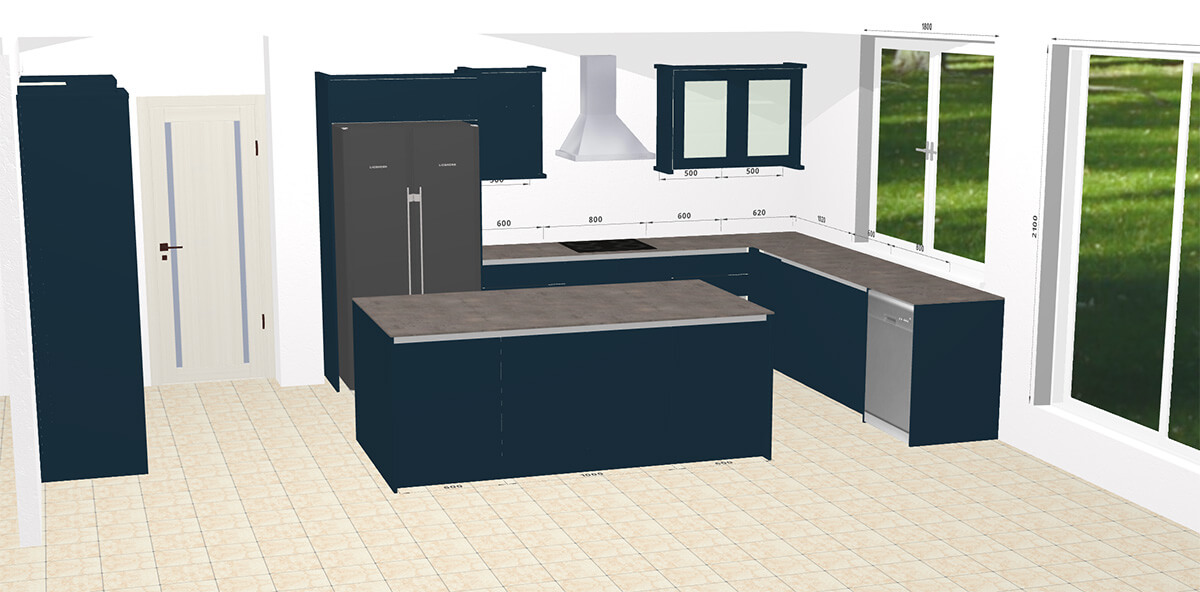 Indigo Blue True Handleless  Open Plan Kitchen designed with an Island and a USA Fridge Freezer housing
But, do you understand the potential value of this revolutionary feature? Let's delve into it. 
Dubbed as the future of design, VR goes a step further than the traditional 2D and 3D representations.
Thanks to VR, you can explore every nook and cranny of your virtual kitchen, get a feel of the layout, and make changes before they are implemented in reality. It's like having a test run of your kitchen design. 
Real-time adjustments: With virtual reality, you can make alterations to your kitchen design in real time and see the impact immediately. This saves both time and resources in the process.
Greater Accuracy: VR presents the design elements to scale, offering you a more precise idea of the sizes and spatial relationships between different components.
Decreased Error possibilities: Since VR equips you with a lifelike feel of the design, it minimises chances of errors and misjudgements, saving potential costs in the long run.
However, remember that using kitchen design software with VR capabilities may require specific hardware like VR headsets, and might be more resource intensive than standard software.
But as technology advances and becomes more accessible, this may not pose a significant hurdle. 
With VR integration, kitchen design software can add a sense of realism and depth to your design process that static images and models simply can't capture.
Overall, the possibilities opened up by VR in kitchen design are expansive and inspiring.
Whether you're a professional designer or a homeowner, the ability to experience your proposed kitchen in a virtual world, to walk around it, and make live changes, is undeniably impactful.
Although relatively new, it's slowly transforming the way kitchens are designed, heralding a new era in interior design.
Designing your Dream Kitchen: How Kitchen Design Software Can Help
Ever dreamt of designing your own luxurious and perfect kitchen? The dawn of innovative kitchen design software could just be your ticket.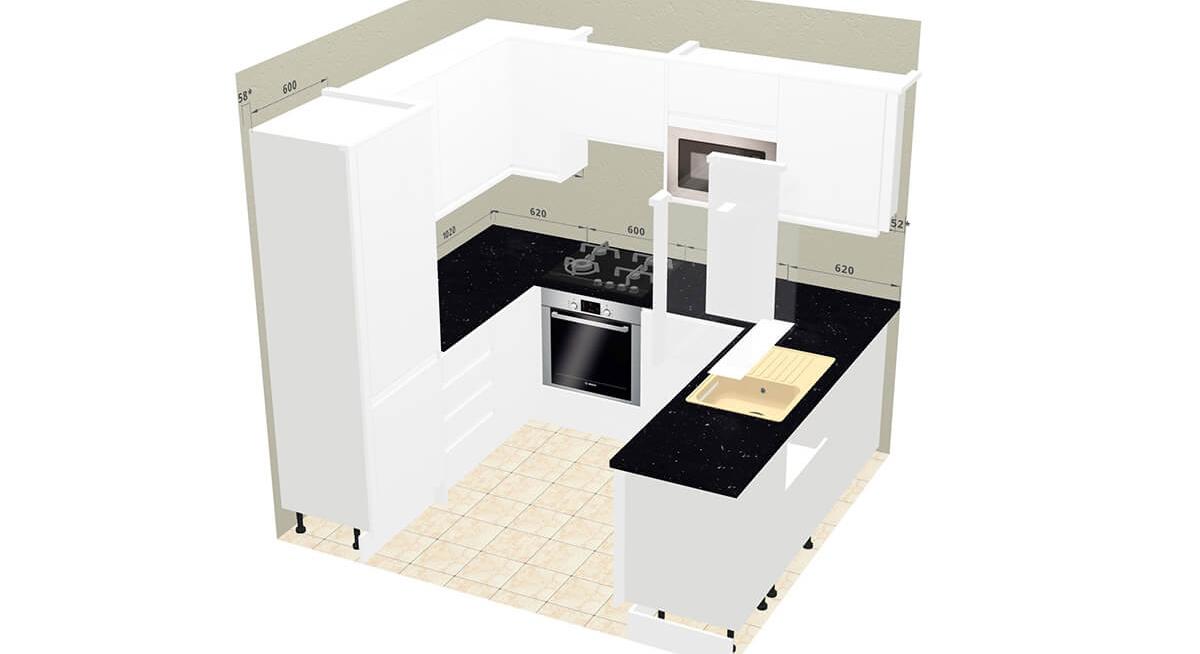 Kitchen design software can be a great way to plan small kitchens
With these digital tools, you can transform your imaginations into realistic visual representations, elevating your kitchen redesigning experience. 
Let's see how kitchen design software can assist in crafting your ultimate kitchen with ease.
Designing a kitchen from scratch can indeed feel overwhelming—from effectively utilising the space to determining the perfect layout, everything requires careful planning and thought.
Here is where software comes to the rescue. No need for professional kitchen designers anymore; these advanced programs facilitate conceptualising, designing, and visualising your dream kitchen at your fingertips. 
Let's look at some of the ways how:
Immersive 3D Visualisation: Many of the best kitchen design software's now offer 3D visualisation features. These features bring your design ideas to life, allowing for viewing from different angles and making modifications in real-time.
Efficient Space Planning: With software at hand, spatial layout becomes a breeze. It allows for efficient placement of kitchen cabinets, countertops, and appliances, ensuring optimal use of available space.
Theme Exploration: Experimenting with colour schemes and themes becomes straightforward with kitchen design software. It fuels your creativity, enhancing the overall aesthetic of your kitchen design.
Cost Estimation: Cost is a potential bottleneck in any renovation project. The software typically includes a cost estimator tool to calculate and streamline your budget effectively.
It's clear that kitchen design software arms you with the necessary tools to bring your kitchen dreams into reality.
But remember, while these software programs pave the path for a simplified design process, actual implementation requires meticulous planning and execution.
After all, the heart of your home deserves the best!
Staying on Budget: Cost-Effective Design Software Options
Creating your dream kitchen doesn't have to be an expensive endeavour. There is a plethora of budget-friendly kitchen design software available in the market today.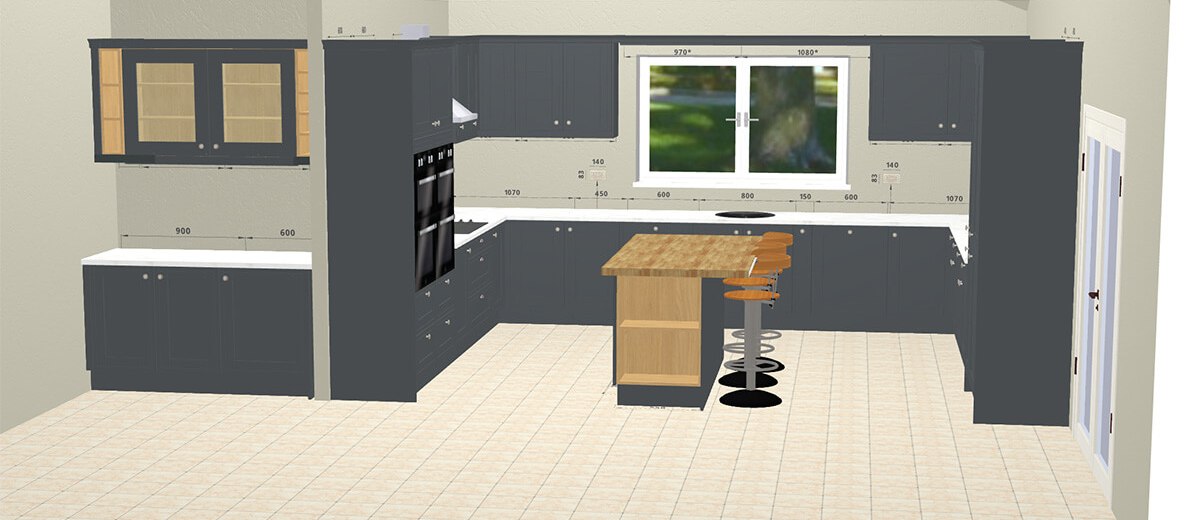 Open shelving on the Island with this traditional kitchen in Graphite Grey and Oak Carcasses
The primary thing to remember is to strike a balance between cost and functionality. Let's discuss some cost-effective choices. 
Free Kitchen Design Software: Free kitchen design software can be an excellent starting point for those who are new to kitchen design.
It often comprises features to create a basic layout, change colours and materials, and view your design from different angles.
Remember, while it doesn't cost anything upfront, these tools might have limitations when it comes to advanced features. 
'Freemium' Kitchen Design Software: 'Freemium' software offers basic services for free, with premium features available for a fee.
This can allow you to try out a more advanced software without the full commitment, upgrading features that matter the most as needed. 
Open-source Kitchen Design Software: Open-source software can offer technically adept users a great deal of flexibility and variety. They come with an open code that anyone can modify, offering a level of customisation that's hard to match. 
| Software Type | Pros | Cons |
| --- | --- | --- |
| Free Software | Covers basic features and functionalities | Limited advanced features |
| Freemium Software | Upgrade as required, economical | For full premium features, payment is compulsory |
| Open-source software | Highly customisable | Requires technical skill to exploit fully |
Budget doesn't have to dictate the quality of your kitchen design. By taking the time to research and test different software options, it's completely possible to find an affordable solution that doesn't compromise on quality or functionality.
Keep in mind, the goal is to bring your kitchen vision to life, and the right design tool will help you achieve just that.
Getting Started: Step-by-Step Guide to Using Kitchen Design Software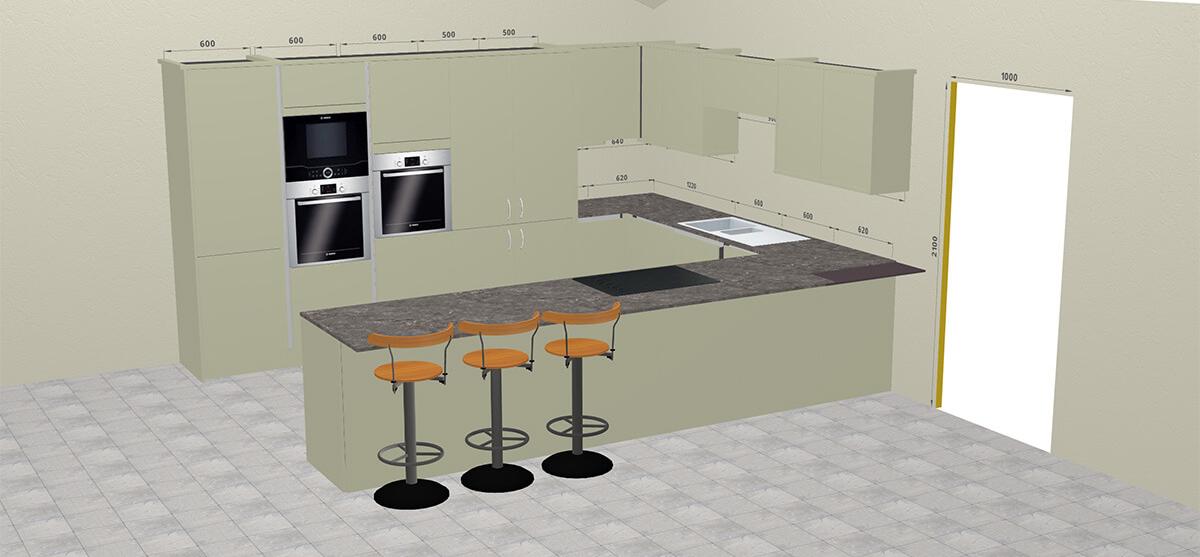 Sage Green True Handleless kitchen designed using the Better Kitchens 3D Online Kitchen Design Tool
Whether you're a first-time user or a seasoned pro, navigating through kitchen design software can be a real challenge at the best of times. To help you get started on your quest to design the perfect kitchen, here's a step-by-step guide. 
Select your software: Your first step is to pick the kitchen design software that best fits your needs. Consider things like budget, feature-set, ease of use, and the quality of the final render while making your choice.
Input your Kitchen Dimensions: Once you have your software handy, begin by inputting the dimensions of your kitchen. You'll want to be as precise as possible to ensure accuracy in design.
Choose a Layout: Most of these software offer pre-saved templates that you can tweak to your liking. Choose one that you like, or start from scratch if you're feeling adventurous.
Add Fixtures and Appliances: Next, add kitchen fixtures and appliances from the software's library. This can include anything from your cooker to your refrigerator. Again, accuracy is key as it gives you a realistic view of the space functionality.
Customise Your Kitchen: Now, it's time to personalise. Most of these software let you play around with colours, finishes, and materials, enabling you to create the kitchen that true to your unique style.
Review and Render: Finally, review your design for any adjustments, make sure all the elements are in place, and click render to see your final design.
These steps would provide you a basic idea of how to use most kitchen design software. But remember - every software would have its own bells and whistles. Don't hesitate to explore it and utilise it to your advantage. Happy designing!
Thinking of designing your own kitchen? Better Kitchens are here help, book a Kitchen Planning Meeting today!