Introduction: A Guide to Choosing the Perfect Kitchen Cabinetry
Choosing the perfect kitchen cabinets is an exciting yet often daunting task.
You'll need to consider functionality, the feel of your kitchen, and aesthetics to boot. Just as the name suggests, stock cabinets are readily available, pre-made units suitable for any kitchen owner who desires a quick instalment without compromising quality.
For those aiming to give their kitchen a tailored look, going for semi-custom cabinets, which allow for slight modifications from the standard stock sizes could be a great choice. Let's break down some key factors you should consider when picking your ideal kitchen cabinets. 
How to Choose Kitchen Cabinet Material in Kitchen Units 
When it comes to choosing new cabinets for your kitchen cabinetry, the materials used play a critical role in determining the cabinet's longevity, style, and price point.
The popular choice among modern kitchens is MFC, short for Melamine Faced Chipboard. Derived from recycled materials, MFC is beloved for its eco-friendliness and superior stability compared to other materials.
On the other hand, Medium Density Fibreboard (MDF) offers a good balance between cost and durability, but tends to succumb to swelling when exposed to moisture. 
| Material | Pros | Cons |
| --- | --- | --- |
| MFC | Eco-friendly, very stable, cost-effective | Surface can scratch easily |
| MDF | Durable, Affordable | Can swell when exposed to moisture |
| Solid Wood | High-end look, durable | Can swell and move due to high moisture and temperature fluctuations, expensive |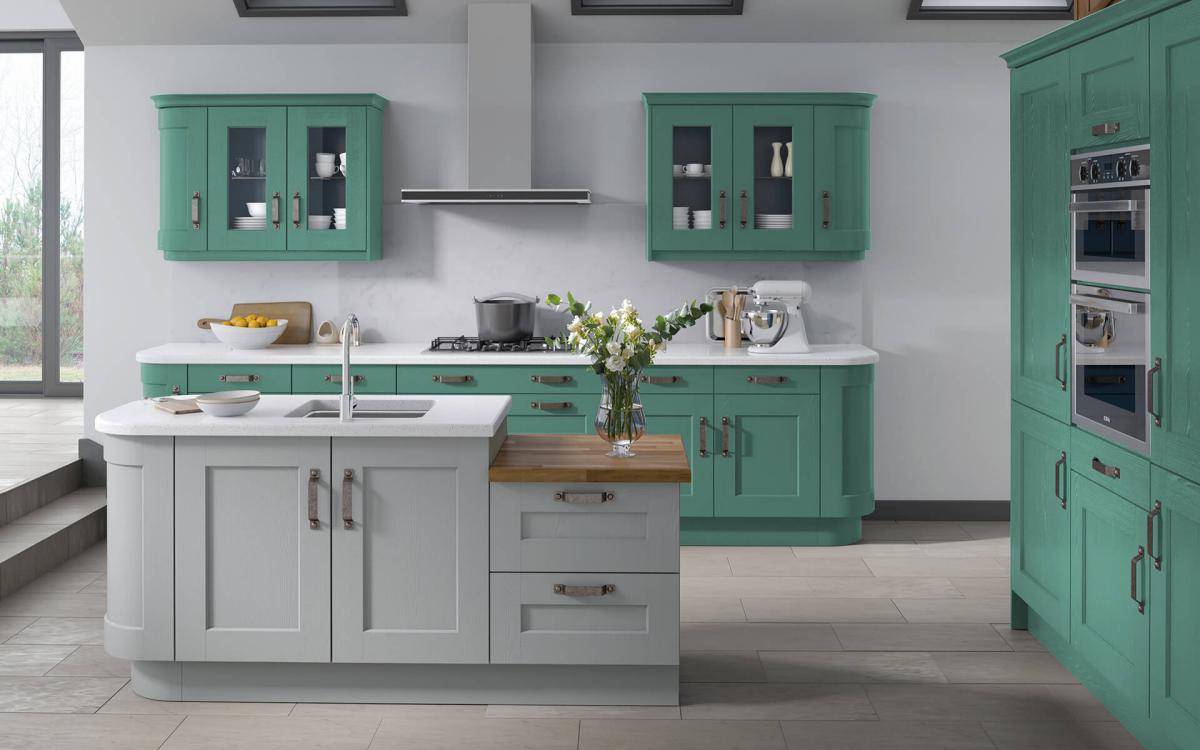 Burwood Heritage Green and Light Grey Kitchen
A Spectrum of Cabinet Colours to Choose From 
Colour choice for your kitchen cabinets can dramatically transform the look of your kitchen.
Neutral, light colours like Light Grey and Alabaster can give a fresh and airy feel to your kitchen while bold, darker colours like Graphite and Lincoln Walnut can add drama and sophistication.
Alternatively, use a mix of lighter and darker colours to create a unique contrast in your kitchen design. Always remember that your kitchen cabinet colours should align with the overall aesthetic of your home's interior design. 
Perfect Cupboards for Small Kitchens 
Fitting the right cabinets into a smaller kitchen can be quite the challenge. However, certain types of cabinets better serve these small spaces.
Upper cabinets paired with tall units can take advantage of the vertical space, giving more storage without compromising floor space.
Base cabinets with multiple drawer units maximize storage and functionality, and appliance housing units can help to streamline and declutter the kitchen surface.
Look for modern designs that reflect light like slab door or glass door cabinets to make the space appear larger than it actually is. 
Maximising Space in a Large Kitchen 
In stark contrast, larger kitchens offer much more flexibility when it comes to choosing the right kitchen cabinets. From traditional to modern design, the choices are endless.
Expansive kitchens can accommodate an island with lower cabinets for additional storage and surface area.
Bigger kitchens also present the opportunity to install panel cabinets or choose the more ornate styles like shaker cabinets without the kitchen feeling crowded.
Always consider the practicality and storage need while cherishing having a large kitchen to work with. 
Whether you're dreaming of sleek, frameless cabinets for your modern sanctuary, or you've always fancied the sophistication of shaker cabinets for your traditional kitchen, our guide is here to assist you into making the right decision.
 So, let's make your dream kitchen come true together!
Selecting the Perfect Cabinet for a Small Kitchen
For a smaller kitchen, it's essential to make a wise cabinet selection to ensure that each square foot is utilised to its ultimate potential. When you are limited on space, every cabinet, drawer, and storage unit matters.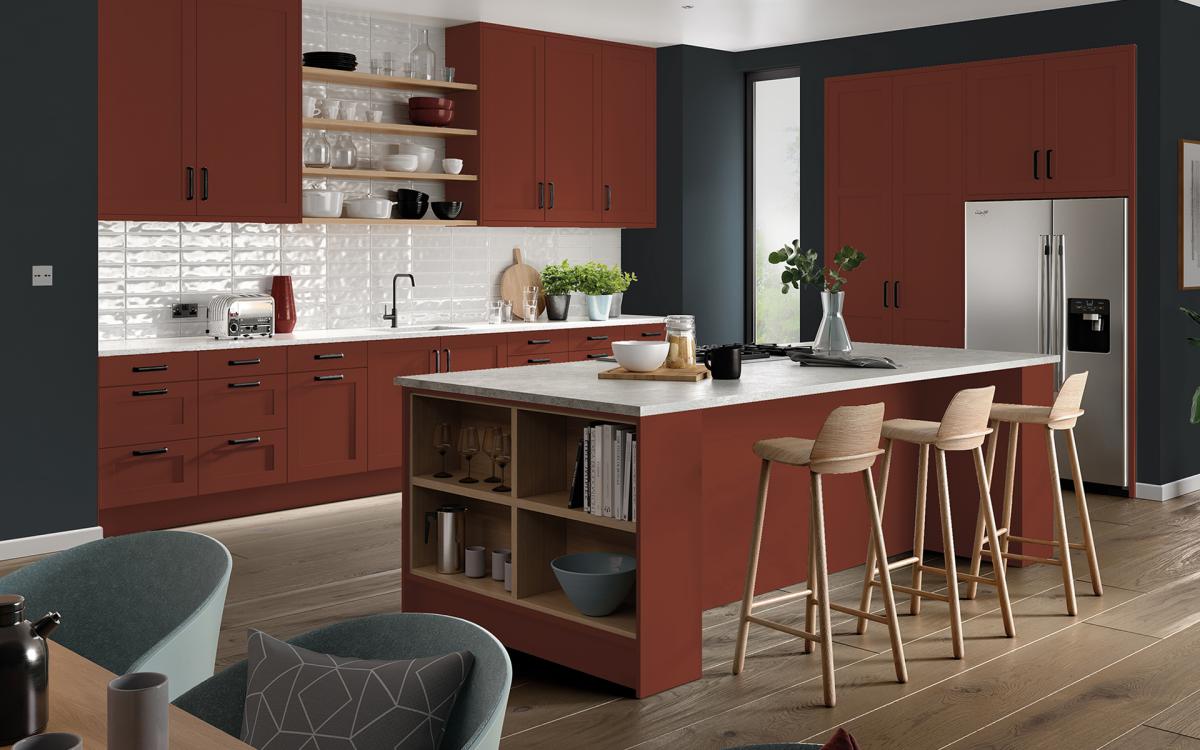 Tenby Tuscan Red Kitchen Cupboards
Your choice can either make or break the streamlined look and feel of your kitchen. The right kitchen cabinets can greatly enhance the functionality and aesthetic of your cooking space. 
One popular choice for modern designs in small kitchens is base cabinets. Feasibly fitting under countertops, these units are ideal for storing cutlery, utensils and all other kitchen inventory. 
| Type of Cabinet | Description | Pros | Cons |
| --- | --- | --- | --- |
| Base cabinets | A solid choice ideal for utensils, pots, and pans. | Save space and offer considerable storage. | Require bending or stooping to access. |
| Wall cabinets | Mounted on walls for easy access. | Efficient for storage and easy to access. | May appear bulky in small kitchens. |
If you're considering a kitchen renovation and are looking for new cabinets, stock cabinets are a cost-effective choice. They are readily available, come in different styles and colours, and are ideal for a tighter budget.
Their standard sizes also make them suitable for a smaller kitchen. 
Effective Utilisation of Corner Base Units 
Incorporating corner base units in your small kitchen design can be a game-changer as they effectively optimize the corner space, that is typically left unused. These cabinets make good use of corners and provide ample storage without hindering the kitchen workflow. 
Among the different cabinet door styles, slab doors are increasingly becoming a popular choice in contemporary and modern kitchens. Their flat panel door design lends a clean, minimalist look, amplifying the sense of space.
Remember, it's your dream kitchen - the choice should reflect your personal style. Nothing beats a well-organized, functional and beautiful kitchen. The perfect cabinet in your smaller kitchen could be the key to achieving this!
Considerations for a Large Kitchen: Maximising Space and Functionality
When it comes to large kitchens, the rule of thumb is to emphasise on practicality without compromising the aesthetics.
Leveraging the free space to maximise functionality can be achieved through smart kitchen cabinet choices.
Whether it's a space for all your baking essentials, pots and pans, or assortment of spices, cabinets are an indispensable part of your kitchen's organizational system.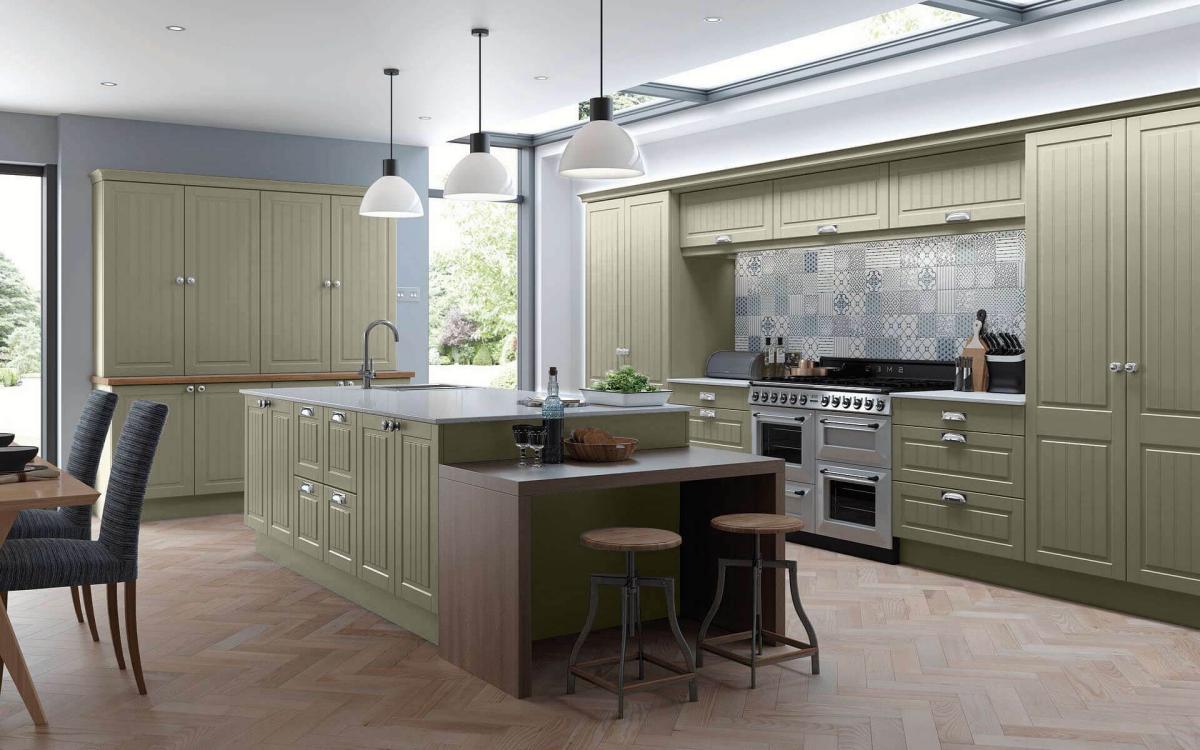 Tamar Reed Green Groove Panelled Kitchen Incorporating Tall Kitchen Units
Tall Units: Making a Mark in Large Kitchens 
Tall units can be an excellent choice for large kitchens, adding not just storage but also a touch of elegance. More than just a piece of furniture, these units can turn your kitchen into a dream kitchen.
When utilised correctly, they offer ample space for items such as brooms, mops, and vacuum cleaners, keeping them out of sight but within easy reach. 
Appliance Housing Units: Harmoniously Integrating Appliances 
Appliance housing units, on the other hand, are a popular choice in modern kitchens.
Designed to house appliances such as ovens, refrigerators, and microwaves, these units provide a seamless, modern look, making them an essential part of any large kitchen design.
Whether integrated or semi-integrated, appliance housing units are a stylish and practical solution to the challenge of incorporating appliances into your kitchen's aesthetic. 
| Type of Cabinet | Description | Best Suited For |
| --- | --- | --- |
| Tall Units | Free-standing storage, they can reach up to ceiling height and provide plenty of storage space. | Large kitchens with high ceilings and ample floor space. |
| Appliance Housing Units | Designed to integrate appliances such as microwaves and ovens into the kitchen design. | Modern kitchens where appliance aesthetics are crucial to the overall design. |
Nuances of Selecting the Right Units
Even within the broad categories of tall units and appliance housing units, there are various styles and designs to suit everyone's specific needs and style preferences.
The right kitchen cabinets can drastically alter the look and feel of your kitchen. For instance, a slab door design offers a sleek, modern look for contemporary kitchens, while shaker cabinets lend a more traditional, rustic charm to your space. 
Keeping the Colour Palette in Mind 
Choosing the ideal palette for your kitchen cabinets is equally critical.
Light colours such as Alabaster and Light Grey can give your kitchen a bright, open feel, while darker tones like Graphite and Lincoln Walnut can help create an atmosphere of elegance and sophistication.
Colours like Cashmere, Davenport Oak and Dusty Grey, offer a range of neutral colours that bridge the gap between the two extremes, providing modern designs a distinctive and stylish character. 
Material Selection: Balancing Aesthetics and Functionality 
With our extensive experience of crafting 10,000s of kitchen units over the last 20 years, the team at Better Kitchens have gained unrivalled knowledge and insight into which materials best suit your kitchen's needs in terms of longevity, aesthetics, functionality, and budget.
The choice between MFC (Melamine Faced Chipboard), MDF (Medium Density Fibreboard) and solid wood is a critical factor in determining the durability and long-term performance of your cabinets.
Solid wood, while visually appealing, is not recommended due to its susceptibility to temperature fluctuations and high moisture environments, which can often be found in kitchens.
MFC, on the other hand, stands out as the best choice, blending durability, stability, and eco-friendly credentials.
Understanding the Different Types of Kitchen Cupboards & Cabinet Styles
Choosing the right kitchen cabinets is crucial for your kitchen remodel. Different kitchen cabinet types cater to both functional and aesthetic expectations, enhancing the look and feel of your kitchen.
This section goes in-depth on the different types of cabinets - from base units with doors to specialised appliance housing units, helping you choose the perfect cabinetry for your dream kitchen. 
Base Units with Doors: These are the foundation of your kitchen cabinetry, known as base cabinets or lower cabinets. They come with a plethora of cabinet door styles giving you the freedom to choose a style that resonates with your kitchen design.
Multi Drawer Units: For kitchen layouts that require a good deal of segmented storage, multi drawer units are an absolute lifesaver. They offer a great way to keep your kitchenware organised and easily accessible.
Corner Base Units: Maximizing every inch of your kitchen is paramount, especially in a small kitchen. Corner Base Units smartly utilise the otherwise neglected corner spaces, adding functional value to your kitchen.
Wall Units: Known as upper cabinets, they are a key part of modern kitchens, offering the perfect storage solutions while retaining the design aesthetics.
Tall Units: When space is not a constraint, tall cabinets are a popular choice. They offer plenty of storage and add a dramatic touch to the larger kitchen.
Larder Units: Larder Units function as your perfect pantry solution, offering ample space for storing groceries and other kitchen essentials.
Corner Larder Units: A spinoff of the standard larder units, these are tailored to fit into corners, enhancing the storage capacity in smaller kitchens.
Appliance Housing Units: If integrating appliances seamlessly into your kitchen cabinetry is your goal, Appliance housing units make it possible. They can perfectly house appliances like ovens, microwaves, and dishwashers.
In conclusion, the selection of kitchen cabinets relies greatly on your specific storage needs and the space available.
Whether you opt for the foundational strength of base units with doors, the precision storage of multi-drawer units, or the stylish and functional wall units, a significant part in creating your dream kitchen belongs to your choice of cabinets.
 Specialised units like larder and appliance housing units provide an added advantage of increased storage and seamless integration of appliances.
Understanding the importance of space utilisation, corner units become essential in small to medium kitchens. For a more comprehensive guide on types of kitchen units, you may refer to our dedicated article  'Kitchen Unit Types Explained'.
Exploring Base Units with Doors: The Backbone of Your Kitchen
Undeniably, base units with doors represent the backbone of every kitchen. They are the sturdy, functional foundations upon which the modern sophistication of your kitchen design is built.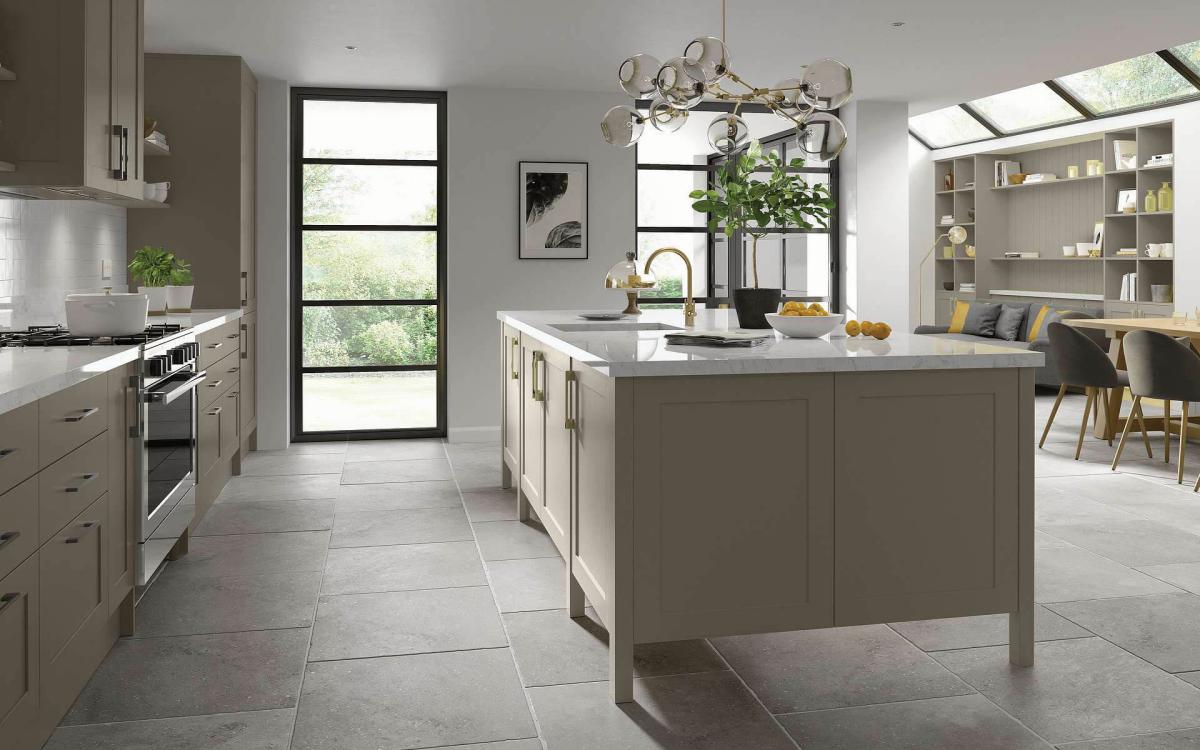 Millwood Stone Grey Base Units with Leg Features on Island
Having the right kitchen cabinets can enable seamless utility while adding a dash of style to your preferred kitchen aesthetic. 
These cabinets consist of both lower cabinets and upper cabinets. At a fundamental level, base cabinets provide structure and support for countertops, forming a strong and functional core of your kitchen.
Their adaptability makes them perfect for both large or small kitchen layouts. 
With doors attached, these base cabinets keep your kitchenware and essentials hidden from sight, promoting a clean and clutter-free kitchen.
However, the decision to select the right type of cabinet doors will most definitely influence the feel of your kitchen.
When deliberating possible cabinet door styles, consider the diversity available. This ranges from timeless shaker cabinets to modern designs like a flat panel door or a slab door. 
| Pros | Cons |
| --- | --- |
| • Offers exceptional support for countertops | • May be challenging to organise without internal accessories |
| • Provides substantial storage space | • Some models might waste space in corners |
| • Available in a variety of materials and colours | • Can be expensive depending on the chosen material |
Considering their fundamental role in your kitchen, base units with doors are indeed a worthwhile investment.
Whether you prefer the natural beauty of wood veneer or the sleek contemporary appeal of MFC (Melamine Faced Chipboard), the materials used for such new cabinets can significantly enhance the look of your kitchen.
Remember, choosing the best choice for your cabinet doors is a key step in your kitchen remodelling journey. Pick the perfect cabinets that reflect your style and meet your functional needs.
Multi Drawer Units: Maximising Storage in Your Kitchen
Multi Drawer Units are a popular choice for modern kitchens, due to their maximum utilisation of available space. With these types of cabinets, you can efficiently store cutlery, utensils, and other kitchen necessities in a tidy and organised fashion.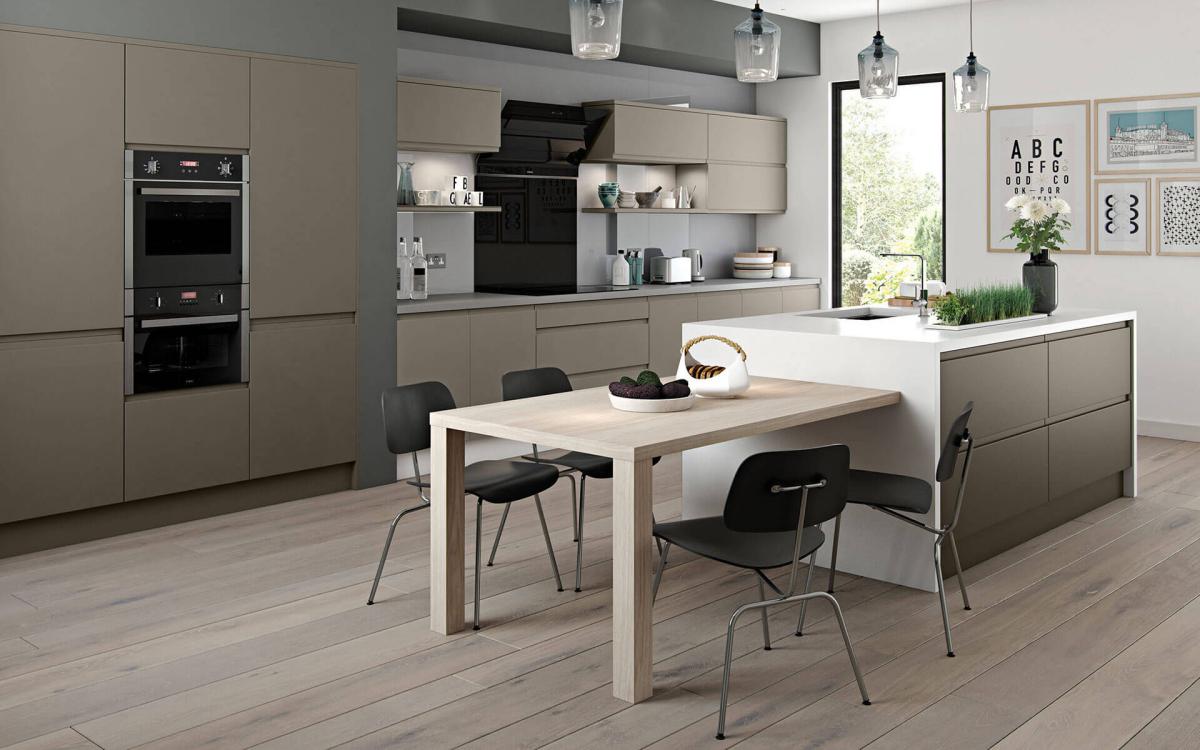 Marino Handleless Matt Kitchen in Stone Grey Showing Various Multi Drawer Units
Before establishing a preference, consider these cabinets for your kitchen remodel. To assist you in understanding, here are some pros and cons of multi drawer units. 
Pros: 
Their design offers more storage options compared to single, large cabinet doors. You'll have plenty of different compartments to organise your kitchen essentials.
The layout of the drawers makes it easy to access what is stored at the back, something that is challenging with deeper stock cabinets.
With a wide range of drawer combinations available in all units, you have the flexibility to choose from 2 to 5 drawer designs to meet your storage needs and further customise your kitchen design.
Cons: 
These cabinets tend to be more expensive than stock cabinets because of their complex design and the need for more durable hardware.
A kitchen remodel involving multi drawer units could be more labour-intensive, which may increase the total renovation cost.
Multi drawer units have become a popular choice in modern kitchen designs, thanks to their high functionality. 
What makes multi-drawer units a preferred choice is their user-centric design - modern kitchen designs focus on bringing items to you rather than having you forage for them in the back of the unit.
In line with this philosophy, selecting multi-drawer units can be an effective and modern solution for your new kitchen cabinets, adding practicality and style to your dream kitchen.
Corner Base Units: Making the Most of Every Corner
Optimising space lies at the heart of modern kitchens, especially when dealing with the challenges of a small kitchen. Here, corner base units promise a popular choice.
These types of cabinets allow full utilisation of kitchen corners, areas that traditionally remain under-used.
The proper selection and positioning of these units can enhance the overall look of your kitchen while augmenting your storage space incredibly. Let's delve deeper into their benefits. 
One of the key advantages of corner base units is their potential to accommodate bulky items, which may pose a storage challenge in other cabinet types.
Whether it's large pans, a blender, or even a pull-out bin system, these units are incredibly helpful.
Design-wise, they come with several options including magic corner pull-outs, Le Mans pull-outs, or a simple carousel, offering easy access to your items.
Pros and Cons of Corner Base Units 
Pros
Optimised use of corner spaces
Can accommodate larger appliances or bulky items
Variety of internal mechanisms for easy access
Cons

May require more bending and reaching
Not as easy to install as standard base cabinets
Overall, corner base units add functionality to your kitchen cabinetry, helping you achieve your dream kitchen despite space constraints. Just remember to enlist the services of a seasoned cabinet maker to ensure proper installation. 
To learn more about incorporating corner base units into your kitchen, explore our comprehensive guide on kitchen corner units.
Wall Units: Stylish and Functional Storage Solutions
Wall cabinets exist as an essential part of modern kitchens due to their practicality and aesthetic appeal.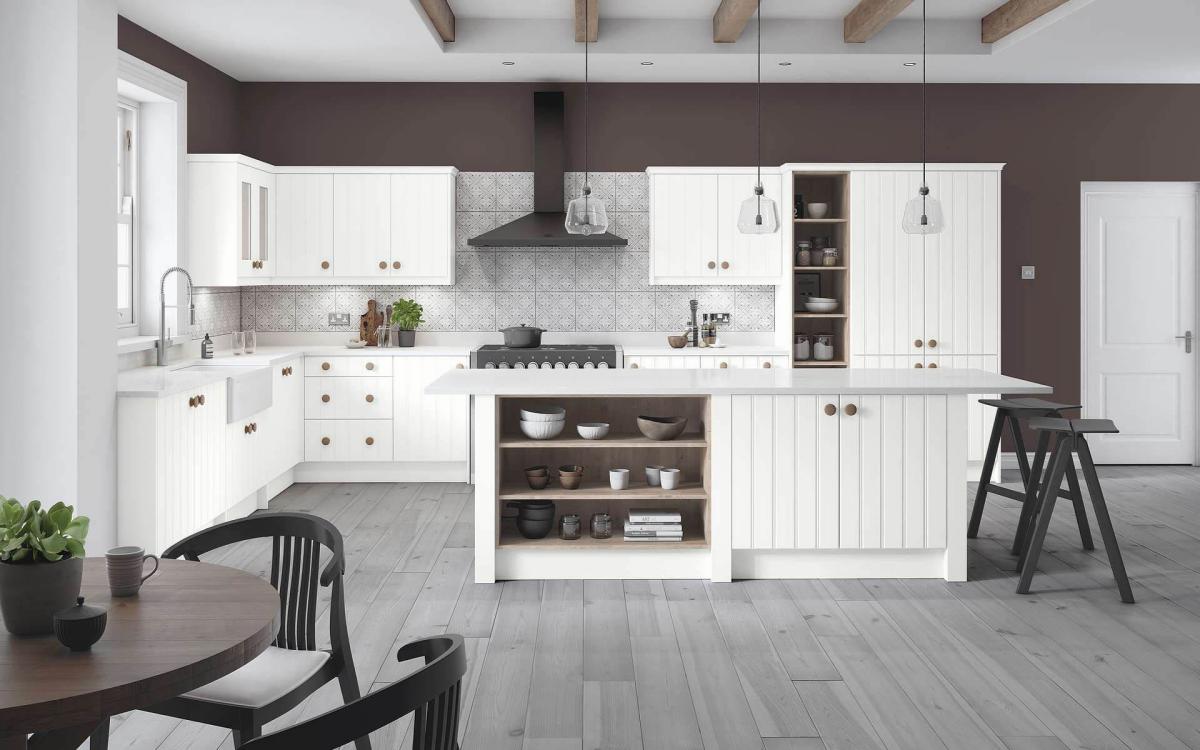 St Ives Vertical Grooved Kitchen In Porcelain with Full Height Door and Glass Door Wall Units
They are mounted on the wall, providing an excellent solution to your storage needs without consuming floor space, which is particularly beneficial in a small kitchen.
But even in large kitchens, wall units add an element of style and offer ample space to keep your plates, glasses, and other kitchen essentials neatly organised. 
Types of Wall Cabinets 
Full Door Units: A popular choice for both modern designs and traditional cabinets, offering a unified and coherent look to your kitchen cabinetry.
Bi-Folding Units: Available in vertical or horizontal options, these cabinets offer a space-saving solution perfect for a small kitchen or for upper cabinets in a larger kitchen.
Glass Door Units: These units have glass doors allowing you to display your beautiful dinnerware and glassware. They can add style and drama to a modern kitchen.
Boiler Housing Units: Uniquely designed to conceal your boiler, these units are an excellent choice to maintain the seamless look of your kitchen.
Microwave Wall Units: These units are designed to house your microwave, freeing up valuable counter space and integrating appliances into the cabinetry.
Choosing the Right Wall Units 
Choosing the right wall cabinets requires a perfect blend of style and function.
Understanding the different cabinet door styles can create a significant impact on the look of your kitchen.
Shaker cabinets with their classic panel design are a popular choice; on the other hand, a flat panel or slab door gives a sleek and clean-lined appearance, suitable for modern designs.
Glass doors are an excellent choice if you want to showcase kitchenware or give an airy feel to a smaller kitchen.
The type of wood used in cabinet doors, whether solid wood or wood veneer, also imparts a distinct character to your kitchen cabinetry. 
Another aspect to consider while deciding on the right kitchen cabinets is the colour choice. Different colours evoke different moods and can contribute to the overall feel of your kitchen.
For instance, lighter colours like alabaster and light grey can make a space look larger and brighter, making them a great choice for a smaller kitchen.
Darker hues like dust grey or graphite create a sophisticated, formal look, perfect for adding depth to a large kitchen.
The Three Heights of Wall Units: Matching Your Needs and Space 
Wall units not only give you access to those hard-to-reach upper shelves, but they can also add a whole layer of sophistication and storage to your kitchen.
They typically come in three different heights: low, medium, and high. Medium wall units are the standard height in the UK, but depending on your kitchen design, spatial requirements and personal preferences, you might choose a different height. 
| Unit Type | Description |
| --- | --- |
| Low Wall Units | Perfect for smaller kitchens, these units make the most of your space without making the room feel crowded. They accommodate essential items within easy reach, making your kitchen endeavours a breeze. |
| Medium Wall Units | As the UK standard height, these units offer ample storage, accessibility and contribute to a balanced aesthetic. Ideal for a variety of kitchen sizes, medium wall units are the popular choice for combining functionality with style. |
| High Wall Units | These units scale your kitchen walls, making the most of your vertical space. Perfect for larger kitchens, high wall units can store the lesser-used items, keeping your countertops uncluttered. |

In conclusion, wall units can serve as both a functional and fashionable element in your kitchen remodel, dictating the ambiance and workflow of the space.
Therefore, spend time assessing your needs, preferences, and kitchen space before settling on the right cabinets for your dream kitchen.
Tall Units: Adding Height and Elegance to Your Space
Tall units are a popular choice in modern kitchens due to their practicality and stylish appeal. They not only add height and elegance to your kitchen design but also provide abundant storage space.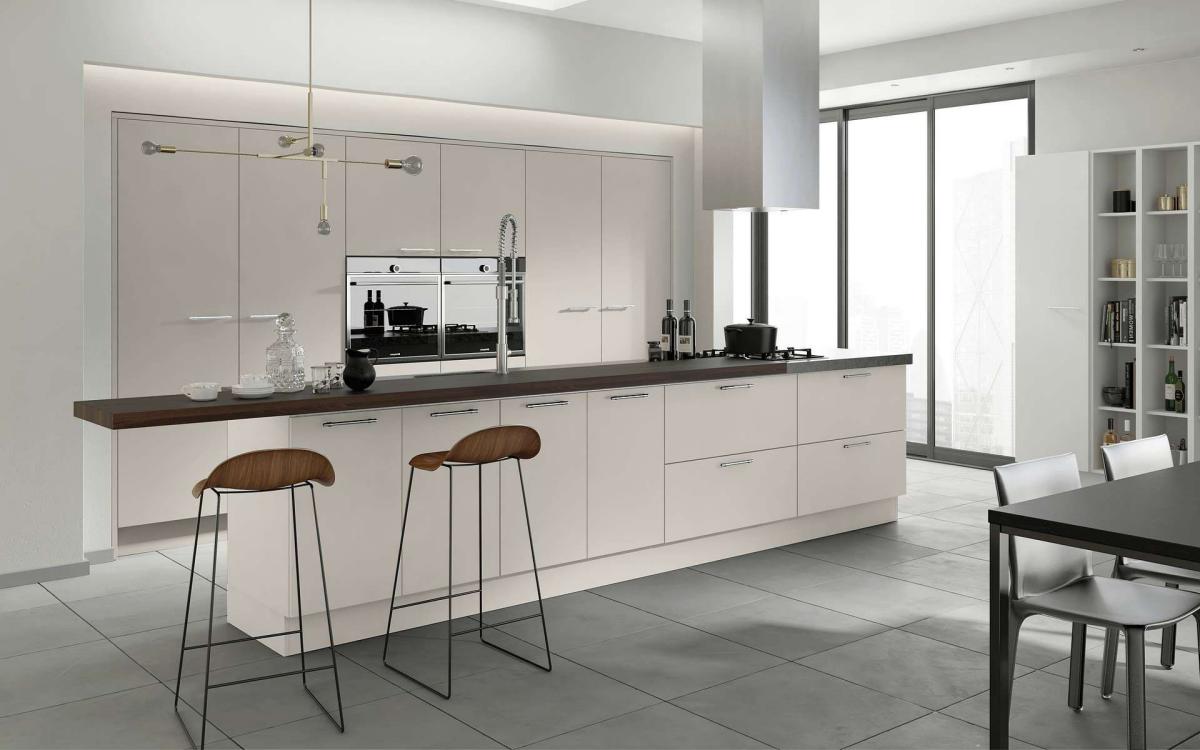 Velluto Pebble Kitchen showing Recessed Tall Units
As the name suggests, tall units extend from floor to ceiling, giving you plenty of space to store items and organize your kitchen efficiently.
These cabinets are great for storing large items or bulk quantities of food, making them an excellent choice in a large kitchen.
The tall cabinets also add a dramatic feature to your kitchen, accentuating the height of your kitchen and giving it a grand feel. 
There's an extensive range of tall units to explore, including larder units, oven housing units, and fridge housing units. Crucial to your dream kitchen's overall aesthetics is selecting the right type of cabinet, as this greatly impacts the kitchen design.
For instance, larder units with glass doors can showcase your meticulously organised pantry, adding a personal and inviting feel to your kitchen.
Furthermore, these tall units are designed in three height variations: low, medium, and high. These dimensions harmonise well with their wall unit counterparts, ensuring seamless kitchen planning and modern designs.
In the UK, the medium height is a popular choice, seen as the standard by many homeowners and cabinet makers, making your kitchen remodel a breeze.
So, when it comes to kitchen cabinetry, remember to consider height dimensions in your decision-making to create your ideal aesthetic.
The Upside and Downside of Tall Units
As with any type of kitchen cabinetry, tall units also come with their pros and cons. 
| Pros | Cons |
| --- | --- |
| Provides ample storage space and utilisation of vertical space | May be difficult to reach higher sections without a step stool |
| Adds elegance and a feel of luxury to your kitchen | May feel too towering in a smaller kitchen |
| Can hide appliances for a smoother, unified look | Requires careful planning and position consideration in kitchen layout |
Despite these potential drawbacks, tall cabinets are an excellent choice for new kitchen cabinets and renovations. It's worth noting that the choice of material also plays a critical role in the longevity of these cabinets.
While solid wood might seem alluring, Melamine Faced Chipboard (MFC) or medium-density fibreboard (MDF) would be a wiser choice, given kitchens' high moisture levels and temperature fluctuations. 
Whether you are working with a cabinet maker for custom kitchen cabinets or buying stock cabinets, considering tall units can greatly enhance your kitchen's look and functionality.
With the right kitchen cabinet colours, your tall cabinets could just be the showstopper in your dream kitchen! 
Larder Units: The Perfect Pantry Solution
Larder units are a popular choice for modern kitchens, providing a highly functional and stylish storage option.
These units are typically tall cabinets, with a variety of internal configurations such as shelves, drawers, and racks for optimal organisation.
They're a perfect solution for keeping your kitchen essentials such as cooking ingredients, canned goods, and kitchenware in one place—making your kitchen experience smoother and more efficient. 
With their tall design, larder units allow you to make use of the full height of the room, increasing your storage capacity significantly compared to lower cabinets.
This benefits any kitchen size, but can be particularly advantageous in a smaller kitchen where floor space is limited. 
The other advantage to using larder units is the opportunity to keep visual clutter to a minimum in your kitchen design.
By storing items away behind closed cabinet doors, you contribute to a cleaner and more streamlined look in your kitchen. 
Different Styles of Larder Units
Full Height Larder Units: These units extend from the floor to the ceiling, providing maximum storage space. They're a great choice for larger kitchens.
Midi Larder Units: Midi units are shorter than full-height units, making them more suitable for smaller kitchens or kitchens with lower ceilings.
Pull-Out Larder Units: Pull-out units feature a mechanism that allows you to pull the entire contents of the cupboard towards you. This makes it easier to access items at the back of the cupboard, improving functionality.
Corner Larder Units: These units are particularly favourable if you're seeking to utilise every bit of space available. Fitted into the kitchen corners, they offer ample storage without obstructing the flow of the kitchen. They can neatly store a variety of items and offer an exceptional organisational feature.
Material Considerations
When selecting your larder unit, bear in mind the material of construction which affects both the look of your kitchen and the unit's stability.
Melamine Faced Chipboard (MFC) is a preferred option as it's highly stable, eco-friendly, and utilises recycled materials.
However, other materials like Medium Density Fibreboard (MDF) and even solid wood can be used, though the latter is not typically advised due to issues with moisture and temperature variation in kitchens. 
Note: Always consult with your kitchen designer or cabinet maker about the best material for your specific needs.
Pros and Cons of Larder Units 
Pros: 
Maximises vertical storage space
Keeps kitchen essentials organised
Contributes to a clean and streamlined kitchen design
Cons: 
Could be costly, especially custom kitchen cabinets
May not suit smaller kitchens due to their size
Limited accessibility to items stored at the back without pull-out features
Corner Larder Units: Optimising Corner Spaces for Storage
Relishing a more substantial storage space in a smaller kitchen can be quite a challenging task - but not if you've got Corner Larder Units on your side.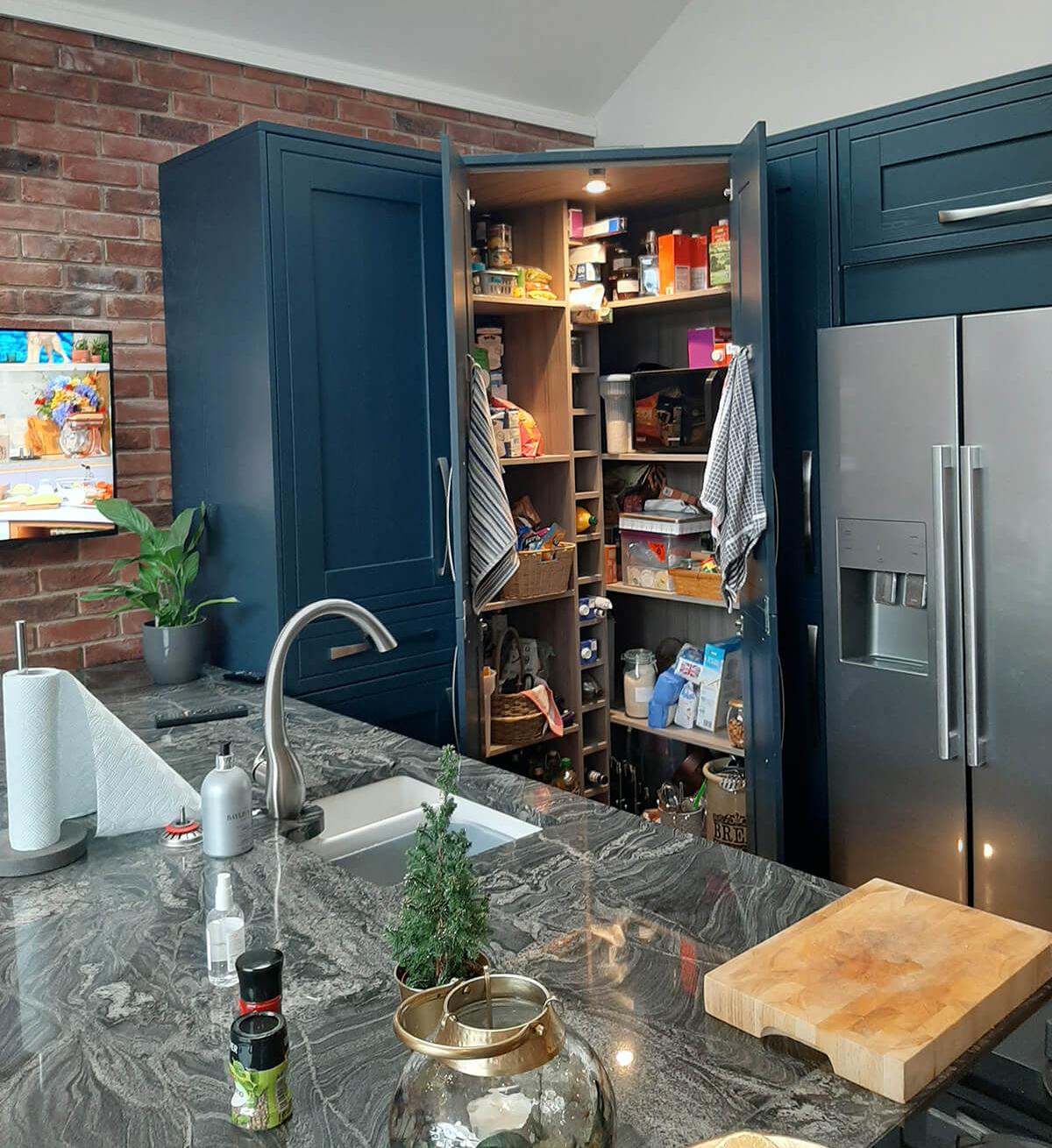 Corner Larder Pantry Unit in a Customer Kitchen
These nifty types of cabinets have a unique charm as they seamlessly blend into your kitchen cabinetry, providing an access point to those often overlooked corners.
More so, they add an integral dimension to modern kitchens with their innovative design. 
The systematic vertical storage system gives materials a home without taking away too much floor space.
As a result, this makes them a popular choice among homeowners looking to maximise functioning space while maintaining aesthetics.
They typically come with different compartments and shelves, allowing you the liberty to organise your kitchen necessities with ease and grace. 
| Pros | Cons |
| --- | --- |
| Optimises corner spaces | May limit access to items at the back |
| Offers spacious storage for a smaller kitchen | Possibility to increase clutter if not organised well |
| Allows easy access to stored items | A bit tedious to install |
| Great choice for modern designs | Could skew design balance if not in line with rest of the kitchen |
Despite the shortcomings, corner larder units remain a go-to solution for homeowners and kitchen remodel enthusiasts seeking space optimisation, even in a cramped space.
We certainly wouldn't want to let those corners go to waste when they can potentially provide a significant storage boost!
Appliance Housing Units: Seamlessly Integrating Your Appliances
Wake up to a morning where your toaster isn't just sitting on the countertop, but is a part of your kitchen cabinetry.
An appliance housing unit is specifically designed to incorporate your appliances seamlessly into your kitchen layout, making them the perfect solution for modern kitchens.
This type of cabinet is becoming a popular choice not only for its functional benefits but also for its aesthetic appeal. 
For instance, you can slide your microwave into a dedicated cabinet or have your dishwasher hidden behind a matching cabinet door.
The benefit of this arrangement is that you get an uninterrupted flow of cabinet doors that provide a sleek and clean look to your kitchen. It also minimizes clutter and enhances the overall feel of your kitchen. 
The Perks and Drawbacks of Appliance Housing Units 
When it comes to remodelling or planning a new kitchen, considering the pros and cons can help you make the right choice. 
| Pros | Cons |
| --- | --- |
| Offers a seamless look to your kitchen design. | Requires professional installation. |
| Contributes to an organized kitchen by aiding in appliance storage. | Lack of flexibility to change appliance placement in future. |
| Helps to minimise countertop clutter. | May increase the cost of your kitchen remodel. |
| Comes in various styles to match your kitchen cabinets. | Not all appliances may fit into the designated spaces. |
While there are some downsides to appliance housing units, when planned carefully with the aid of a professional kitchen designer or cabinet maker, these issues can be avoided.
It's about striking the balance between form and function and making the right decisions in terms of ensuring your appliances fit and are accessible while keeping your kitchen looking stylish. 
Remember, no choice is right or wrong. It's about defining your aesthetic and matching the practical function of your cabinets to the demands of your daily life.
Materials Matter: Pros and Cons of MFC, MDF, and Solid Wood Cabinets
Devising a kitchen remodel is a meticulous task to get your dream kitchen.
It's not just about the design, but also what that design is made from: the material used can dictate not just the feel of your kitchen, but its function and lifespan too.
So, whether you're new to kitchen cabinetry or you're the ambitious contractor ready to make a change, material knowledge matters. 
Let's explore some popular choices: Melamine Faced Chipboard (MFC), Medium Density Fibreboard (MDF), and Solid Wood. 
| Material | Pros | Cons |
| --- | --- | --- |
| MFC | Very stable, eco-friendly, and uses recycled materials. A right kitchen cabinets choice for modern kitchens. | Not as visually appealing as solid wood or some types of MDF. The look of your kitchen might lack a certain rich, organic feel. |
| MDF | MDF is a great choice for those wanting a wide range of stylish, modern designs. | It can swell and move with exposure to moisture, which makes MDF a not-so-great choice for areas with high fluctuations in temperature and humidity. |
| Solid Wood | Its natural visual warmth is unmatched and can bring an inviting, traditional touch to your kitchen design. | Again, as with MDF, kitchens are high moisture and temperature fluctuation zones. This can cause solid wood cabinets to swell, warp, or crack over time. |
User note: While MDF and Solid Wood grant a unique aesthetic touch, MFC stands out due to its stability and eco-friendliness. For practical kitchen design, it's an optimal choice --- particularly with the broad cabinet door styles available. 
To make the right cabinets choice, consider both the aesthetic and functional aspects according to your needs. The perfect cabinet material for your kitchen hinges on personal preferences, lifestyle, and budget. 
From traditional cabinets to a more modern feel, your cabinet doors are part of a larger whole.
They should compliment your décor style, whether you have shaker cabinets with a wood veneer in a rustic kitchen or sleek frameless cabinets in an ultra-modern setting. 
At the end of the day, your kitchen cabinetry needs to serve its main functional purpose – a dedicated and organized place for all your utensils, crockery, and more.
A well-thought choice ensures you enjoy an excellent blend of functionality and aesthetics in your kitchen. Witness your kitchen remodel transcend into your dream kitchen!
Why MFC (Melamine Faced Chipboard) is the Ideal Cabinet Material
When embarking on a kitchen remodel, one crucial decision is the selection of the right kitchen cabinets.
Choosing the most suitable cabinet material plays a pivotal role in not only determining the aesthetic appeal but also the longevity of the kitchen cabinetry.
This is where MFC, short for Melamine Faced Chipboard, emerges as a modern kitchen's best ally. But, why is MFC coined as the 'ideal cabinet material'? Let's explore. 
MFC is comprised of finely chipped wood particles that are bound together with resin and coated with a layer of melamine, yielding a highly stable material perfect for manufacturing stock cabinets.
Being a popular choice for modern designs of kitchens, cabinets made from MFC are durable, easy to clean and resistant to scratches and impact. 
MFC Cabinets: The Pros 
Durability: MFC cabinets are exceptionally durable, crediting their high resistance to moisture, heat and staining. This prevents any swelling or movement problems, offering long-lasting performance.
Maintenance: The smooth surface of MFC cabinets makes them effortless to clean. Simple wiping with a damp cloth removes dust and spills, making them a practical choice, especially for a bustling kitchen.
Cost-effective: MFC cabinets offer the same durability and aesthetic appeal as various types of wood, but at a fraction of the cost. They provide the feel of a premium kitchen without burning a hole in your pocket.
Eco-friendly: Manufactured from recycled materials, MFC contributes to sustainable development, making it an eco-friendly choice for modern kitchens.
MFC Cabinets: The Cons 
Less-customisable: Unlike solid wood or MDF, MFC cabinets don't offer customisation options. This means, if you have a particular cabinet door style or colour in mind, MFC could restrict your kitchen design dreams.
Sensitive to excess weight: While MFC cabinets can bear a reasonable amount of weight, overloading them can cause the shelves to sag over time. A mindful balance of storing items is essential.
Whether you're choosing new cabinets for a smaller kitchen or a large one, MFC is an excellent material choice.
The pros indeed outweigh the cons, especially when considering the pragmatic aspects of a modern kitchen. MFC is a wonderful choice for those seeking practical, cost-effective and eco-friendly kitchen cabinets. 
However, remember, material selection is crucial, but picking the correct type of cabinet like base cabinets, wall cabinets, or tall cabinets is equally important.
So, factor in your kitchen's size, layout and your storage needs while choosing your cabinet type. With the right balance, you can create your dream kitchen, without compromising on functionality or style.
Colour Choice: The Impact of Cabinet Colour on Your Design
The colour choice of your kitchen cabinets strongly influences the overall feel of your kitchen and can even affect your mood when you are in this vital space.
As such, a careful selection of kitchen cabinet colours is critical to executing your dream kitchen remodel. Let's delve deeper into this exciting aspect of kitchen design. 
Kitchen Cabinet Colours: A Range of Options 
This world of cabinet colours is diverse, each presenting a unique charm. From the unexpected Dust Grey to the traditional Alabaster, Light Grey, and Lincoln Walnut, there's a colour ready to transform the look of your kitchen.
Comforting White, Cashmere, engaging Graphite and warm Davenport Oak are more popular choices among homeowners. Each choice sets a different tone and adds a different character to your kitchen's feel. 
Light vs Dark: A Classic Dichotomy 
In terms of colour choice, the question often becomes a choice between light and dark hues. White is a popular choice for creating a feeling of space and light, particularly helpful for a smaller kitchen.
Light colours give a fresh, clean feel that lifts the mood whilst also being very neutral, thereby giving flexibility in terms of changing décor over time. 
Conversely, darker colours can add substantial drama and luxury to a room. Colours like Graphite and Lincoln Walnut bring depth and sophistication but work best in larger kitchens with ample light.
Also, they hide stains and smudges better than their light counterparts, making them a great choice for families and frequent cooks. 
Decoding The Colour Tones You Can Opt For 
| Colour Tones | Description |
| --- | --- |
| Neutral Colours | These are timeless colours such as whites, creams, greys, beige and browns that create a peaceful atmosphere. They provide a great base for any type of kitchen new or old. A neutral palette can be easily accessorised and is less likely to date. |
| Dark Colours | Dark colours introduce elements of drama and luxury into your kitchen. From rich blacks to deep blues or greens, these colours add depth and intensity. They also conceal mess and damage well, perfect for frequently used kitchens. |
| Light Colours | Light colours introduce an airy, fresh feel to your kitchen, making them perfect for small kitchens or those with little natural light. With such colours, your kitchen feels expansive and inviting. |
The right kitchen cabinets in the perfect colour can truly transform a kitchen.
With so many different styles and colours available, it's important to choose carefully and pick a colour that will not only complement your kitchen but also stand the test of time.
After all, cabinets are a significant investment and play a major role in determining the feel of your kitchen's interior.
Choosing the Right Cabinet Colour: Exploring the Options
When it comes to decorating your kitchen, the type and colour of cabinet you choose plays a pivotal role in the overall aesthetic and feel of your kitchen.
What's more, the colour of kitchen cabinet is often the first thing that catches the eye when you walk into a newly remodelled kitchen. Because of this, it's vital that you choose wisely. 
There are a myriad of kitchen cabinet colours available, which might feel overwhelming, but remember, there is no right or wrong colour - just what feels right for you and your dream kitchen. Let's explore some popular alternatives:


Dust Grey 
Dust Grey is a neutral colour choice that can effortlessly blend in with any kitchen design. It is particularly suitable for modern kitchens because it offers a chic, sophisticated look. Dust Grey cabinets can create a calming and serene environment, making your kitchen a relaxed space to spend time in. 


Alabaster 
If you are looking for a lighter colour that will brighten up your kitchen, consider Alabaster. This is a popular choice for those who prefer a traditional feel in their kitchens. Alabaster is a crisp white shade with a touch of warmth that prevents it from being stark. It's perfect for smaller kitchens, as it can make the space appear larger and more open. 


Light Grey 
Light Grey is a great choice if you want a neutral colour without going for the starkness of white. Light Grey cabinets blend effortlessly with any colour scheme and lend a modern, clean look to your space. This colour is great for both small and large kitchens. 


Lincoln Walnut 
For a distinct, rustic charm, turn to Lincoln Walnut. This shade will add richness and warmth to your modern kitchen design. If you want a colour that stands out but isn't too bold, Lincoln Walnut could be your perfect cabinet choice. This colour brings the beautiful look of natural wood to your kitchen, without the cons of real wood like it's potential to swell and move.


White 
Classic and timeless, white is a popular choice that adds a fresh and clean look to your kitchen. It's ideal for brightening up small kitchens and also gives a sense of spaciousness to large ones. White cabinets pair well with virtually any colour scheme, allowing you to easily change the look of your kitchen through paint colours or decorative accents. However, stains and marks can be more noticeable on white cabinets, requiring more frequent cleaning to maintain their pristine appearance. 


Cashmere 
Cashmere cabinets add a dash of warmth and elegance to your kitchen design. This softer neutral colour evokes a calming and inviting atmosphere, ideal for both small and large kitchens. Cashmere cabinets provide an excellent backdrop for different styles of kitchen décor from traditional to modern designs. However, lighter colours like cashmere may show dirt and stains more readily compared to darker ones. 


Graphite 
For those seeking a bold, contemporary look, graphite is the perfect cabinet colour. This dark hue adds depth and sophistication to your kitchen, working brilliantly with both modern and traditional designs. Graphite's durability and ability to conceal dirt also make it a practical choice. However, the elegance of graphite comes with the need for well-planned lighting to prevent the kitchen from feeling too dark. 


Davenport Oak 
Davenport Oak cabinets are a great choice for those who love the beauty of natural wood. This rich, warm colour lends a cosy and welcoming feel to your kitchen, making it perfect for both small and large spaces. Davenport Oak cabinets can seamlessly adapt to both traditional and modern kitchen styles. One potential downside is that wood patterns and shades can vary, which might not appeal to everyone's taste.
Light Colours: Creating a Fresh and Airy Atmosphere
Light colours are a popular choice for those seeking a fresh and breezy feel for their kitchen design.
The lighter palette, when applied to new kitchen cabinets, can help you shape a clean, minimalistic, and airy environment, which is a symbolic representation of modern designs. 
One of the light kitchen cabinet colours you can consider is White. White cabinets deliver a crisp and timeless look, which can make even a smaller kitchen appear spacious.
This colour choice, in combination with the right kitchen cabinets, brings a sleek and sophisticated touch to your kitchen remodel. 
Cashmere is another light colour that can bring sophistication to your kitchen cabinetry while keeping the feel of your kitchen light and spacious.
This colour choice could be a great choice, especially for shaker cabinets or slab door designs, contributing to a warm and inviting ambiance.
For those seeking a harmony of modern and traditional cabinets, Alabaster is an ideal choice.
By choosing this colour for your cabinet doors, you will get a soft, classic vibe that aligns well with both contemporary and classic design elements.
| Colour | Pros | Cons |
| --- | --- | --- |
| White | Timeless, Makes kitchen appear larger | Shows dirt and stains easily |
| Cashmere | Warm and inviting | May not suit ultra-modern kitchens |
| Alabaster | Fits both modern and traditional styles | May start to yellow over time |
Now, although lighter colours enhance the feel and look of your kitchen, it's important to be aware that they might show dirt, scratches, and wear more easily than darker alternatives.
Therefore, it's advised to consider this before finalising your perfect cabinet colour choice. Despite this, with the right upkeep, light colours can help create the dream kitchen you've always desired.
Tips for Maintaining Light Coloured kitchen Cabinets
Clean Regularly: Wipe down your cabinets frequently with a soft, damp cloth to stave off dirt and stains.
Use Protective Coatings: Consider using a protective coating, especially on high-traffic cabinet doors and drawer fronts, to prolong the life of the paintwork.
Immediate Care for Stains: As soon as you notice a stain or spill, clean it up. Leaving it unattended might lead to permanent marks.
Selecting the right kitchen cabinets and colours may seem an overwhelming task.
But with these insights, you should be well equipped to make an informed decision that complements both your aesthetic desires and practical needs.
Dark Colours: Adding Drama and Sophistication to Your Room
Opting for darker shades can have a striking effect on your kitchen design, creating a sense of drama and sophistication. Darker hues work exceptionally well with modern kitchens.
One of the most popular choices is Graphite. This deep colour adds depth and intrigue, providing a strong and bold backdrop. 
Graphite, as one of the dark kitchen cabinet colours, brings forth an element of modernity and sophistication. Getting new cabinets in this colour can transform your entire kitchen, creating an enticing focal point.
They're a great choice for larger kitchens, where their deep presence doesn't overpower the room. 
Graphite: Pros 
Aesthetically pleasing: Cabinets in graphite are a trendy option, adding a sleek and modern touch to your kitchen.
Masculine touch: Being a deep and dark colour, graphite offers a masculine touch to your design, creating an irresistible contrast when combined with lighter elements.
Hide smudges and scratches: This colour excellently masks smudges and scratches, making it perfect for high-traffic kitchens.
Graphite: Cons 
Darkens the space: Graphite cabinets might darken your kitchen, especially if it is a smaller kitchen without much natural light.
Shows dust: Dust particles are particularly visible on graphite surfaces, requiring frequent cleaning.
Another dark hue is Davenport Oak. For those desiring the look of natural wood, Davenport Oak is a fine choice. It infuses warmth and nature into your kitchen while being slightly more modern than traditional solid wood cabinets. 
Davenport Oak: Pros and Cons 
|   | Pros | Cons |
| --- | --- | --- |
| 1 | Offers a natural and warm feel. | Might darken a smaller kitchen if not well lit. |
| 2 | Excellent for modern designs where a wood veneer is desired. | Requires regular maintenance as this colour can show signs of wear and tear more easily. |
| 3 | Suits various type of cabinet door styles. | May not be the best choice for extremely high-moisture kitchens. |
Both Graphite and Davenport Oak, while darker in colour, can significantly enhance the aesthetic of your kitchen cabinetry. Pair them with lighter countertops or backsplashes to create an appealing contrast and balance out the tones.
Remember, while colour is one aspect that defines the feel of your kitchen, your ultimate decision should also consider the intended use and the kitchen surroundings. Fall in love with your cabinets – they are a long-term commitment in your dream kitchen!
Wrapping Up: Your Ultimate Guide to the Kitchen Cabinet
Building your dream kitchen is a thrilling journey, with a vast array of cabinet types, styles, and colours to consider. Our comprehensive guide has navigated you through the advantages and disadvantages of different cabinets, like the roomy tall larder units or the practical corner base units. Remember each cabinet plays an important part in defining your kitchen space. 
Choosing the right material for your cabinets is key for both aesthetic appeal and durability. While solid wood has its charm, MFC and MDF can offer greater stability, particularly important for those high fluctuations in kitchen temperatures. 
With a whole palette of modern kitchen cabinet colours, from the smoky tones of graphite to the rustic warmth of Davenport Oak, you can express your personal style and set the mood for your kitchen. A smart blend of light and dark shades can add depth and a unique touch to your design.
Embrace the process of your kitchen remodel. It's more than just a makeover, it's a chance to create a space that reflects your lifestyle, combining functionality and beauty in one. No matter the size of your kitchen, your choice of cabinet material, colour, type and design will set the tone. Enjoy creating your dream kitchen, and start exploring our wide range of cabinets now.