Crafting the Perfect Family Kitchen: A Comprehensive Guide

Designing a family kitchen may seem like a Herculean task. There are numerous considerations to juggle, and specific wants and needs must be addressed, all while maintaining a budget.
However, just as with any seemingly daunting task, careful planning coupled with a dash of creativity can make your dream kitchen a reality.
Below are some of my top tips to help you create a kitchen that's both functional and delightful for the entire family.
Here's a glimpse of what you'll find in each part:
Explore the significance of choosing high-quality kitchen worktops that offer both durability and visual appeal.
Understand the importance of selecting wall and floor materials that can stand up to the wear and tear of a bustling kitchen.
Discover how to design a space that promotes social interaction and brings the family together.
Learn practical ways to make your kitchen safer for the little ones, without compromising on style and functionality.
Find out how to arrange your kitchen in an ergonomic way that simplifies cooking and other kitchen tasks.
Learn how to plan your storage to make your kitchen tidy, organised, and easy to navigate.
Discover how choosing flexible furniture and fixtures can accommodate your family's evolving needs over time.
Understand the role of lighting in enhancing your kitchen's functionality and aesthetics, with tips on achieving the right balance.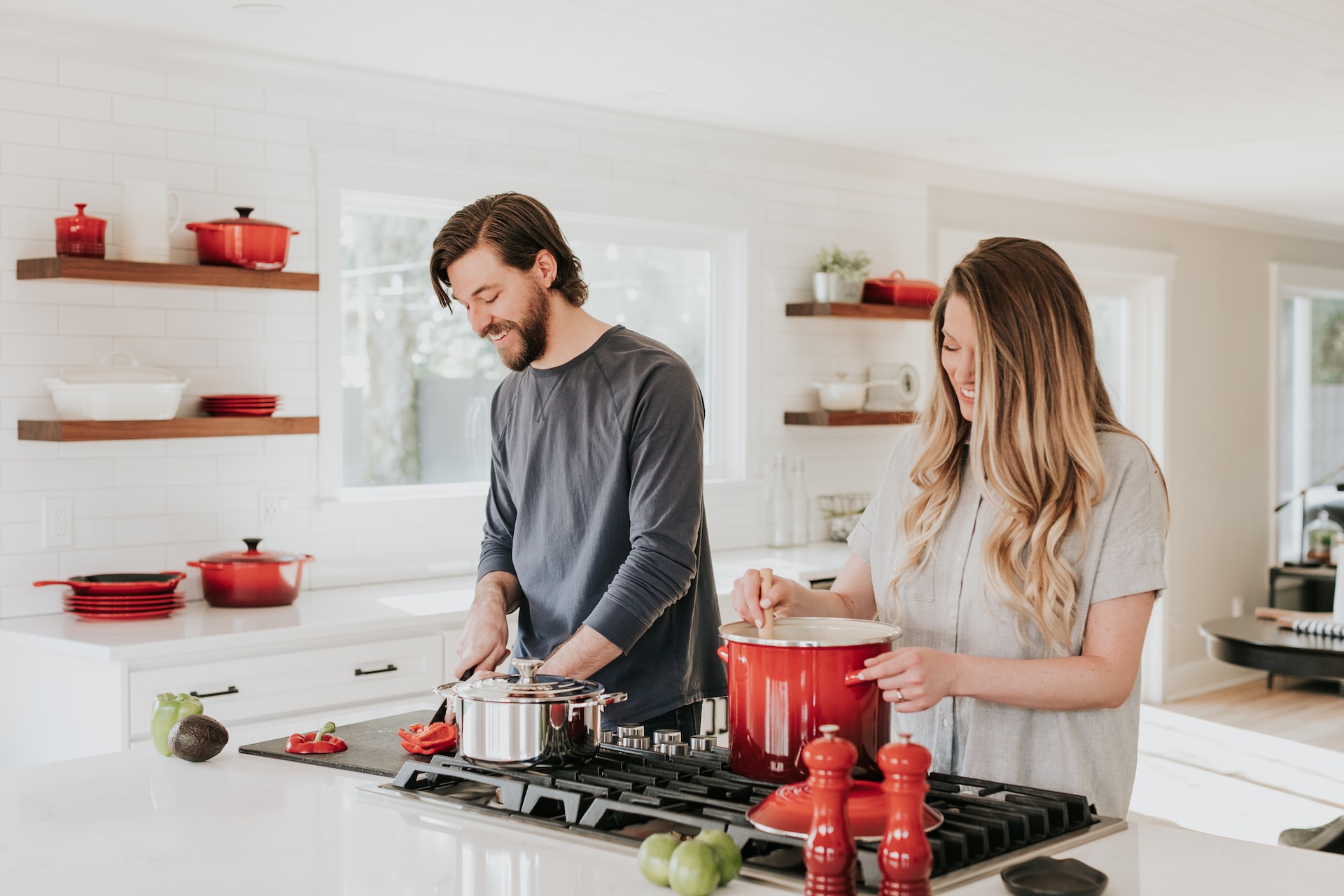 Together, these sections offer a roadmap to help you navigate the intricate process of designing your perfect family kitchen. Happy planning!
1. Quality First: Invest in High-Calibre Worktops
Every culinary masterpiece begins its journey on the kitchen worktop. These surfaces are your trusty sidekicks during every meal prep, which makes their quality a prime consideration.
You'll want a worktop that's not just robust, but also visually appealing. A quality worktop can become the crown jewel of your kitchen - transforming it from a simple workspace into an inviting, stylish hub.
Tip: Consider materials such as granite or quartz for their exceptional durability and timeless elegance. If you prefer a more eco-friendly option, bamboo or recycled glass can make stunning, sturdy worktops.
2. Embrace Functionality: Opt for Easy-to-Clean Walls and Floors
The family kitchen can be a bustling, messy place, particularly when your little ones fancy playing 'Master Chef'. It's why having walls and floors that clean up with minimal fuss is an absolute lifesaver.
Tip: Tiles are a fantastic option for areas where you'll be prepping food - they're practically effortless to wipe clean. If you're not a fan of tiles, consider wipe-clean paints, which can keep your walls looking fresh and spotless. For floors, consider materials like tile, laminate, or sealed hardwood, which can resist spills and stains while offering easy maintenance.
3. Make Room for the Family: Create a Social Hub
In many homes, the kitchen serves as the heart of the house, a haven where the day's stories unfold over a comforting meal. With that in mind, try to incorporate a welcoming space for everyone to gather.
Tip: An open-plan kitchen and dining area can create a spacious, warm environment for family interaction. If your layout or budget doesn't permit this, don't fret. A breakfast bar, a small dining table, or a cosy seating nook can create that sense of connection.
4. Prioritise Safety: Child-Proof Your Kitchen
With young explorers in the mix, child-proofing your kitchen becomes paramount. You'll want to ensure that your kitchen is a safe space for their curiosity, without curtailing their zest for learning and discovery.
Tip: Securing doors and drawers, choosing worktops with rounded edges, and opting for a handleless design are great places to start. You can also install a safety gate at the kitchen entrance to restrict access when necessary.
5. Embrace Ergonomics: Optimise Your Kitchen Layout
A well-planned kitchen layout can transform the daily grind into a joyful dance. Keep your refrigerator, stove, and sink within easy reach of each other to form an efficient 'work triangle'.
Tip: Also consider the placement of your storage. Keep everyday items at eye level, while seldom-used items can be stored higher or lower. Drawers or pull-out baskets can make lower cabinets more accessible and organised.
6. Plan for Storage: Maximise Cabinet and Pantry Space
Good storage can be the difference between a kitchen that's a joy to cook in and one that's constantly cluttered. Plan enough space to store your cookware, dishes, appliances, and pantry items.
Tip: Think vertically and use the full height of your walls. Open shelving, wall-mounted racks, and magnetic knife strips can be excellent space savers. A well-organised pantry with labelled, easy-to-reach items can make meal prep more streamlined and enjoyable.
7. Stay Flexible: Choose Adaptable Furniture and Fixtures
A kitchen is a dynamic space that changes as your family grows. As your children mature, your kitchen needs may also evolve. By investing in adaptable furniture and fixtures—like adjustable stools or modular islands—you can ensure your kitchen adapts with you.
Such pieces offer flexibility, accommodating varying needs and heights, and can transform as per your family's requirements. This way, your kitchen remains functional and inviting, growing seamlessly with your family, ensuring your investment is future-proof and enduring.
Tip: An adjustable table can double up as a dining table and a kids' homework station. Flexible fixtures like a pull-out spray tap or a pot filler over the stove can make kitchen tasks easier for both adults and older children.
8. Brighten Up: Plan Your Lighting
The secret sauce that can turn a good kitchen design into a great one? It's often the lighting. A well-illuminated kitchen not only allows you to prepare meals safely and efficiently but also sets the mood, highlighting your kitchen's best features and making it a welcoming space for everyone in the family.

Tip: Aim for a blend of ambient, task, and accent lighting. Dimmable overhead lights can provide a soft glow for meals, while under-cabinet lighting can illuminate work areas. A statement pendant light or colour-temperature changing LEDs can add character and mood.


Designing a family kitchen requires careful planning and consideration of even the smallest details. It's more than just a room; it's a personal space that should mirror your lifestyle and needs. Take your time, explore your options, and don't settle for a design that isn't love at first sight. The goal is to craft a kitchen that feels like the heart of your home, a space where everyone loves to gather and where lasting memories are made.