Optimizing Storage Space: Choosing the Right Height for Upper Kitchen Cabinets
When setting out in the journey to create your dream kitchen, the height of upper kitchen cabinets plays a pivotal role.
Being aware of the standard kitchen cabinet height, relative to your ceiling height, aids in creating enough space for not just your kitchen appliances, but also allows for the perfect blend of style and functionality. 
The most common upper cabinet height from the countertop is typically around 46 cm (roughly 18 inches), but can range from 38 to 51 cm (15 to 20 inches). 
Cabinets are often designed taller to accommodate larger items. The height of your ceiling can also have a significant influence. In a kitchen with an 8-foot ceiling, you're usually left with about 35 cm (approximately 10 inches) tall kitchen cabinets. 
For high ceilings, 90 cm (35.5-inches) cabinets are often the go-to choice. These details may seem minute, but they make a world of difference in making sure you have the right amount of storage space. 
Do remember, to ensure maximum usability, you ideally want the upper wall cabinets installed so that the bottom of the cabinet is at eye level, or approximately 140 cm (about 55" inches) from the floor. 
Here's a quick comparison guide of different ceiling heights and their corresponding standard kitchen wall cabinet height: 
| Ceiling Height (Feet) | Ceiling Height (Metre) | Cabinet Height (Inches) | Cabinet Height (Cm) |
| --- | --- | --- | --- |
| 7 | 2.13 m | 22.5 inches | 57.5 cm |
| 8 | 2.44 m | 28.5 inches | 72 cm |
| 9 | 2.75 m | 35.5 inches | 90 cm |
| Greater than 10 | Greater than 3.05 | Combination or stacked arrangement | Combination or stacked arrangement |
Different cabinet types might require different considerations too.
For example, deep cabinets, pantry cabinets, blind corner cabinets, and utility cabinets all play a unique role in your kitchen and may alter the traditional standard cabinet heights you would typically see.
Seeking advice from a kitchen designer is always beneficial to navigate these trade-offs, to realise your custom kitchen vision, without sacrificing practicality.
They can furnish you with a wide variety of options from standard base cabinets and wall units to deeper upper cabinets, suitable for ceilings of different heights.
And remember, if your standard cabinets aren't giving you the extra space you need, semi-custom cabinets can be the solution to bring your vision alive.
So, ready to step into your dream kitchen? It's a reflection of who you are and how you move throughout your day. So, don't just opt for what's conventional—choose what works best for you!



Standard Dimensions: How Deep Should Upper Kitchen Cabinets Be?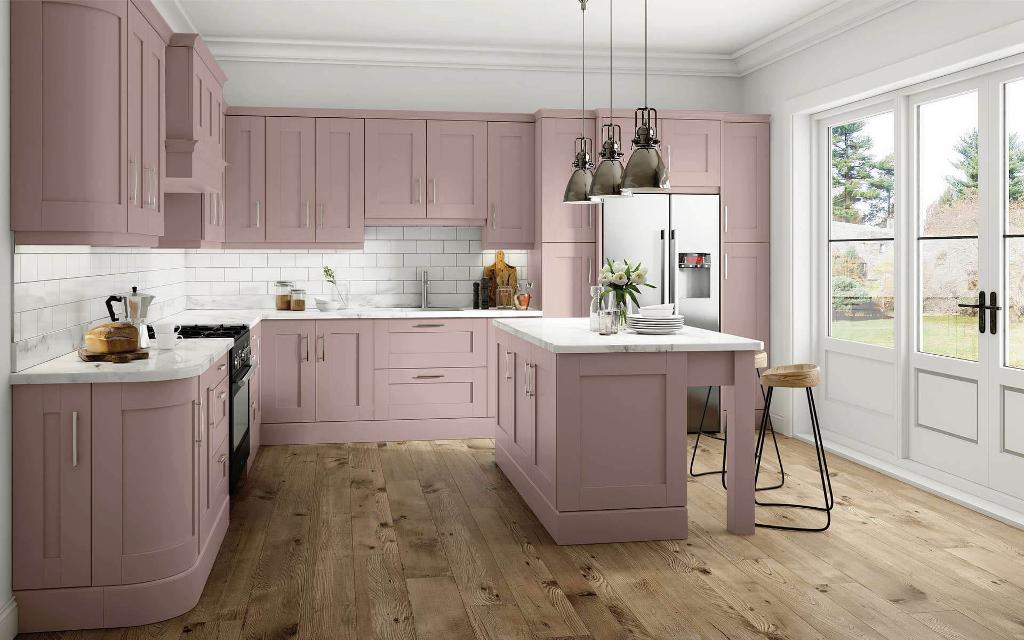 Elsworthy Vintage Pink kitchen with marble worktop and standard and extra deep wall units.
Discovering the perfect cupboard dimensions to suit the character of your kitchen is like a chuck of cheese finding its winning wine partner - a remarkable, life-easing blend.
So, let's uncork the bottle on the standard kitchen cabinet sizes before you leap into the refurbishment of your cooking sanctum. 
Most upper kitchen cabinets are a standard size, with the external depth being 30cm (approximately 12 inches). But don't let that standardisation stifle the stimulation of your creativity!
Remember, a standard dimension is the tip of the iceberg - or rather, the beginning of culinary exploration. Consider the standard dimensions as a creative constraint, a playing field to inspire your inner kitchen designer. 
Standard size: Upper kitchen cabinets are typically 30 cm (approximately 12 inches), but this can slightly vary depending widely on the cabinet types.
Deeper upper cabinets: For those who crave more storage space, deeper cabinets offer an opportunity to obtain that extra space you've been longing for. A deep cabinet between 30 - 56 cm (approximately 12 to 20 inches) deep can be achieved by customising other unit types, perfect for storing larger kitchen appliances.
Taller cabinets: Tall kitchen cabinets, also known as pantry cabinets or utility cabinets, can range from 197 to 230cm (77 to 90 inches) in height. Luxuriously high cabinets are an excellent option if your ceiling height allows it.
Remember, the front of the cabinet, back of the cabinet, and everything in between, can be arranged and rearranged to create a kitchen layout that makes every moment of your culinary journey a delight.
Whether you're planning a brand-new kitchen or just swapping out a few cabinet types, the size of your upper wall cabinets plays a crucial role in achieving your dream kitchen. 
Now, onto the question - can there be too much of a delightful thing?
Yes, a standard kitchen cabinet might well be your culinary cornerstone, but a countertop cluttered with base kitchen cabinets can cramp your style.
While taller cabinets offer extra storage, make sure the bottom of the wall cabinet doesn't crowd your countertop space or obscure your oven cabinets. In the kitchen design dance, it's all about balance. 
Ultimately, the depth and width of your upper kitchen cabinets should reflect your personal needs and style. Everything in moderation, from the depth of the base cabinets to the height of your ceiling, all tied together in a bow of balance.
With just a pinch of planning, a sprinkle of creativity, and the right standard measurements, even stock cabinets can become a sumptuous centrepiece of your kitchen universe.
Experimental Sizes: Pushing the Boundaries 
What about our adventurous culinary explorers looking for different sizes far from the standard kitchen cabinet dimensions? Fear not, bespoke sizes beckon you!
A nation of semi-custom cabinets stands ready to add that pinch of distinct flavour to your new kitchen cabinets. 
Semi-custom cabinets offer flexibility with standard base cabinet dimensions mixed with non-standard elements like deeper upper cabinets.
They generally provide a broader array of options in terms of materials, finishes, and storage solutions, allowing you to create a kitchen that truly reflects your individual taste. Custom kitchen, here you come!
Creating a Seamless Kitchen Layout with Standard Wall Cabinet Sizes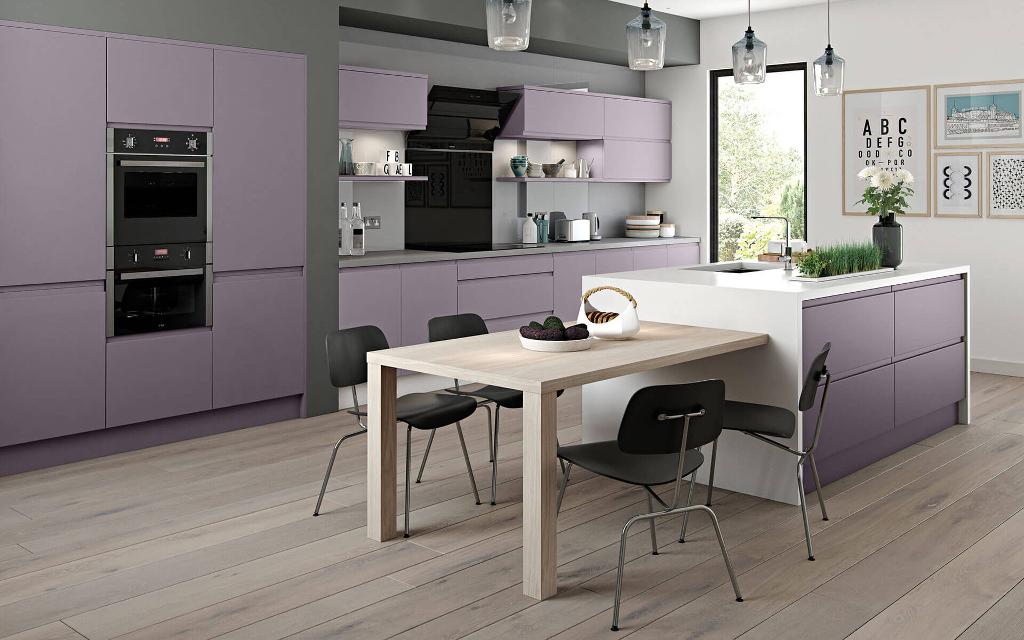 Marino French Lavender Handleless Kitchen with standard top box wall units.
Embarking on a new kitchen remodelling venture is an exhilarating journey, and the world of standard wall cabinet sizes is no different.
Wall cabinets are heroes, saving the day with adequate storage space whilst balancing aesthetics with functionality.
The standard dimensions of these high cabinets are curated with the collective efforts of skilled kitchen designers and the average person's convenience and accessibility in mind. But just how tall should these tall cabinets be? 
Most standard kitchen cabinets usually have a height of 72 cm (28 inches), but homes with high ceilings can accommodate taller kitchen cabinets that extend to 90 cm (35 inches).
Wall cabinets can be stacked for even higher ceilings, creating a grand appearance. These dimensions are not set in stone; one must consider the height of the ceiling, the kitchen layout, and the requirements of the end-user when selecting upper kitchen cabinets.
After all, the best kitchen cabinets are those that fit seamlessly into your dream kitchen.
The Varying Depths of Wall Cabinets 
While there are standard kitchen cabinet dimensions, sometimes, we long for that extra inch of space. It's here where the spectres of deeper cabinets enter our kitchen narrative.
Standard upper cabinets usually have a depth of 30 cm (approximately 12 inches), but if you're looking for a deep cabinet that offers more storage, you might want to consider choosing cabinets that can be customised to create a depth of 30 - 56 cm (approximately 12 to 20 inches).
However, before setting your heart on deeper upper cabinets, it's important that you ensure there's enough walkway space in your kitchen. 
Widths for Every Need 
The front of the cabinet is as crucial as the back of the cabinet, providing the practical functionality we need in our kitchens.
The standard measurements for widths of wall cabinets vary, ranging from 15 cm to 100cm (6 to 40 inches), increasing by increments of 5cm (2 inches).
This variety of sizes ensures that whether you have a small corner that needs a cabinet or a large space above your oven for utility cabinets, there is a size that will fit perfectly. 
Semi-Custom and Custom: The Path to Your Dream Kitchen 
While stock cabinets offer standard kitchen cabinet sizes, semi-custom cabinets offer a bit more flexibility. You can modify the standard kitchen cabinet dimensions to fit your specific kitchen layout.
The bottom of the wall cabinets, the exact cabinet types, and even the inclusion of peculiar pieces such as blind corner cabinets can be customised to guarantee that the kitchen of your dreams becomes a reality.
It's a venture into artistic territories, crafting a kitchen that serves your unique requirements while reflecting your personal style in every corner. 
So, whether you're renovating your kitchen or starting from scratch, remember, standard kitchen cabinet sizes are just the beginning.
Create an orchestra of cabinetry that harmonises with your kitchen appliances, ceiling height, and individual lifestyle, ensuring a kitchen that is as beautiful as it is functional.
Making the Most of Your Kitchen: Exploring Standard Cabinet Widths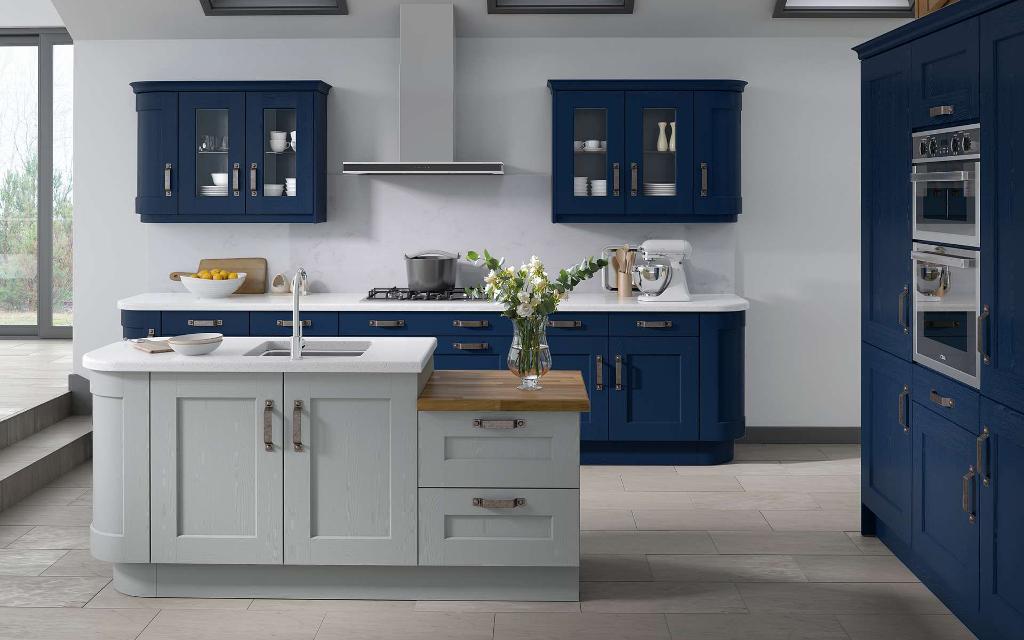 Burwood Marine and Light Grey Shaker Kitchen with 80cm glass wall units.
How wide should your kitchen cabinets be? A prodigious question that teems with importance! The song of each kitchen reverberates with its unique rhythm, and every household boasts a distinct vibe and kitchen layout.
The standard cabinet widths assist you in orchestrating your kitchen space with enough aplomb. They act like the notes that blend harmoniously to create an enchanting kitchen symphony. 
Standard kitchen cabinet sizes vary. You'll typically find widths single door units of 15, 25, 30, 35, 40, 45, 50, 55 and 60 cm (approximately 6 to 24 inches) and double door options of 60, 70, 80, 90 and 10 cm (approximately 24 to 40 inches).
The right note, or rather, the right width, can be conjured depending on your kitchen's design and the appliances that will find their home within these cabinets. 
| Type of Kitchen Cabinet | Measurements in cm | Measurements in inches |
| --- | --- | --- |
| Single Door Unit | 15, 25, 30, 35, 40, 45, 50, 55, 60 | 6, 10, 12, 14, 16, 18, 20, 22, 24 |
| Double Door Unit | 60, 70, 80, 90, 100 | 24, 28, 32, 36, 40 |


Ideal Wall Cabinet Sizes for Different Kitchen Items
15-450 cm (6 to 18 inches): Usually considered ideal for smaller items like spices, utensils, and dishes. They are nifty spaces that help turn potential clutter into a well-organised wonder.
45-60 cm (18 to 24 inches): These widths house everyday items and pantry staples. They're grand enough to satisfy your inner culinary wizard, who often needs to fetch ingredients in a flash.
70-100 cm (28 to 40 inches): When you have larger equipment or require extra space for your beloved pots and pans, wider cabinets are your go-to choice. They accommodate more and ensure that everything has its place, organising chaos into a calm oasis.
Of course, these widths are not fixed. They are the standard widths, the notes that begin your kitchen composition. Together with your kitchen designer, you can tweak them slightly, up or down.
Much like playing an old piano, you can create a custom kitchen that hits the high and the low notes, crafting a space that dares to defy the ordinary. 
In the end, whatever width your cabinets are, remember that they need to harmonise with your dream kitchen's overall tune.
Choose wisely, keeping in mind not only your storage needs but also your unique kitchen layout, for these cabinets will be the supporting cast in your culinary theatre, making kitchen manoeuvres graceful and effortless.
To design a kitchen that sings to your soul, keep these standard measurements in your octave!
Filler Cabinets: The Solution for Awkward Spaces in Your Kitchen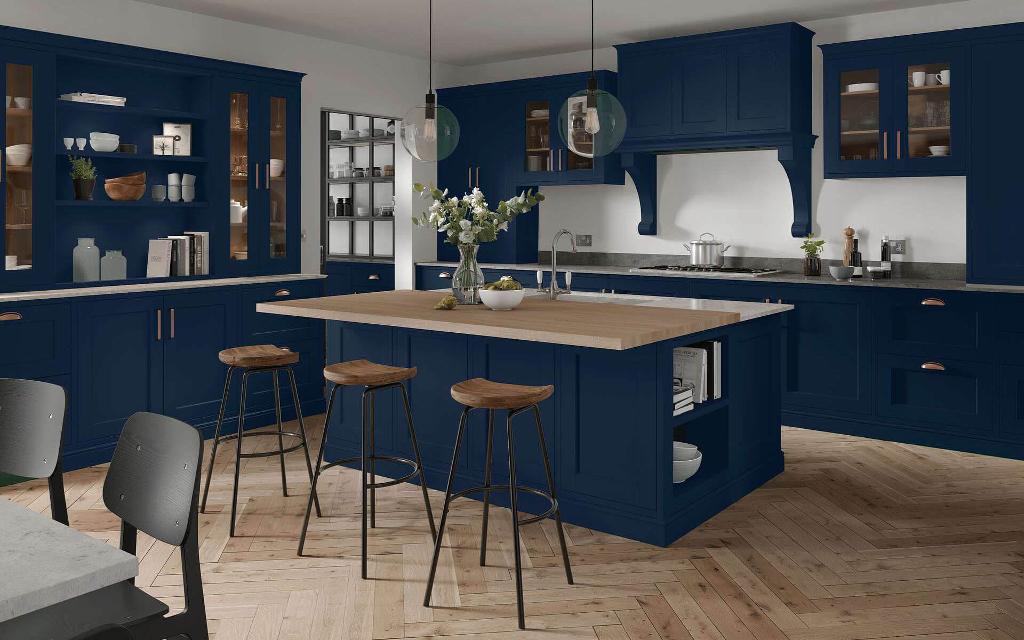 Portwood Marine kitchen with deep wall units above hob top.
Navigating through those tricky areas of your kitchen can often be a daunting task. In comes the ingenious concept of filler cabinets, which can be the perfect fix for those awkward spaces in your kitchen layout.
Being typically narrower than standard kitchen cabinets, these filler cabinets are particularly designed to fill in spaces too small for regular-sized cabinets but too large to leave empty.
They complement your existing cabinetry like a charm while adding extra storage space. 
Features such as pull-out racks or door-mounted spice racks can bring an extra utility flair to these cabinets. Just imagine, those ungainly corners and gaps instantly transformed, adding not just aesthetic charm but functionality to your overall kitchen design! 
Creativity Unlocked: Tailoring Filler Cabinet Heights 
Standard Height Fillers: These are the norm, matching the height of your standard kitchen cabinet dimensions. This creates visual symmetry.
Shorter Filler Cabinets: For anyone looking to showcase that gorgeous china in the space between the top of the cabinets and the ceiling height, shorter filler cabinets are the go-to. This works wonders especially with tall kitchen cabinets, accentuating the high ceilings.
Taller Cabinets: For those kitchens where the height of the ceiling is taller than your upper kitchen cabinets, implementing taller filler cabinets will ensure no space is left unutilised. Additionally, different sizes can provide options to store a variety of items.
So, the next time you're thinking of a kitchen makeover, don't hesitate to incorporate filler cabinets as part of your plan. Speak to your kitchen designer and see how you can weave these into your dream kitchen. 
Quick Tips for Filler Cabinet Implementation 
Ensure the colour and style of your filler cabinet matches your existing cabinet types for a seamless look.
Always measure the space accurately. An error here can disrupt your entire kitchen layout.
Don't forget about the depth of your filler cabinets. A deep cabinet will naturally offer more storage space. However, be sure to balance this with the overall design and function of the space.
It's crucial to work with a knowledgeable kitchen designer. They'll provide the best advice on how to use filler cabinets in your new kitchen while taking into account other factors such as kitchen appliances and base kitchen cabinets.
Your creativity is your only limit when it comes to building the kitchen of your dreams. Filler cabinets are one more tool in your arsenal, helping to conquer awkward spaces and creating a perfectly tailored kitchen just for you!
The Role of Upper Wall Cabinets: Balancing Aesthetics and Functionality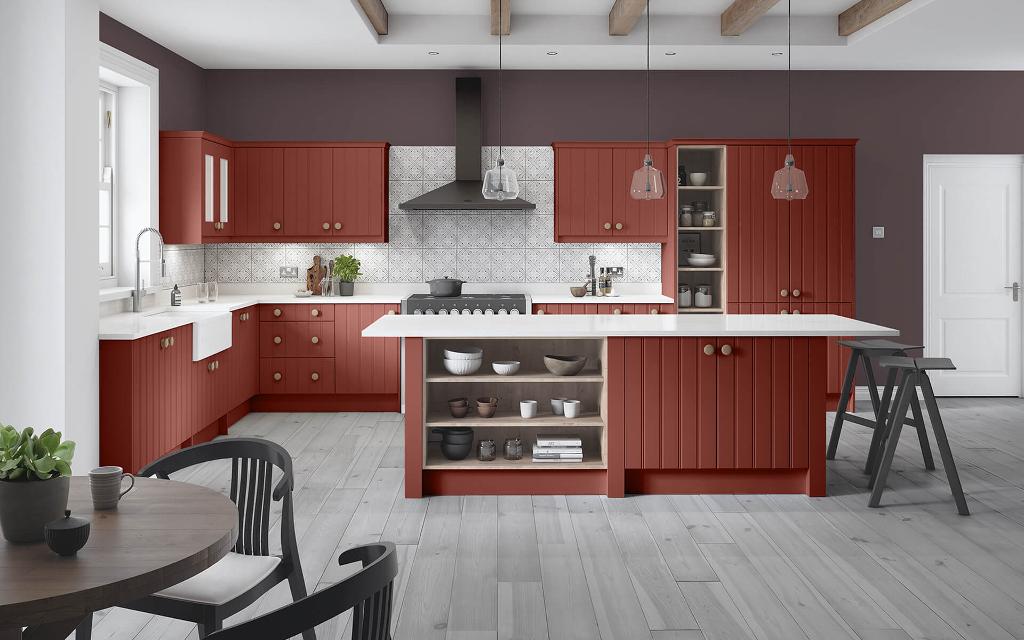 St Ives Tuscan Red Grooved Kitchen with perfectly balanced use of kitchen wall units.
Upper wall cabinets, by their very nature, are a blend of aesthetics and functionality. They bring form and function together in perfect harmony within your kitchen layout. But what is their particular role in the kitchen? Let's explore this in further detail. 
Firstly, upper cabinets provide valuable storage space. Whether it's your favourite selection of spices, the dinnerware you save for special occasions, or everyday pots and pans, upper wall cabinets keep these items within easy reach.
What's more, the height of such cabinets can deter little ones from accessing items that may be harmful to them, making upper cabinets a discrete but essential part of your kitchen's safety design. 
But upper cabinets aren't just repositories for kitchen paraphernalia; they have substantial aesthetic value too. These cabinets, which often contain glass doors or open shelves, can showcase your best dishes and china, adding a touch of elegance to your kitchen's overall design.
The choice of materials, finishes, and details can also have a significant impact on the mood and character of the space. A shaker-style cabinet in a pastel shade can evoke a cosy farmhouse feel, while a sleek, glossy finish can give a nod to modern minimalism. 
But what about their function? The standard height for upper kitchen cabinets ensures they are within comfortable reach for an average person, simplifying their use.
And while tall cabinets might seem a bit overwhelming, remember that they offer ample space for all your needs - they're perfect for those bulky kitchen appliances that don't easily fit elsewhere. 
Choosing the Right Upper Wall Cabinet Size 
Finding the right balance between standard dimensions and your specific requirements isn't always straightforward. It's essential to consider the available space, the desired functionality, and your personal aesthetic tastes.
Different sizes of cabinets can drastically affect the final look and functionality of your kitchen. 
First, measure the height of your ceiling. Knowing your ceiling height helps determine the maximum cabinet height you can install while leaving enough space for the cabinet crown or trim.
As a rule of thumb, leaving a gap between the top of the cabinets and the ceiling future-proofs your design, allowing for any necessary changes or refits you might plan in the future.
Avoid installing cabinets too high - you want to ensure items at the back of the cabinet are within easy reach.
Note that the depth of the base cabinets usually dictates the depth of the upper cabinets. But suppose you need some extra space. In that case, deeper upper cabinets can be installed, but ensure they don't protrude too much over the worktop to avoid a cramped feel.
Factoring in Your Kitchen Appliances 
Your choice of kitchen appliances can also influence the upper cabinet height. Appliances like range hoods and microwaves often have specific clearance recommendations, and it's essential to follow these for safety and optimal functionality.
For example, over-the-range microwaves usually require a specific distance from the top of the range to the bottom of the cabinet above it. 
Always consider these factors when planning your new kitchen cabinets, and remember to bring your dreams to life, collaborate with a professional kitchen designer.
They can provide unique insights and expert knowledge that can supercharge your kitchen transformation journey.
Beyond the Basics: Exploring Deeper Options for Upper Kitchen Cabinets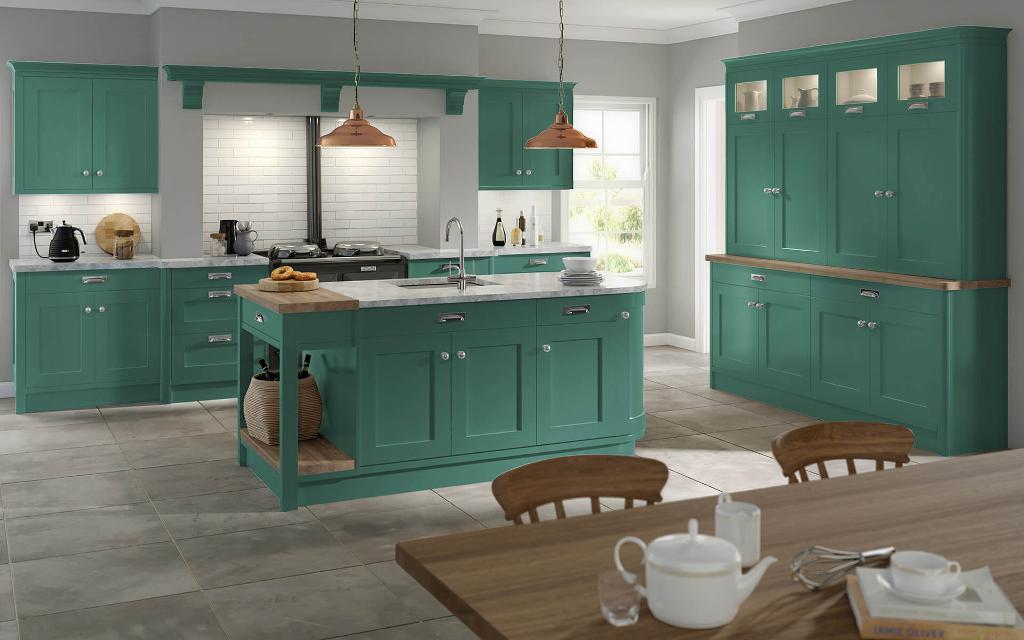 Bewdley Liberty Green kitchen with wall cupboards on either side of the chimney breast.
Shift your focus from the standard kitchen cabinet sizes and explore the lavish world of deeper cabinets. These are not your everyday standard kitchen cabinets, but rather, a perfect blend of style, functionality, and extra storage space.
Make no mistake; deeper cabinets are not for everyone. So, let's figure out if they are the ideal fit for your kitchen layout. 
Deeper cabinets, as the name suggests, are larger than the standard base cabinets. Typically, the standard base cabinet dimensions range from 30 to 56 cm (12 to 22 inches) in depth.
However, deep upper cabinets can exceed this, providing additional storage to accommodate more kitchen essentials. If you are feeling a little daring and your kitchen allows for it, why not venture into this somewhat untapped territory? 
Taller Cabinets: As the depth of the base cabinets increases, so does the height. The tall kitchen cabinets create an imposing aesthetic, ideal if you're aiming for an impressive kitchen display.
Oven Cabinets: Are you an avid baker or have a family that loves baked goods? Deeper and taller cabinets might be precisely what you need. These will create enough space for those enormous ovens that wouldn't fit in a standard base cabinet height.
Pantry Cabinets: For the kitchen gourmands among you, a deep cabinet will give you ample room for your spices, cans, jars, and dry goods. No more fumbling in the back of the cabinet to find that elusive jar of nutmeg for your favourite recipe.
You're now probably wondering, how deep can these upper kitchen cabinets go?
Well, they can reach up to 56 cm (22 inches). But remember, the size of the cabinet should be in line with the height of your ceiling and the front of the cabinet shouldn't interfere with your kitchen's work area and thought should be given to how the unit is supported.
Connect with a kitchen designer to assist you in determining the correct dimensions for your kitchen space. 
If after all this exploration, you find deeper upper cabinets are not suitable for your kitchen, fear not. There are endless possibilities with standard wall cabinets and kitchen base cabinets.
They can be enhanced with clever use of kitchen island cabinets, utility cabinets, high cabinets, or pull-out lower cabinets to make the most of your storage space. 
Whatever your decision, remember the key to a great kitchen layout lies not just in selecting the best kitchen cabinets but in making them work seamlessly with your lifestyle.
The goal is to picture your dream kitchen, then build it piece by piece. It's not about following the herd; it's about creating a kitchen that is you.
From Stock to Semi-Custom: Choosing the Best Cabinets for Your Kitchen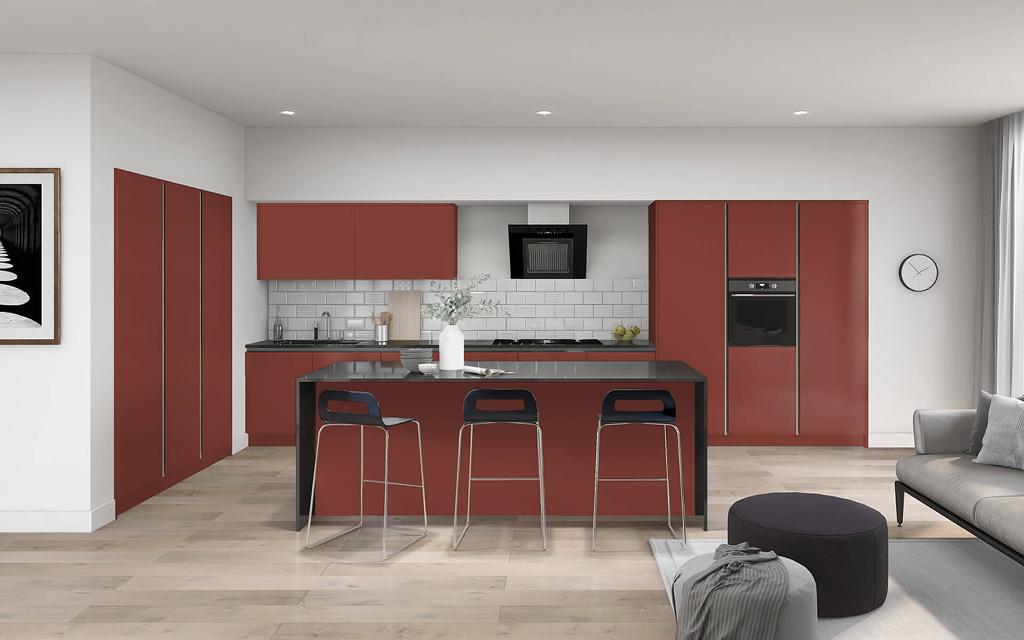 Henley Tuscan Red True Handleless Kitchen with Black Worktops and Low Wall Units cleverly used under the bulkhead.
When embarking on the journey of creating your dream kitchen, the choice between stock cabinets and semi-custom cabinets can be quite compelling.
Both cabinet types offer their unique quirks and features. Whether you prefer tall cabinets brushing against the ceiling height or standard kitchen cabinet sizes, the choice widely depends on the kitchen layout you envision. 
Your budget and time constraints will significantly influence this decision. It's no surprise that stock cabinets are pocket-friendly and readily available.
On the flip side, semi-custom cabinets afford you the extra space to stamp your personal style, allowing for enough space to switch up the standard dimensions a bit. Prepping a list of your must-haves can help you garner clarity in this area. 
Stock Cabinets: The backbone of standard kitchen cabinet sizes, stock cabinets come in a variety of standard widths and heights. Often lower cabinets belonging to this category maintain the standard base cabinet height, making them an easy fit for most kitchen spaces. These cabinets are delightfully easy on the wallet, but bear in mind they lack the flexibility of customization.
Semi-Custom Cabinets: These cabinets beautifully juxtapose uniqueness with affordability. They open the door to taller cabinets, deeper upper cabinets and unconventional kitchen cabinet dimensions, breaking the monotony of standard kitchen cabinet height. If you've always craved adding a pantry cabinet or a special oven cabinet to your kitchen layout, semi-custom cabinets might just be your ticket.
It's important to remember that regardless of the cabinet type you choose, they must harmonize with your kitchen appliances and fit within the overall kitchen space.
For instance, ensuring there's enough room at the top of the cabinets to comfortably store items or having enough space in front of the cabinet to allow the dishwasher doors to swing open is essential. 
The Power of Consultation: Seeking Expert Advice 
Sometimes, creating the perfect culinary sanctuary might require insights beyond our grasp.
Engaging with a kitchen designer who can offer recommendations based on your kitchen's dimensions, including ceiling height, size of the kitchen island, and location of windows, can prove to be quite beneficial.
Armed with their perspective, you'd be well on your way to selecting the best kitchen cabinets, moulding your dream kitchen into reality.
Wrapping It Up: Final Thoughts on Sizing Your Dream Kitchen Cabinets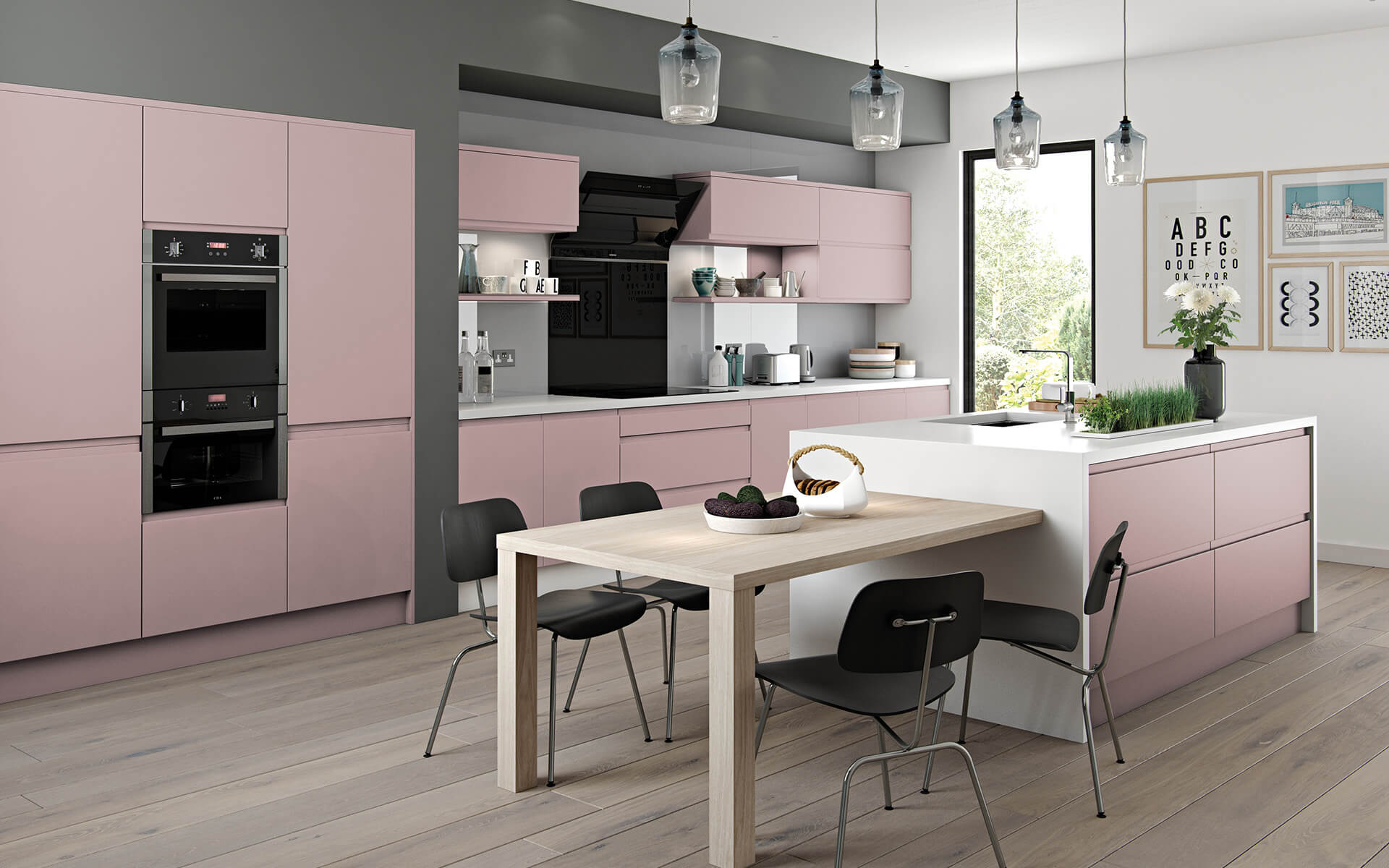 Marino Heritage Pink Handleless Kitchen with White Worktop.
So, you've unpeeled the layers of cabinets such as standard base cabinets, upper kitchen cabinets, and even tall cabinets.
The world of kitchen design is like a colourful tapestry, rich with possibilities.
To wrap things up, here are some key points to bear in mind whilst choosing the sizes for your dream kitchen cabinets. 
Standard Size Versus Custom Design: While the standard kitchen cabinet sizes are designed to fit most homes, semi-custom cabinets and custom designs offer you the flexibility to tailor your cabinets depending on how much space you have and your personal aesthetic preferences.
Cater for Appliances: When planning your kitchen layout, factor in the height of your ceiling and the placement of kitchen appliances. There needs to be enough space between the top of the cabinets and your ceiling, as well as between the bottom of the wall cabinet and your appliances.
Optimising Storage: Deeper cabinets, tall kitchen cabinets and pantry cabinets can provide you with extra storage space. But, do remember the golden rule - deep upper cabinets should not outshine the functionality and the comfort level. It's about adding value to your kitchen, not making it harder to use.
There's no one-size-fits-all approach to designing your dream kitchen.
Maybe your heart flutters for the sleek, modern aesthetic of high cabinets that reach up to the ceiling or perhaps you're inclined to the rustic charm of lower cabinets with traditional detailing.
Grey areas do exist, and that's perfectly okay. Don't feel bound by the standard measurements. Your kitchen should reflect your lifestyle, so have a chinwag with a kitchen designer if you're not sure about what style or sizes work best for you.
They will guide you to unlock that box of solutions, tailor-made for you. This is your kitchen, after all. 
Every choice you make, from the front of the cabinet to the back of the cabinet and from the bottom of the cabinet to the top of the cabinets and even the elusive corners with blind corner cabinets, it all counts.
Depth of the base cabinets, width of your oven cabinets or even the utility cabinets – you have the power to carve each size to fit your tale.
It's a whirlwind of ideas and options that could spin heads. But, keep this in mind: Kitchen design is an orchestra of harmonising pieces that ignite your creativity whilst offering functionality – it's an art, science, and magic all at once!
Let's march forward, roll up those sleeves, and make your dream kitchen a tangible reality. So, are you ready to embark on this extraordinary design journey?
Ready to start you kitchen journey - talk to the Better Kitchens Team today!