Remodelling Your Dream Kitchen in 2024:
Detailed Costs and Planning Guide for Projects Big and Small

With the dawn of a new year on the horizon, there's a unique sense of excitement in the air. It's time to turn dreams into reality and what better way to start than to bring your dream kitchen to life!
Whether you're planning a minor kitchen remodel or a comprehensive overhaul, the cost of a new kitchen in 2024 is crucial, especially as soaring inflation this year has strained budgets.
So, how much should a new kitchen cost? A tricky question indeed, as the answer depends on several factors - size of your kitchen, scale of the remodel, choice of appliances, to name a few. 

Note: The total cost of your kitchen remodel is an amalgamation of labour costs, design and planning costs, as well as costs of construction and professional services.

In this article, we'll crunch some numbers and explore the national average cost of various level of kitchen remodels - from small kitchen remodel costs, mid-scale kitchen remodel to a complete kitchen makeover.
We'll also unpack the potential additional costs and break down the most expensive part of a kitchen remodel. Whether you're planning minor enhancements or going all out with a large kitchen remodel, we have got you covered! Let's take a look.
A minor kitchen remodel includes smaller projects such as replacing appliances or adding a tile backsplash This. type of remodel is more cosmetic and won't result in drastic changes to your kitchen's layout. It often costs significantly less than a major or mid-scale remodel, perfect for those small kitchen remodel costs.
A major kitchen remodel, on the other hand, is a complete kitchen overhaul. It involves intricate changes to the layout, introduction of new appliances, and potentially even an expansion of your kitchen space. It's the marathon of kitchen renovation, and although a significant investment, it creates a beautifully new kitchen tailored to your needs.
Then, we have the mid-scale kitchen remodel. It falls between a minor kitchen remodel and a major remodel. There might be changes to some of the cabinetry or the kitchen island, but not necessarily a full restructuring of the layout. It suits homeowners who want noteworthy changes, but without the large price tag of a major remodel.

So, step back and take a good, long look at your kitchen.
Whether you opt for minor changes or decide on a major kitchen remodel, the key is to ensure the scope aligns perfectly with your budget and lifestyle.
In essence, whether it's a major overhaul or a bunch of smaller projects, it all begins with understanding the scale and scope of your kitchen remodel.
Costs and Budgeting
Understanding the costs associated with a new kitchen remodel is your starting point to determine an achievable budget. The overall cost of your kitchen renovation depends on the scale and scope of your project.
With smaller projects, such as a minor kitchen revamp, the total cost can be kept reasonably low. Still, with large projects such as a complete kitchen remodel, the total project cost can climb significantly.
When budgeting, it's crucial to consider potential additional costs that may arise. Unforeseen expenses, such as unexpected structural work or necessary adjustments to electricity and plumbing, can add to your total cost.
It's advisable to set aside a percentage of your overall budget for these potential surprises. 
Labour costs are another important aspect to consider in your kitchen remodel budget. On average, labour can account for around a third of your total costs.
Remember, your dream kitchen is an investment. Hiring a professional contractor can mean the work gets done quicker and to a higher standard, saving you stress down the line. 
Table of Service Costs
| SERVICE | AVERAGE COST |
| --- | --- |
| Professional Contractor | £1500 - £5000 |
| Electrical Services | £300 - £1500 |
| Gas Services | £400 - £2000 |
| Professional Builders | £1500 - £5000 |
| Skip Hire for Waste Management | £200 - £400 |
If you're after a national perspective, the national average cost for a kitchen remodel can be hugely helpful. For a minor kitchen remodel, you could be looking at around £20,000.
A major remodel, with all the bells and whistles installed, could be in the ballpark of £60,000. It's important to note that these are rough figures, and costs can wildly vary depending on different factors like your location and the size of your kitchen.
Ironically, the most expensive part of a kitchen remodel isn't the glittering high-end appliances or sleek marble countertops, but the kitchen cabinets.
New cabinets can consume nearly half of an average kitchen remodel cost, especially if you decide to go for custom cabinets. However, going for stock cabinets can notably reduce this cost if you're watching your pennies.
You will need to strike a balance between cost, practicality, and your individual design aesthetic.
Table of Product Costs
| PRODUCT | AVERAGE COST |
| --- | --- |
| New Kitchen Cabinets (Stock) | £800 - £5000 |
| Custom Kitchen Cabinets | £2000 - £15000 |
| Kitchen Island | £700 - £4000 |
| Kitchen Worktops or Countertops | £500 - £5000 |
| Mid-Range Appliances | £1200 - £3000 |
| High-End Appliances | £4000 - £10000 |
| Ceramic Tile Backsplash | £400 - £2000 |
The Advantages of Procuring Your New Kitchen Through an Online Platform
In the virtual shopping world, the art of sourcing for kitchen units online boasts significant potential savings. While browsing the internet, it can be astounding to discover that savings of up to 50% are no mirage but a tangible reality.
The catch, of course, is to know where to look and when. The online market is no stranger to splendid deals on both new cabinets and classic styles.
So, if you're contemplating a kitchen remodel, taking some time to scour the online stores for your new kitchen might be the clever cost-saving strategy you need.
Not only does this save you a considerable chunk of your kitchen remodel budget, but it also broadens your choices far beyond your local kitchen showroom.
| Pros | Cons |
| --- | --- |
| Significant cost savings: You could save potentially up to 50% on your kitchen remodel budget by procuring new cabinets and other items online. | Quality uncertainty: It can be challenging to ascertain the quality of products when you can't physically inspect them. Photos and descriptions may not fully capture the product's true likeness. |
| Unlimited choices: Online platforms offer a vast range of designs, styles, and brands that may not be available in local stores. | Time-consuming: Thoroughly researching and comparing products online can be time-consuming. With an abundance of choices, it might be overwhelming to decide on just one direction for your kitchen makeover. |
| Convenience: You can shop at your own leisure without feeling rushed or pressured into making a decision. | Shipping & Installation: Online purchases may come with shipping fees and you may need professional help for the installation of your new kitchen. |
| Frequent discounts: Online retailers often offer promotional sales and discounts on items, mitigating your total project cost. | Customer Service: In the event that there are problems with the product or questions about assembly, getting support could be more difficult than when dealing with a local business. |


Design & Planning Your New Kitchen
At the heart of your new kitchen, whether it's a minor remodel or a full-scale makeover, lie your kitchen cabinets. These can be split into two main types: custom cabinets and stock cabinets.
The former are bespoke units tailored to your specific kitchen, whilst the latter are pre-made, off-the-shelf units.
It's essential to factor your choice into your kitchen remodel budget, taking into account that the total cost of custom cabinets may be higher, but they potentially present more options for creating that dream kitchen.
However, if you opt for stock cabinets for your kitchen upgrade, you can still infuse style and function in your space. 
As renowned interior designer, Vanessa Deleon once said, "In the kitchen, the cabinetry can be a work of art." You need to ensure the size of your kitchen and the design of your new cabinets match perfectly.
Additionally, adding a kitchen island adds versatility to your kitchen layout, providing additional countertop space and possibly even more storage space. 
High-end appliances or brand new appliances can drastically alter the overall look and feel of your kitchen. Indeed, investing in kitchen appliances is vital for functionality, but also plays a major role in defining your kitchen design.
The choice of materials also greatly impacts the kitchen renovation costs. We recommend considering something like ceramic tile for your flooring and potentially even a tile backsplash. These can provide a touch of elegance while also being highly durable and easy to clean.
Remember, the journey to your dream kitchen is not only about picking out new appliances or deciding between stock or custom cabinets. It's far more than that; it's about creating a kitchen layout that flows seamlessly, meets all your needs, and ultimately makes you love spending time there. 
Get the help of a professional designer to avoid costly mistakes in the long run. They can ensure that even the most minor remodel feels transformative and maximises your budget.
After all, your new kitchen should be a perfect blend of style and function, a space where you can show off your culinary skills and host memorable gatherings.
Mastering the Art of Kitchen Planning and Design 
Deciding on where to start with your kitchen design might feel as overwhelming as a rushed order in a gourmet kitchen. Well, not to fret, you have several viable options suitable for various tastes and comfort levels.
These three methods of design happen to be popular choices amongst our community of budding and practiced home chefs. 
Method 1
Starting with the more traditional route, you might find yourself visiting your local showroom.
This in-person experience enables you to touch and feel the sample cabinets, sizing up potential kitchen islands, and visualising the overall look with the help of seasoned professionals.
This initial consultation offers a hands-on exploration of different options, from custom cabinets to tile backsplash, allowing you to realize each idea's impact on the total project cost.
Method 2
Alternatively, if time lacks or you fancy the comfort of your home, relying on the online realm will suit you. With Better Kitchen's 3D planner at hand, the on-screen design process becomes an interactive dream kitchen session.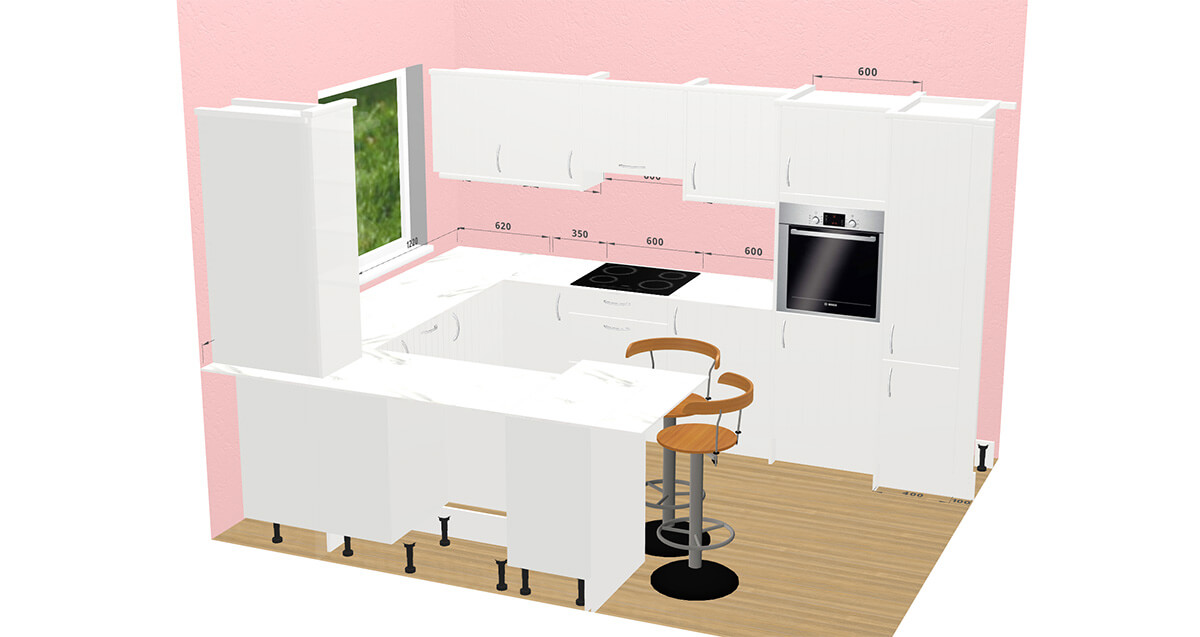 This tool allows you to input your kitchen's size, select stock or custom cabinets, and allocate space for high-end appliances. It's a fantastic way to experiment with the layout without the need to get your hands dirty.
Be sure to keep a kitchen remodel budget at hand to make informed decisions on escalating costs and taking control of the budget.
Method 3
Lastly, if you're the hands-on, do-it-yourself kind, you can indeed take the reigns.
With an average-sized kitchen, minor kitchen remodel or a larger project, there's always room for a dash of personal enthusiasm.
While this may delight those with a knack for designing, remember that professional help is often beneficial, especially when the project begins to resemble a major kitchen remodel.
After all, the total cost can quickly increase with unanticipated additional costs.

Regardless of the chosen route, the underlying aim is to create a space you're thrilled to step into every day. So be bold, give your creativity free rein, and watch as your old kitchen transforms into your perfect cooking haven.
Engaging Expert Assistance: Installation, Construction, and Professional Services 
Embarking on a kitchen remodel can feel daunting, you might think "Can I do this on my own or do I need professional help?" Well, the answer isn't so straightforward.
It depends on the complexity and size of your kitchen upgrade. Smaller DIY projects might suffice for a minor facelift, but a complete kitchen remodel might require the expertise of a professional contractor. 
"Remember, a successful kitchen remodelling isn't just about saving money, it's about creating a national kitchen standard, and preserving the quality of your existing cabinets."
Professional Contractor: Hiring professionals ensures adherence to national kitchen standards. They have a keen understanding about the intricacies of a remodel and can seamlessly integrate new appliances and cabinets into your existing kitchen layout.
DIY Projects: These smaller projects could include painting the existing cabinets or changing the ceramic tile. Yet, for larger projects, such as implementing a new kitchen design or changing the kitchen layout, it's wiser to seek talented professional help.
Professional Help: Although might be enthralled by the allure of crafting the dream kitchen yourself, major refurbishments are not to be underestimated. Collaborating with a professional designer or a veteran contractor to help you navigate the twisting path of a complete kitchen remodel is often a judicious decision.
| Method | Average-sized Kitchen (cost) | Large Kitchen (cost) | Minor kitchen remodel (cost) | Major kitchen remodel (cost) |
| --- | --- | --- | --- | --- |
| Managed | £10-20,000 | £20-40,000 | £6-12,000 | £10-15,000 |
| DIY | £5-10000 | £10-20,000 | £3-6,000 | £5-7,500 |
The table above provides a general idea of average-sized kitchen to large kitchen remodel costs for a fully managed service or a DIY approach.
Regardless of the scale of your remodel, whether minor or major, remember to always mind your budget and prioritize tasks. Labour costs could skyrocket without thorough planning.
Ultimately, the goal is to strike a sweet balance between achieving your dream kitchen and managing your total project cost effectively. 
The Truth About Kitchens
Don't Get Ripped Off When Buying Your Next Kitchen!
Investing in a new kitchen can be a significant expense, especially if you're dreaming of a grand design. The first step in buying a new kitchen is considering your budget, as this will determine what's possible.

With kitchens, there are certain areas where it's essential to spend money, but others where you can save. So, how can you ensure you aren't getting ripped off when buying your next kitchen?
Below are Better Kitchens' top tips for spending wisely and avoiding overpaying.

Identify the Shortcomings of Your Current Kitchen
Understanding what you dislike about your current kitchen is crucial for designing your new one. Instead of changing aspects that already satisfy you, focus on improving those that don't. This approach can save unnecessary costs.

Do You Need New Appliances?
One of the priciest parts of a kitchen revamp is replacing the kitchen appliances. However, you don't always need to buy new ones.
If your current appliances will blend with your new kitchen style, or can be concealed behind cabinet doors, then perhaps you can keep them, freeing up your budget for other aspects of the renovation.

Opt for Cost-Effective Tiles
Tiles can be a tempting area to splurge on. They can be aesthetically pleasing and intricate, but in truth, they are one area where you can afford to economise. Generally, tiles don't draw much attention, and regardless of their price tag, their primary function remains the same.
Consult an Expert
Don't cut corners when choosing your kitchen manufacturer or installation company. It might cost a bit more to hire experts, but it will be worth it in the long run.
Opting for a cheaper service might leave you with a subpar kitchen that needs replacing or can't withstand the demands of family life.

Now you know there are ways to save money on your kitchen and avoid being ripped off. By following these carefully curated tips, you can create your dream kitchen without breaking the bank.

Conclusion
Whether your sights are set on a complete kitchen remodel or a smaller project like a minor remodel or kitchen makeover, we've established that the size and style of your dream kitchen do play a pivotal role in the overall expenditure.
Tackling a major remodel in a large kitchen versus a small kitchen remodel certainly affects the total project cost.
From the stylish appeal of custom cabinets over stock cabinets, to the magnetic draw of high-end appliances, the choice laid before you is as vast as the national kitchen scene itself.
The average kitchen remodel cost can be dictated by the design, the size, and even the existing cabinets. 
At first glance, one might shy away from the cost of a professional contractor, but can we ignore the value of professional help that significantly offsets the potential errors and pitfalls of DIY projects?
Surely this is a factor worth considering when you weigh the national average cost against rather disheartening DIY disasters. From kitchen layout to design, professional designers can help level up your kitchen upgrade. 
Perhaps the most expensive part of a kitchen remodel may include high-end appliances or new cabinets, but remember, these also form the core features of your new kitchen, determining its functionality and appeal.
Fret not, however, for online platforms today have made it significantly easier to manage costs and budgeting, keeping unforeseen shocks at bay. 
So take a step, dare to fashion your dream kitchen from the ceramic tile to the tile backsplash, from the kitchen island to the kitchen appliances.
The cost of your a new kitchen is not just about spending, but rather, it's an investment in comfort, efficiency, and joy. It's a story that tells of your journey from a simple kitchen design to a warm, inviting hub of your home.
And remember, every great journey, like every great meal, begins with a simple, decisive step.