Choosing the Right Height for Your Kitchen Breakfast Bar
It is imperative that you give careful thought to the height of your kitchen breakfast bar.
A height that aligns perfectly with your specifications can render your kitchen a haven of efficiency and comfort, whether you're sipping a cup of hot tea on a cold winter's morning, engaging in lively chit-chat with your loved ones over a nocturnal snack, or even quickly sorting the morning mail. 
Integral to the height selection is the primary use of your breakfast bar. For instance, a bar used primarily for a quick bite or a cup of coffee may warrant a different height to one that you plan on using for preparing meals, homework assistance, or hosting dinner parties.
Your choice should ideally reflect the anthropometrics or human body dimensions of your household to ensure maximum comfort. 
Don't forget the bar's location in the kitchen. If it's forming one side of a kitchen island unit, you may need to consider its relationship with the work surface on the other side.
Or if it's to be a standalone feature, then perhaps a non-standard height will deliver the character and prominence you're aiming for. 
By measuring the heights of your existing kitchen counters, table tops, and armrests of your chairs, you can provide us with valuable hints on the bar height that would best accommodate your ergonomic requirements.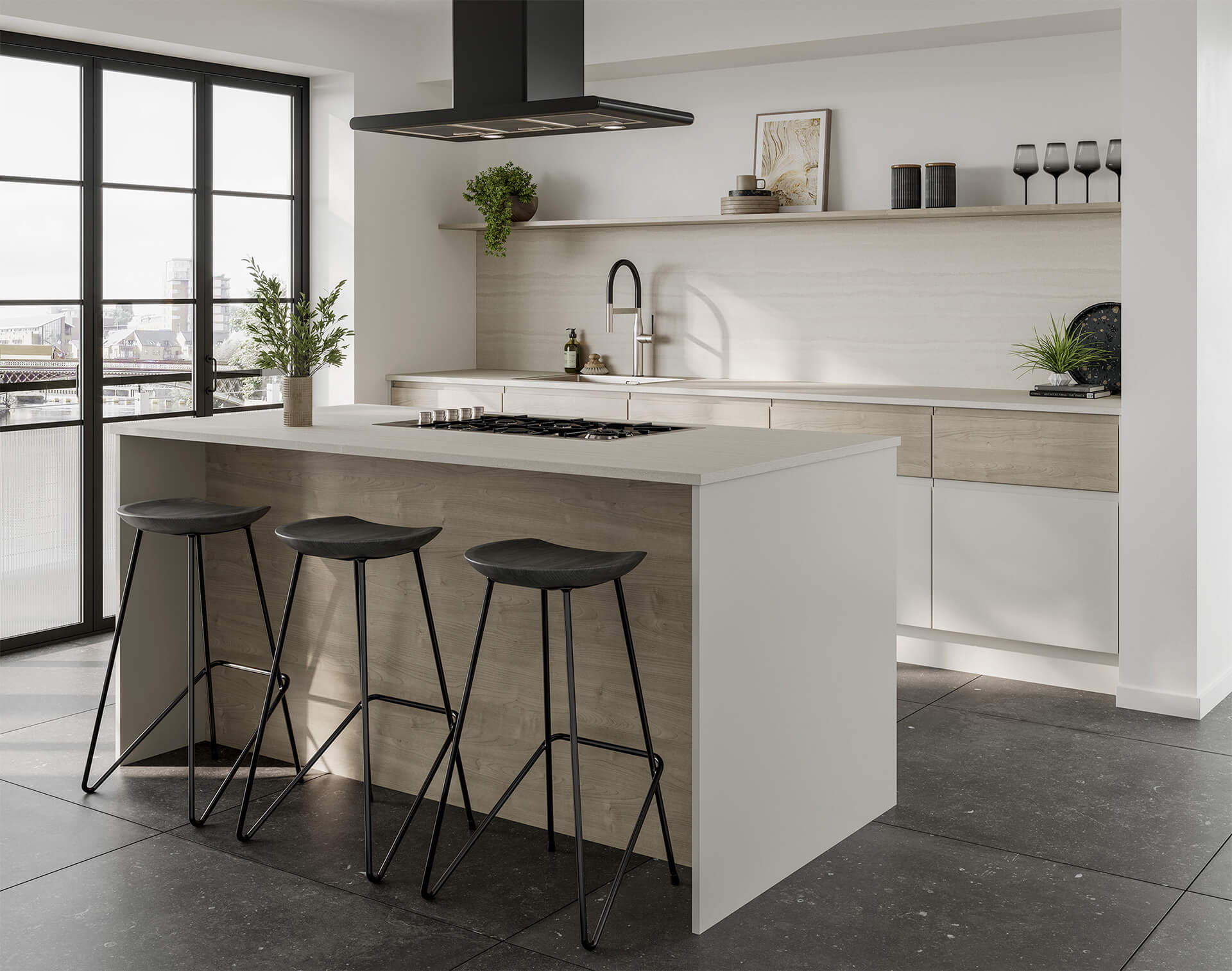 Modern kitchen with Island Breakfast Bar
Finally, remember that the type of stools you choose will also influence the height of your kitchen breakfast bar, for example, backless bar stools will appear lower.
The optimal height balance between the bar and a backless stools is essential as it can significantly impact your comfort levels whilst seated. We'll be delving into this more in the sections below. 
In the subsequent section, with our years of experience, we'll take you through the standard dimensions for kitchen breakfast bars, adding further ease and precision to your selection process. 
Standard Dimensions for Kitchen Breakfast Bars
In the realm of kitchen design, standard dimensions serve as beacons guiding us towards ergonomic bliss.
When it comes to kitchen breakfast bars, these dimensions exist to facilitate comfort, maximise efficiency, and contribute to the visually balanced aesthetics of your kitchen. 
Yet, it is pivotal to understand that while these breakfast bar dimensions represent the norm, every kitchen environment is unique - and so are its needs.
Therefore, we recommend using these figures as mere starting points and fine-tune them according to your personal requirements. 
Stool Height 
The height of the stool rests at the centre of this ergonomic equation. Generally, stools are categorised into three standard sizes: 
 of determining the appropriate stool and counter heights for your kitchen breakfast bar, it's paramount to comprehend the standard dimension ranges, particularly in both imperial and metric measurements.
To ensure utmost comfort, align the stool height with the height of the bar, taking note of the rules of thumb specified below.
Counter Stool: Typically, these are 24 to 26 inches tall, or 61 to 66 centimetres.
Bar Stool: Bar stool heights roughly stands tall at 28 to 32 inches, or 71 to 81 centimetres.
Spectator Stool: The lofty spectator stool touts a significant height of 34 to 36 inches, or 86 to 91 centimetres.
Counter and Breakfast Bar Height 
As with stool height, standards exist for counter and breakfast bar heights as well. Essential to our understanding of these figures are: 
In the context of kitchen design, dimensions play a vital part in ensuring both functionality and aesthetic pleasure.
As such, it is absolutely essential to understand that the measurements of your proposed breakfast bar and just how high your counter should be, can greatly influence not only the look and feel of your kitchen, but also how well it serves its purpose.
Let's take a look at these heights in both inches and their metric counterparts, centimetres:
Counter Height: Strikingly varies between 34 to 36 inches, or 86 to 91 centimetres
Breakfast Bar Height: Generally falls around 42 to 43 inches, or 106 to 109 centimetres
These heights are designed to accommodate the corresponding stool heights, maintaining a gap of 10 to 12 inches or 25 to 30 centimetres between the seat of the stool and the underside of the counter or breakfast bar.
This space allows for comfortable seating and effortless movement. 
The heart of every kitchen lies in its functionality. Aligning dimensions is not just a matter of aesthetics, it's about fostering an environment where usability and practicality are king.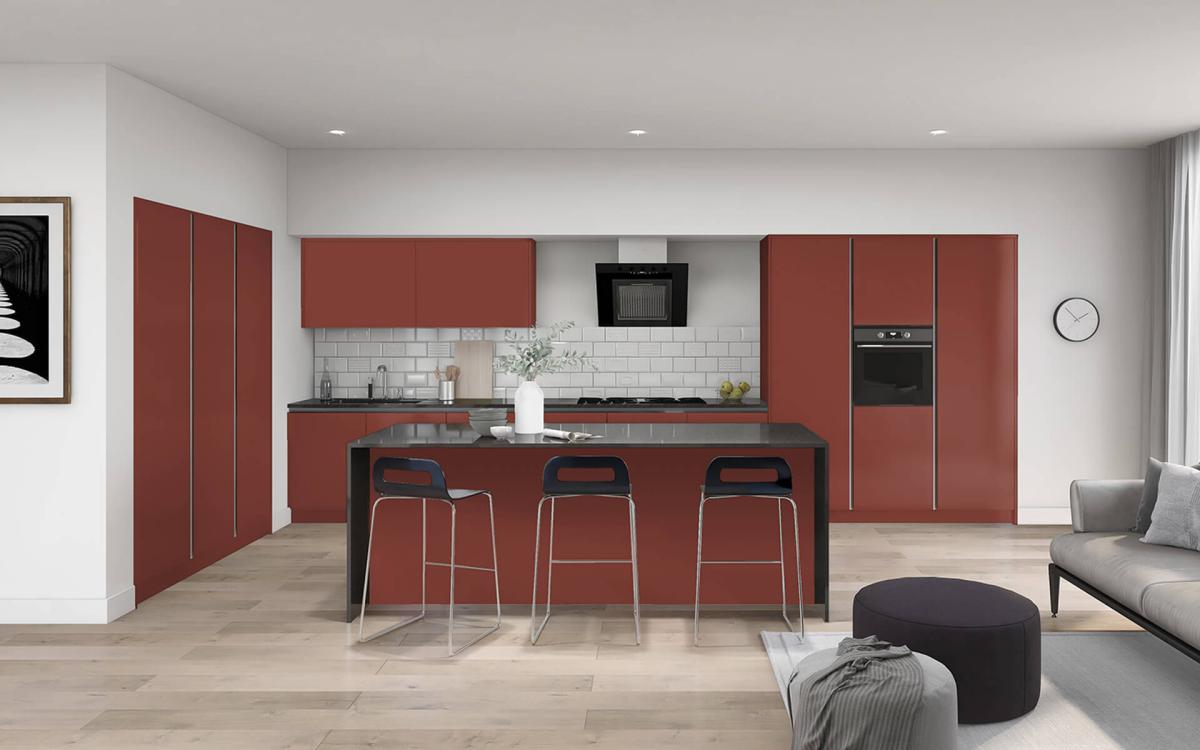 Lucca Tuscan Red True Handleless Kitchen with Breakfast Bar and 3 Stools
A Table View of Standard Dimensions 
For easy reference and comparison, we've compiled these standards into the following table: 
| Item | Dimension (in Inches) | Dimension (in Centimetres) |
| --- | --- | --- |
| Counter Stool | 24-26 | 61 to 66 |
| Bar Stool | 28-32 | 71 to 81 |
| Spectator Stool | 34-36 | 86 to 91 |
| Counter Height | 34-36 | 86 to 91 |
| Breakfast Bar Height | 42-43 | 106 to 109 |
These dimensions are mere guidelines; thus, we encourage you to adjust as needed to create a tailored and comfortable kitchen space. After all, your house, your kitchen, your rules
The height of a kitchen breakfast bar typically extends to three standard dimensions, depending on its function.
Counter-height bars, most often used for food preparation, usually measure between 86 to 91centimetres (34-36 inches), aligning with conventional kitchen worktop heights.
Select this option if you prefer a seamless transition from your work surfaces to your breakfast bar. 
Bar-height counters setup conversely measures between 106 to 109 cm (42-43 inches). This format is more aligned with commercial bar counters and resonates with an informal, relaxed ambiance. The higher elevation allows guests to enjoy a perch view, making it a fantastic spot for casual dining and conversing. 
The third standard dimension you can consider is a custom-height kitchen breakfast bar. Define your bar's height based on specific user requirements or unique design concepts. This can range anywhere from less than 89 cm (35 inches) to more than 107 cm (42 inches). However, keep in mind the counter and stool heights that will be necessary for comfort when deciding these specifications. 
We must also mention that these stated heights do not include the countertop thickness, usually between 2-4 cm (0.75-1.5 inches). Therefore, when calculating the final height of your kitchen breakfast bar, be sure to incorporate this dimension as well, for utmost precision. 
Aside from height, an aspect one ought to consider is a breakfast bar's depth, usually measuring between 30-45 cm (12-18 inches). This measurement provides enough space for dining and work activities while ensuring stability. 
As is evident, these standard dimensions are not steadfast rules but rather flexible guidelines that can be tailored to fit your specific needs.
As you weave your way through these dimensions, keep in mind, it's all about finding the ideal combination of functionality, comfort and style.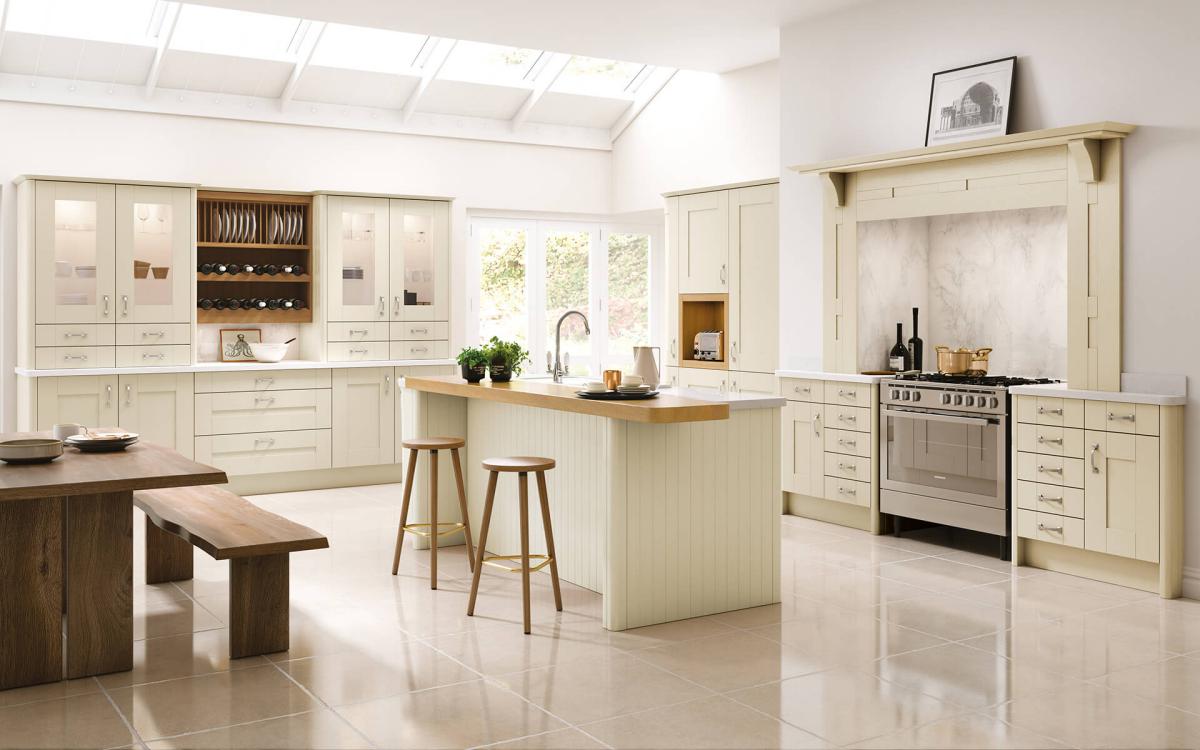 Lynton Mussel Shaker kitchen with 2 Breakfast Bar Stools at the Island Feature
Factors to Consider when Determining the Height of Your Kitchen Breakfast Bar
There are a number of significant factors that must be taken into consideration before settling on the most suitable height.
Remember, the best choice is more than just aesthetics; it's about comfort, ergonomics, practicality, and even safety. Let us guide you through the various aspects you should keep in mind while making this crucial decision.
User Height 
Firstly, the height of those who will predominantly occupy the stools is one of the most important considerations.
Traditionally, kitchen breakfast bars are used in a less formal setting, hence, the users' height is paramount in ensuring they can sit and dine comfortably.
If it's particularly tall individuals who will be using the space, a higher breakfast bar may be in order. Conversely, if it's designed for children or shorter adults, a lower height will ensure comfort and accessibility. 
Utilisation Purpose 
Another influential factor is the purpose of the breakfast bar. If your primary intention is for quick meals, a higher breakfast bar would perfectly suit standing or high-stool seating.
If, however, you envision it more as a work area for meal preparations, or as a space for kids to complete their homework while dinner is being prepared, a lower height would be more practical to facilitate these activities.
In essence, thinking about functionality can drastically influence the height determination of your breakfast bar. 
Kitchen Size and Layout 
Consider also the size and layout of your kitchen. If the rest of your kitchen counters are set at standard height, it might be aesthetically pleasing to continue with a breakfast bar worktop of the same height.
However, if you have a spacious kitchen, toying with the idea of a different table height could add interest and break up a monotonous layout.
Keep in mind, however, that different heights might require different counter stools or seating arrangements, so plan your kitchen layout accordingly. 
Safety Considerations 
Make no mistake, safety is of supreme importance in any kitchen design. When determining your breakfast bar height, consider factors such as the risk of children climbing or falling off high stools.
Invest in a breakfast bar that affirms safety and minimises any potential hazards. 
Ultimately, the decision of an ideal height for your breakfast bar boils down to a judicious blend of preference, comfort and functionality.
Acknowledge these key principles and you'll create not just a delightful dining space but an ideal spot for a myriad of kitchen activities.
Ergonomics and Comfort: Finding the Ideal Stool Height for Your Kitchen Breakfast Bar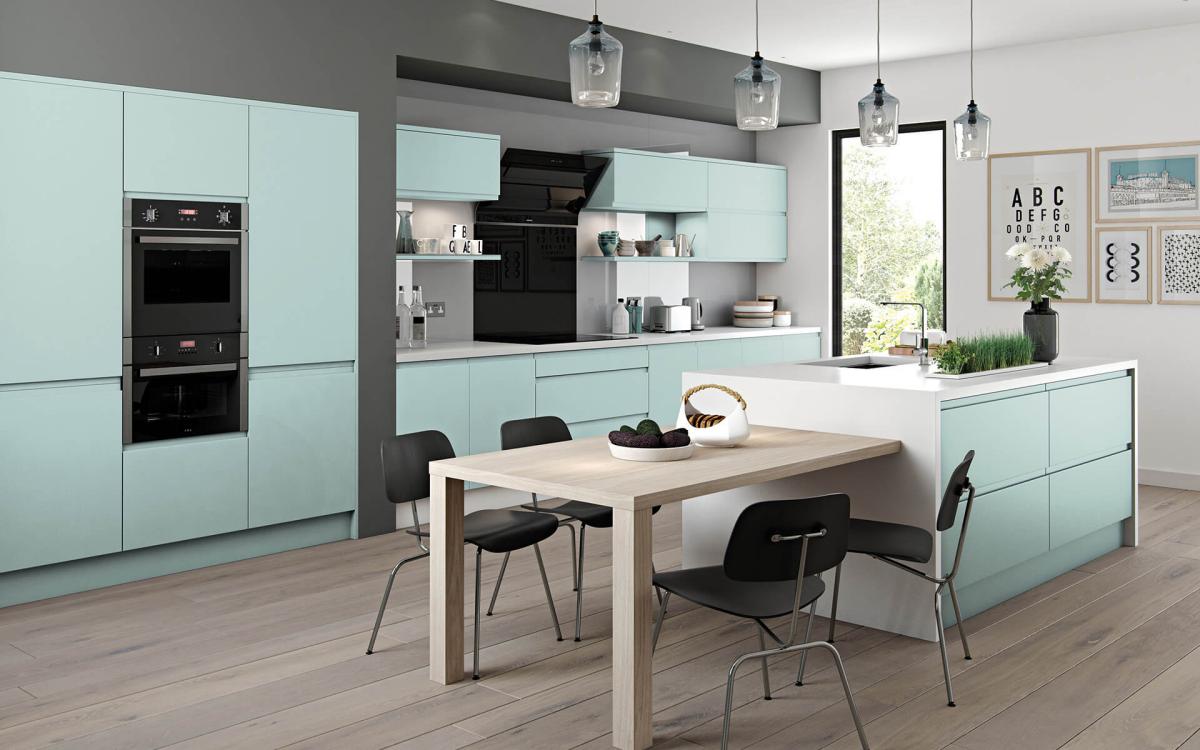 Marino Sea Breeze Handleless J-Pull Kitchen with Built-In Table Feature
When it comes to designing the perfect kitchen breakfast bar, aesthetics may be what catches the eye but it's often the ergonomics that dictate how comfortable and functional the space truly is.
More so, about the functionality and convenience of your everyday routine. Striving for harmony between ergonomics and comfort in the arena of kitchen design is crucial.
Below, we delve into the nuanced world of the ideal stool height as an imperative element for the experience of a kitchen breakfast bar.
Firstly, let us clarify that the choice of stool seat height is not arbitrary. A harmonious balance needs to be struck with the standard counter height, which ordinarily ranges from 90cm to 105cm.
In the realm of stool height, the normative range is between 61cm and 72cm. 
Nevertheless, the complexity of the human condition renders these standard measurements inadequate for every individual. How then, you may ask, can you find the optimum height for your breakfast bar stools? The answer is rather simple.
Measure Your Breakfast Bar: Firstly, identify the height of the breakfast bar. Use a tape measure to record the distance from the floor to the underside of the breakfast bar top. This measurement is the crucial foundation for your subsequent stool selection.
Subtract Approximate Leg and Foot Clearance: Subtract approximately 25cm-30cm from the measurement you have taken. This is the estimated legroom needed for sitting comfortably without your knees knocking against the countertop.
Use this Final Figure: The resulting figure is the optimum stool height for your breakfast bar. This measurement takes into account the necessary clearance for comfort and the average leg length of most adults.
However, it is always advisable to test out various stools with different heights against your measured breakfast bar height tables.
This physical trial can further contribute to ensuring optimum comfort in your daily routine, especially, for children or those of us with greater stature or age. Additionally, the role of aesthetics should not be denied in making a choice.
When coupled with functionality, it can add a touch of distinctive charm to your kitchen. 
No matter how precise you are with the measurements, lengths or styles, integrating adjustable bar stools into your breakfast bar design could potentially provide a fail-safe option.
This solution allows for variation and adaptability accommodating both your current and future needs, assuring you of enduring comfort in a dynamic living environment. 
Always remember, the kitchen is the heart of any home, a place where family and friends gather.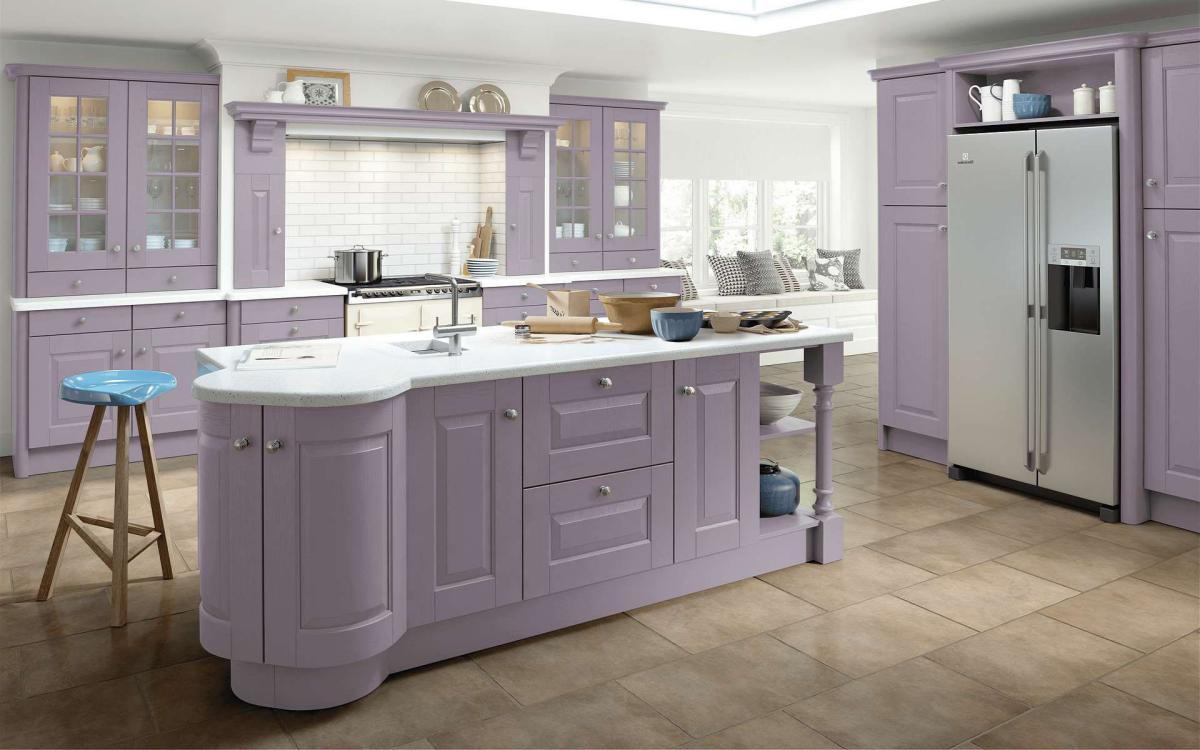 Fleetwood French Lavender Country Kitchen with Blue Bar Stool
Tips for Selecting the Perfect Height Stools for Your Kitchen Breakfast Bar
When you're looking to equip your kitchen breakfast bar with stools, it's crucial for you to carefully consider key aspects that ensure comfort and functionality.
After all, the right stool can mean the difference between a quick, uncomfortable meal and a leisurely chat over a cup of coffee.
Let's dive into the specifics to maximise your selection process:
Material Matter 
Do not overlook the importance of the material of your stools. Metal stools, for instance, showcase a sleek, modern aesthetic and offer exceptional durability, making them an ideal candidate for modern-styled kitchens.
Wooden stools encapsulate a more rustic, warm allure and often prove to be more comfortable due to their inherent warmth. Choose the material that best resonates with the aesthetic tones of your kitchen and comfort preference.
Spacing and Quantity 
It's crucial to consider how many stools can fit comfortably around your kitchen breakfast bar without overcrowding. Keep in mind the width per stool and allow ample movement space for a seamless flow.
Practically, a gap of at least 60-75 cm between each stool is recommended to avoid any inconvenient, elbow-knocking scenarios. 
Assess the Seat 
Investigate the seat of the stool closely before making a selection. Ask yourself, is the seat flat or does it have a slight dip for comfort? Is there a backrest available to lend support?
If the kitchen breakfast bar is a primary dining area in your home, the comfort features of the stool become ever more significant.
To Swivel or Not to Swivel 
Swivel stools provide an extra degree of freedom, allowing you to turn and converse easily with others in the kitchen area.
On the downside, too much spinning might not be the safest option around young children.
We advise you to weigh your choices based on their advantages and disadvantages pertaining to your personal preference and lifestyle.
Adjustable or Fixed? 
Ultimately, we come to the debate between adjustable and fixed stools.
Adjustable stools offer the flexibility to accommodate various heights and can be tailored for each user, potentially a more versatile option
Fixed stools, however, provide more stability and often have a sturdier construction. The choice hinges heavily on your family's evolving needs and the profile of frequent kitchen users.
In conclusion, there's more to selecting the perfect stool than meets the eye–it's a decision that impacts comfort, usability, aesthetics and overall kitchen functionality.
Invest time in mulling over these aspects to find a solution that's not just visually appealing, but also wonderfully practical and enjoyable to use.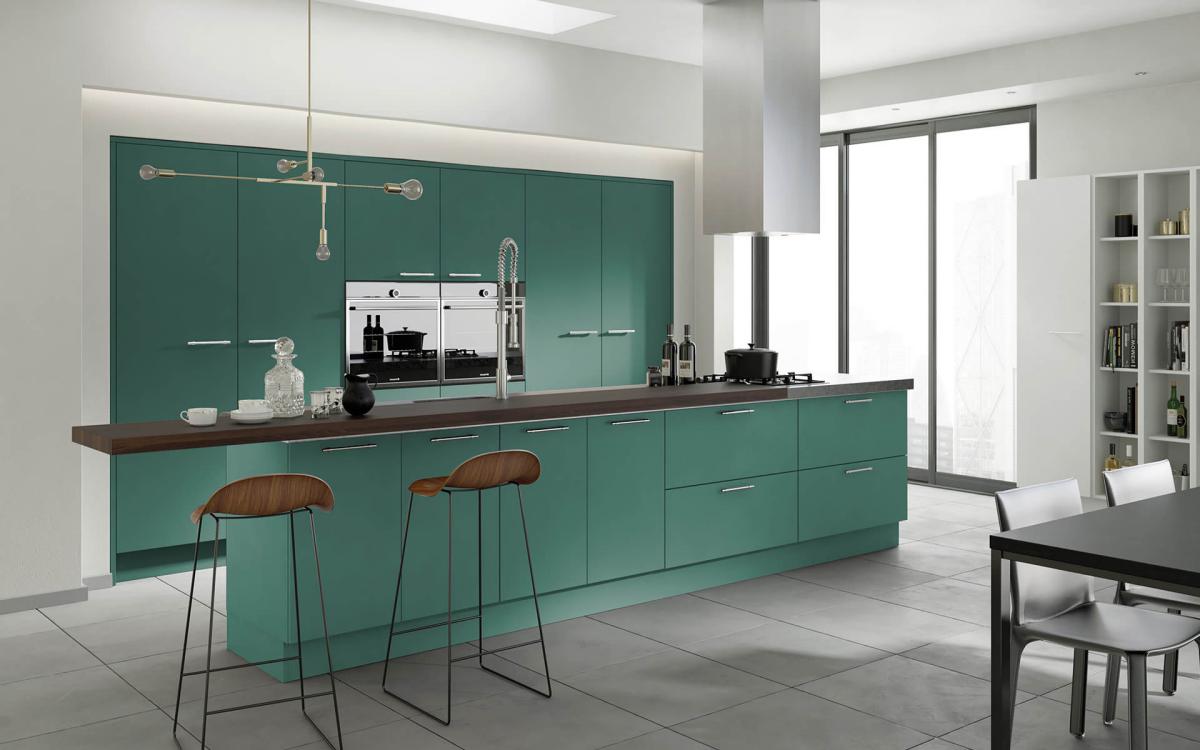 Velluto Liberty Green Modern Kitchen with Breakfast Bar Overhang and 2 High Stools
Understanding Counter Height and Its Importance in Kitchen Design
 planning an efficient kitchen layout. As an essential aspect of our design process, we ensure that the height is faultlessly aligned with the primary functions and homeowner's comfort.
The counter height doesn't merely serve to provide a surface to prepare your meals; it carries a significant impact on the overall kitchen ergonomics, consequently affecting how you interact with your workspace.
Industry standards for a kitchen counter height is typically around 36 inches (91 cm). This dimension is based on an average user's height and is usually suitable for most homeowners.
However, at times a counter may be designed taller or shorter, taking into account the user's height, usage requirements, appliance dimensions, and so much more.
It is crucial to remember that the counter's height should be proportional and balanced with the accompanying stools' stature, contributing to a comfortable and welcoming space and preventing hunched positions or strained arms. 
The Implications of Counter Height on Kitchen Design 
The counter height has far-reaching effects on the kitchen's aesthetic appeal, functionality, and overall design harmony. Let's delve into these effects: 
Functionality and Comfort: Cooking or preparing meals on a surface either too high or too low can be straining for your arms and back. Regardless of whether you're whipping up a fast breakfast on a busy morning or baking a cake during a casual weekend, you need a comfortable height that complements your stance.
Appliance Integration: The counter height affects how seamlessly your kitchen appliances, such as your dishwasher or cooking range, fit in. Too high or too low a counter can result in challenging usability dynamics.
Aesthetics: No one wants a kitchen that feels awkward or out of place. A counter height that is not in sync with the breakfast bar, kitchen table or stools can break the visual harmony and coherence of your kitchen design.
Thus, not only for purposes of practicality but also for maintaining an aesthetically pleasing kitchen space, comprehending the significance of counter height is more crucial than one might appreciate initially.
Therefore, the counter height should align seamlessly with the rest of your kitchen characteristics, creating a natural flow without compromising comfort and functionality.
Adjustment of Counter Height: a Tailored Approach 
In certain instances, adjusting the counter height to cater to the individual needs of family members can be beneficial. Under specific circumstances, we may recommend variations in this dimension.
This could be required if, for instance, the household has exceptionally tall or short users, or someone with physical impairments.
To meet these unique demands without sacrificing style and function, adjustable counters, or those with segregated multi-height surfaces can serve as the perfect solution.
While we understand that adjusting the height may seem like a daunting challenge, we assure you it brings about tremendous opportunities.
Ranging from better kitchens accessibility to an enhanced sense of belonging for every individual in the home, the possibilities are immense.
So let us help you comprehend these measurements and work in tandem to shape a kitchen design that best serves your needs and tastes.

Portwood Moss Green Kitchen with Large Timber Breakfast Bar Feature and three Backless Bar Stools
How to Measure the Height of Your Countertop for Accurate Stool Selection
Understanding the importance of accurate countertop height measurements is essential for a comfortable and efficient kitchen breakfast bar. The right measurements not only contribute to visual balance but also to functionality.
Steps to Measure Countertop Height:
Locate Measurement Point: Identify the point from which you want to measure, usually the floor beneath the countertop.

Prepare Your Tape Measure: Take a tape measure and position its end directly on the floor beneath the countertop.

Extend and Measure: Extend the tape measure until it touches the uppermost surface of the countertop.

Record Measurement: Note down the measured distance. Typical countertops vary between 34 to 39 inches, but this can differ based on your specific kitchen design.
How to Apply Measurements for Stool Selection:
Rule of Thumb: The height of your stool should be directly dependent on your countertop height. Aim for a 8-12 inch or 25-30cm gap between the stool seat and the underside of the counter.

Example Calculations:

For a 42-inch high breakfast bar, a stool height of approximately 30 inches is advised.
For a 36-inch counter, a stool height around 24 inches would be suitable.

Consider Outliers: Although the rule of thumb generally holds true, there may be exceptions. Assess how the stool heights interact with users in terms of accessibility and comfort.

Adjustable Stools: If in doubt, consider using adjustable stools. This allows for greater flexibility and personalised comfort.
By following these steps and guidelines, you'll find that choosing the right stool becomes significantly easier. Accurate measurements are key to ensuring comfort and functionality in your kitchen design.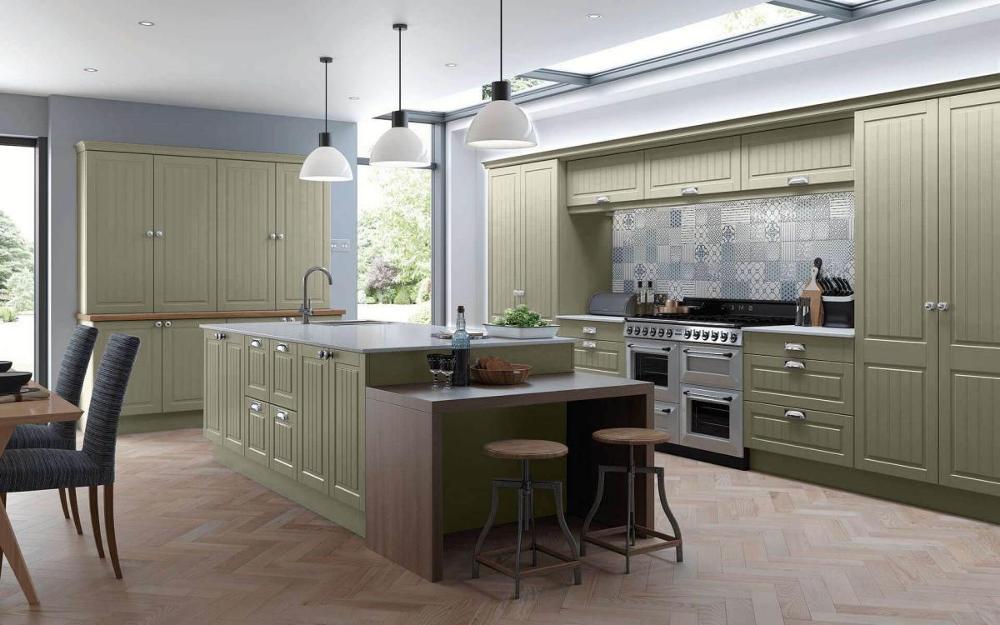 Tamar Reed Green Groove Panelled Kitchen with Feature Breakfast Table and two Low Height Stools.
Incorporating Adjustable Stools into Your Kitchen Breakfast Bar
Understanding the dynamic nature of modern kitchens, it's imperative for us to consider the use of adjustable stools in our kitchen breakfast bar layout.
These marvels of contemporary design introduce an element of flexibility, enabling efficient utilisation of the kitchen space while catering for enough room for the needs of the users. 
Often viewed as a casual, versatile dining solution, adjustable-height stools are a great fit for breakfast bars.
Here, the range of adjustment options accommodates both adults and children, ensuring an optimum line of sight while eating or engaging in conversation.
This ability to adjust height on demand can prove invaluable if you often host guests of varied heights, instilling a sense of inclusivity and comfort. 
The Benefits of Adjustable Stools 
When incorporating adjustable stools into your kitchen breakfast bar, you unlock numerous benefits: 
The flexibility of use makes them suitable for a majority of kitchen decors and layouts.
The adjustable height feature allows for optimal ergonomics, promoting better posture and reducing the risk of backache.
From children to adults, everyone can find a hindrance-free line of sight.
Giving users the chance to adjust the top of the seat to their preferred height leads to increased comfort.
Choosing the Right Adjustable Stools 
When choosing adjustable stools, remember that while attractiveness matters, functionality and comfort should be at the forefront of every decision.
Think about the construction materials: opt for durable and easy-to-clean stools, which can withstand regular use while remaining aesthetically pleasing. 
Furthermore, pay attention to the adjustment mechanism. Ensure it's not only robust and durable but also user-friendly.
An overly complicated or difficult-to-use mechanism could result in fewer individuals utilising the adjustment option.
Think of the ease with which you can change the height — whether manually or via a motorised system — as a determining factor in the overall user experience. 
Positioning and Space Management 
While adjustable stools unlock a world of possibilities, we must acknowledge their spatial implications.
They tend to be more bulky than fixed-height stools or counter height stools, so thoughtful positioning is crucial. Ensure that, even when fully extended, they do not block any essential pathways without much space or obstruct the view
Similarly, when retracted, they should not be too low or inconveniently positioned. To complement your layout and maintain a streamlined, spacious look, you need to strike the right balance.
Embarking on this journey of incorporating adjustable stools into your kitchen breakfast bar promises a rewarding harmony of style, function, and versatility.
It necessitates a meticulous attention to detail, an appreciation for dynamic kitchen ergonomics, and a mind keyed towards comfort and user satisfaction. Get this right, and you set the scene for a kitchen space that truly delivers on all fronts.
Conclusion
In summary, our journey is about more than mere aesthetics - it's about creating an inviting space that caters to all users and purposes, a space that is your very own culinary realm – a testament to style, practicality and comfort.
As you embark on this path of kitchen design and selection, take heed of these guidelines and rest assured you will craft a kitchen breakfast bar environment that inspires, exhilarates and welcomes, every single day.