Kitchen Worktop Overhangs: Functionality Meets Design
Discover everything you need to know about worktop overhangs. From their utility to aesthetic considerations, our guide will make sure your kitchen strikes the perfect balance between form and function.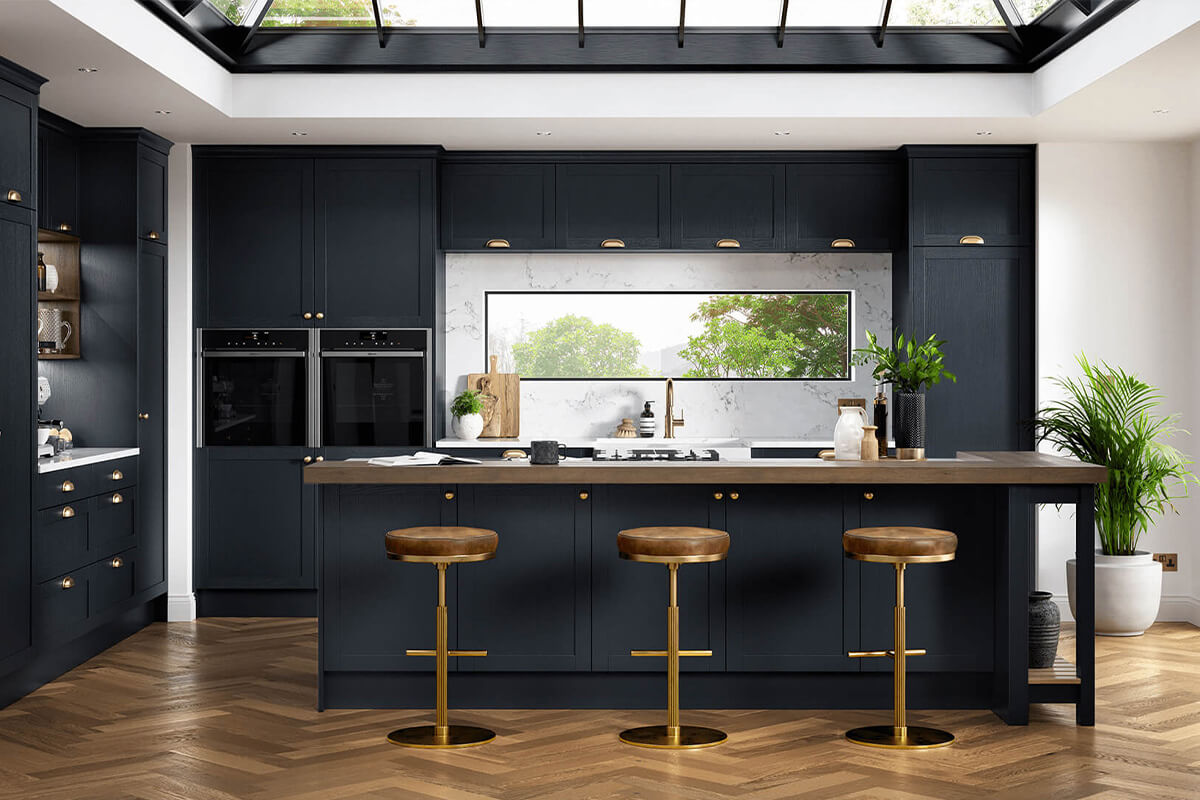 The Two Faces of Worktop Overhangs
When we talk about worktop overhangs, we're generally referring to two distinct types.
The first is the installation-based 40mm overhang that accounts for the thickness of your cabinet and  doors and adds a modest overhang for functionality.
The second is the design-oriented overhang, which is often larger and adds features like breakfast bars or peninsular layouts.
The Essential 40mm Overhang: A Matter of Practicality
The 40mm overhang is generally an installation standard you'll want to adhere to. Designed to account for a 20mm door thickness - with a bit of cushioning for variances - and an additional 20mm for the worktop itself, this overhang serves multiple functional purposes:
Door Coverage: The initial 20mm effectively covers the thickness of the cabinet door, which can range from 18-22mm.


Functional Overhang: The remaining 20mm is for the worktop overhang itself, which helps in preventing crumbs and spills from ending up in your cupboards.


Alignment: The 40mm also aligns nearly with the handles of your kitchen units, adding a touch of streamlined elegance.
In Handleless kitchen styles, this overhang may be reduced to just the door thickness for a sleek, integrated look.
Why Choose a Design-Oriented Worktop Overhang
Larger, design-oriented overhangs offer different advantages, such as creating breakfast bars, peninsular layouts, or additional space for free-standing appliances. These are often subject to specific size and support requirements, which we'll discuss later.


Breakfast Bar Creation:

A favourite in many homes, the breakfast bar utilises the overhang to provide a comfortable space for eating or socialising.





Peninsular Design:

The worktop overhang helps in achieving a seamless peninsular kitchen layout.





Additional Space:

An overhang can make room for bins or free-standing appliances, helping you declutter your kitchen area.
Considering Dimensions: How Much Can a Worktop Overhang?
When planning your kitchen worktop overhang, it's important to consider the dimensions. For Solid Surface, Quartz, and Granite worktops, the maximum unsupported overhang is 300mm.
Top Tip: Laminate worktops offer a bit more flexibility, allowing an overhang to extend up to 600mm without requiring extra support.

Supporting Your Overhang: What Should Be Done?
If you're looking to go beyond the standard overhang dimensions, additional support in the form of feature brackets or concealed metal work is essential.
This is especially crucial when the space for a free-standing appliance exceeds the recommended 300mm.
FAQs: Your Top Questions About Worktop Overhangs Answered
Navigating the world of worktop overhangs can be complex. We've compiled a comprehensive list of frequently asked questions to help you make informed decisions for your kitchen. From size considerations to installation queries, find expert advice for all your worktop overhang needs.

Conclusion
Crafting a kitchen that resonates with your style and meets your functional needs is an art. Worktop overhangs play a significant role in achieving this balance.
As you ponder your kitchen's design, don't overlook the importance of correctly sizing and supporting your overhang.
Ready to take your kitchen to the next level? Explore our range of premium, yet affordable, DIY kitchen worktops. See our Kitchens Worktops today.