A resounding favourite throughout Europe and the UK, this matt kitchen offers a silky, durable and blemish free finish. Coupled with Moderna's cutting-edge design, you have a kitchen that meets your practical needs as well as your aesthetic demands.
... more
£ 
2,272.58
£ 

1,818.02
( £ 1,515.00 Ex. Vat)
Example Price for a
Straight Kitchen How to order
Choose your perfect colour combination for door and carcase. Click Start Buying and our
Smart System
will create the available units ready to buy based on your selection.
Choose a Door Colour
Moderna colour options
Fir Green

Indigo Blue

Anthracite

Dust Grey

White

Light Grey

Cashmere
Choose a Carcase Colour
Recommended colour has been pre-selected. Choose an alternative at no extra cost.
White (W980-CC)

Alabaster (U104-CC)

Cashmere (U702-CC)

Light Grey (U708-CC)

Dust Grey (U732-CC)

Graphite (U961-CC)

Davenport Oak (H3368-CC)

Lincoln Walnut (H1714-CC)
Production & Delivery Times -
Order this kitchen today for delivery from

11/12/2023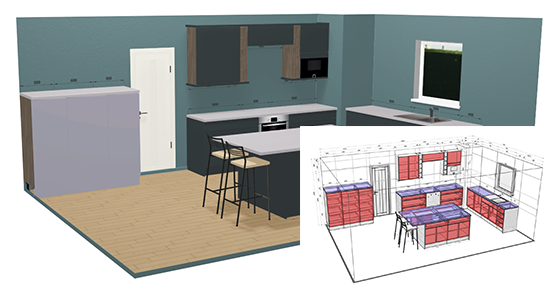 Try Our New 3D Online Kitchen Planner!
The Beta version of our NEW, easy to use, 3D online kitchen planner is now available for all registered customers to use. Our FREE Planner will help you design your new Better Kitchen, see what colour combinations work for you and will let you request a valuation for your design. Head over now to check it out!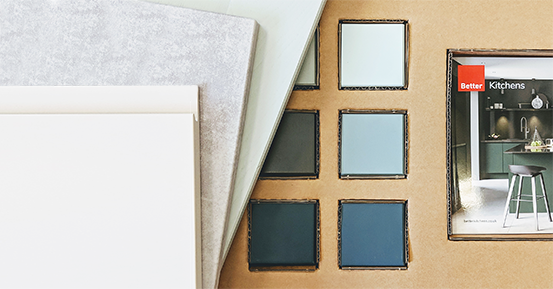 Moderna sample pack
Our sample pack includes a full size Moderna sample door in a popular colour and upto 6 colour samples of your choice from the Moderna range.
Door Details:
Style : Handleless
Options: 7 of our best selling colours. (Colour Collection F)
Surface Finish: Matt.
Thickness: 22mm Thick.
Material: Painted MDF.
Cabinets:
All cabinets are supplied fully assembled with all doors and drawers fitted to the units. We can supply flatpack if required.
18mm Colour matched cabinets where possible, or you can choose another colour of your choice.
Soft close drawers and hinges as standard.
Made to order in the UK
Lifetime Cabinet Guarantee
Advice:
From time to time door specifications may be updated and changed. If you are returning to buy units to add to an existing order previously bought from us, we highly recommend purchasing a new sample before placing your order to ensure design, finish and colour match. 
Although all effort is made to let you know when a product is updated or changed, we cannot guarantee items bought separately will match perfectly to your existing kitchen.
Painted doors that are bought together are painted in a batch. Every effort is made to get the same colour every time, however, if you are returning to purchase more items for your painted kitchen, we cannot guarantee that the colour will match exactly due to the batch processing method and the natural seasoning over time.
Delivery costs vary and are calculated in the basket based on your delivery Postcode.
Your delivery options and delivery dates will be available in the checkout. 
See our delivery page for further details.
All colours subject to our regular delivery timescales 
Explore Matt Handleless Kitchens in More Detail


When it comes to modern kitchen designs, the Matt Handleless Kitchen stands out as a trendsetter. Its sleek, minimalistic design combined with functionality makes it a favourite among homeowners and designers alike.
Let's dive deep into the world of handleless kitchens and discover what makes them so special.
The Allure of Matt Handleless Kitchens
A handleless kitchen design is all about simplicity and elegance. The absence of handles gives the kitchen a clean, streamlined look, making it perfect for those who appreciate minimalistic designs. But it's not just about aesthetics; handleless kitchen cabinets are also functional and practical.
Handleless Kitchen Doors: These doors offer a seamless look to your kitchen. The absence of protruding handles means there's nothing to snag your clothes on, making it safer, especially in households with children.
Handleless Kitchen Cabinets: These cabinets are designed for ease of use. With a simple push or a gentle pull, you can access your kitchen essentials. The design also allows for larger storage space, as there are no internal mechanisms taking up room.
Handleless Kitchen Units: These units are designed to provide maximum storage space. They come in various sizes and designs, ensuring that there's something for every kitchen size and style.
Handleless Drawers: Just like the cabinets, these drawers are easy to use and offer a sleek look to your kitchen.
Modern Handleless Kitchen Trends
The world of handleless kitchens is ever-evolving, with new trends emerging regularly. Here are some of the latest trends in the handleless kitchen design:
White Handleless Kitchen: A classic choice, white kitchens offer a clean and fresh look. They are perfect for smaller kitchens as they make the space look bigger.
Matt White Handleless Kitchen: This design takes the white kitchen to the next level. The matt finish absorbs light rather than reflecting it, giving the kitchen a sophisticated look.
J Pull Handleless Kitchens: This design features a 'J' shaped cut-out at the top or bottom of the cabinet door or drawer, making it easy to open without the need for handles.
Handleless Shaker: A blend of the classic shaker design with the modern handleless trend. It offers a unique look that's both timeless and contemporary.

Moderna Kitchen Door Colours

Matt Fir Green: A deep, earthy hue that brings a touch of nature into your kitchen. This colour is perfect for those looking to create a calming and serene kitchen environment.

Matt Indigo Blue: A vibrant and bold shade, Indigo Blue adds a splash of sophistication and depth to your kitchen. It's a colour that stands out and makes a statement.

Matt Anthracite: This dark grey colour exudes elegance and modernity. Versatile and pairing well with both light and dark accents, making it a popular choice for contemporary kitchens.

Matt Dust Grey: A softer shade of grey that offers a neutral backdrop. Dust Grey is subtle yet stylish, providing a timeless look that complements various kitchen designs.

Matt White: The classic choice for a clean, fresh look. White is versatile and opens up spaces, making it ideal for both small and large kitchens.

Matt Light Grey: A gentle and understated hue, Light Grey brings a touch of modernity without being overpowering. It's perfect for those who prefer a muted colour palette. Matt Cashmere: A warm and inviting shade, Cashmere adds a touch of luxury and coziness to your kitchen. It's a hue that resonates with elegance and comfort.

DIY Kitchens Handleless - Making It Personal
At Better Kitchens, we believe in providing quality, affordable kitchens. Our range of DIY handleless kitchens allows you to personalize your kitchen to your taste. Whether you prefer a modern handleless kitchen design or a handleless shaker kitchen, we have something for everyone.

FAQs About Handleless Kitchens
Introduction: Handleless kitchens have been a topic of interest for many homeowners. Here are some frequently asked questions to help you understand them better.

​In Conclusion
Handleless kitchens are more than just a trend; they are a testament to modern design's evolution. With their sleek design and functionality, they offer the best of both worlds.
At Better Kitchens, we are committed to providing you with the best quality kitchens at affordable prices. Whether you're a seasoned kitchen enthusiast or just starting your kitchen journey, we're here to help every step of the way.