Kitchen Compare.


The Kitchens Comparison Guide.
Kitchen Comparison: Better Kitchens vs. Other Brands


How Our Kitchens Compare
At Better Kitchens, we're revolutionising the way you buy kitchens. We've eliminated the extra costs typically associated with High Street purchases, ensuring your money goes further.
We've carried out an extensive analysis, we've compared their kitchen products with those of other well-known brands, including Howdens, B&Q, Wickes, Magnet and IKEA.
This comparison focuses on a variety of crucial kitchen features and services that are typically considered when selecting a kitchen.
Quality
When it comes to quality, a Better Kitchen is unparalleled. We don't just meet industry standards—we set them.
| | | | |
| --- | --- | --- | --- |
| | Better Kitchens | High Street | Trade |
| Pre-assembled? | Yes | Sometimes | No (Doors Loose) |
| Soft Close Fittings | Yes | Yes | Optional |
Choice
Why settle for less when you can have it all? A Better Kitchen, the possibilities are endless.
| | | | |
| --- | --- | --- | --- |
| | Better Kitchens | High Street | Trade |
| Door Style | | 20-30 Door Styles | 24 Door Styles |
| Door Colours | 200+ Door Colours | 100+ Door Colours | 80 Door Colours |
| Cabinet Colours | 8 Cabinet colours | 1-3 Cabinet Colours | 3 Cabinet Colours |
Value
We believe that top-notch quality shouldn't break the bank. We offer unbeatable value by cutting down unnecessary services and costs.
| | | | |
| --- | --- | --- | --- |
| | Better Kitchens | High Street | Trade |
| Online Savings | Yes | No | No |
| | Yes | No | No |
Find your perfect Range, Style and Colours.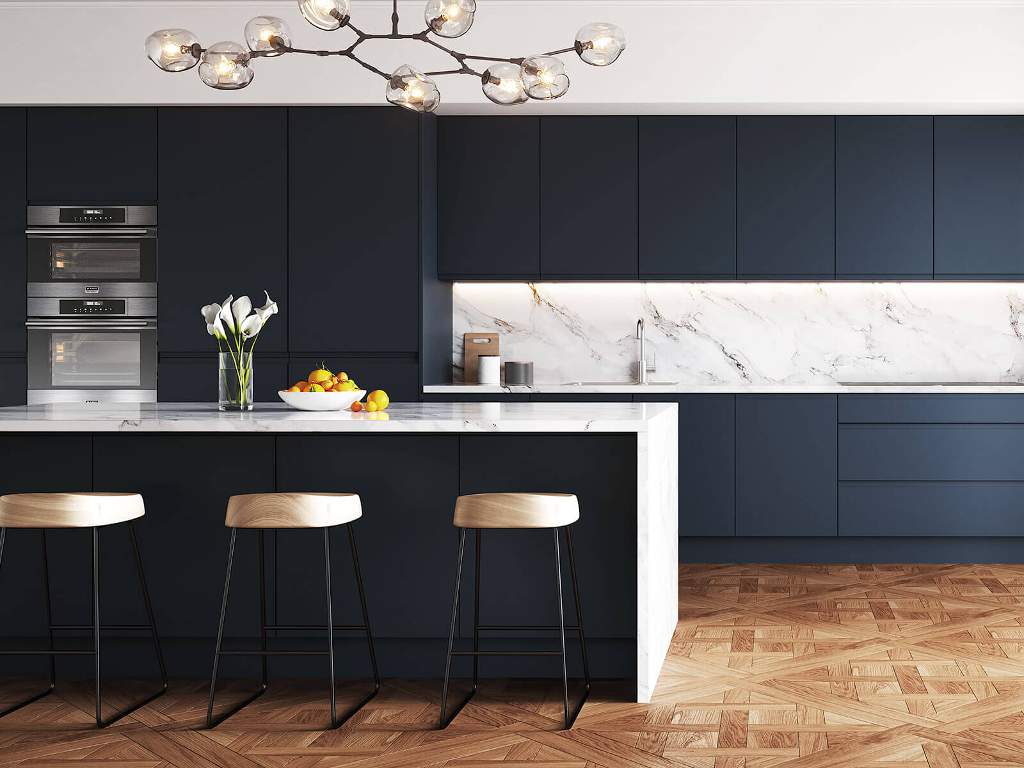 Handleless
Dive into the realm of Handleless Kitchen designs where elegance seamlessly merges with utility. Characterised by their sleek, uninterrupted contours, these kitchens epitomise a minimalist charm, catering to the tastes of the contemporary homeowner.
The absence of protruding handles promotes a seamless flow throughout the space, making it a preferred choice for aficionados of subtle sophistication.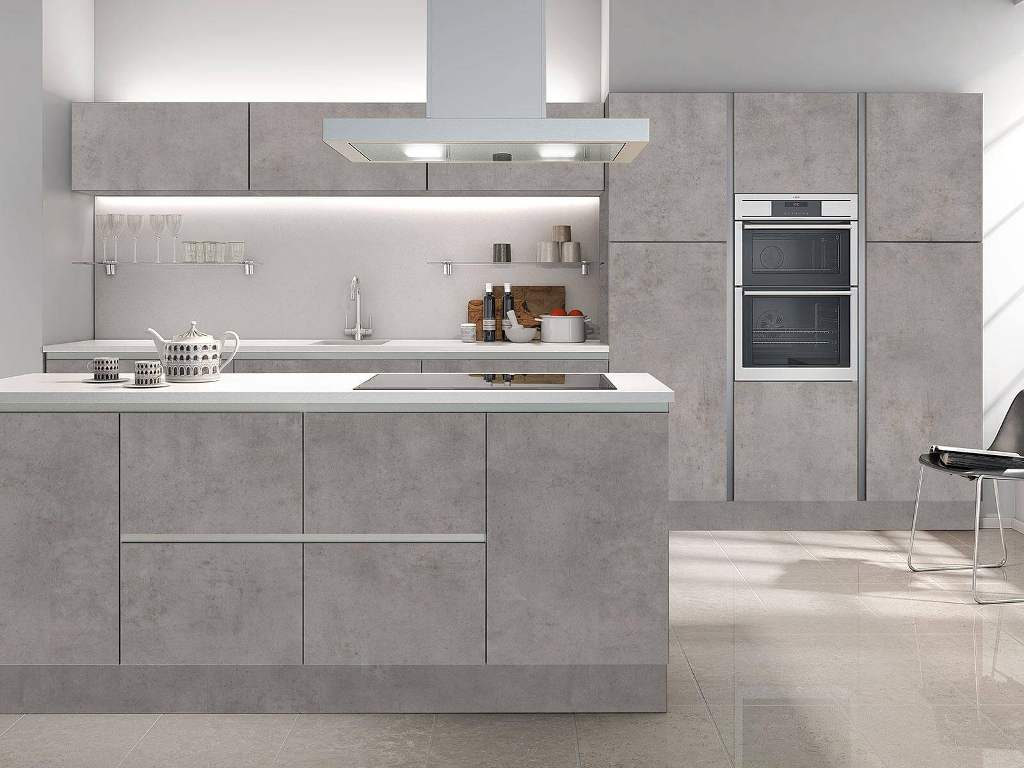 True Handleless
Elevating the handleless design ethos, True Handleless Kitchens, often dubbed as 'Gola Rail Kitchens', unveil a continuous handle groove ingeniously integrated into the cabinetry, lending an even more refined appearance.
This design ethos heralds a modern kitchen era, showcasing a pristine aesthetic that makes any kitchen realm feel both expansive and opulent.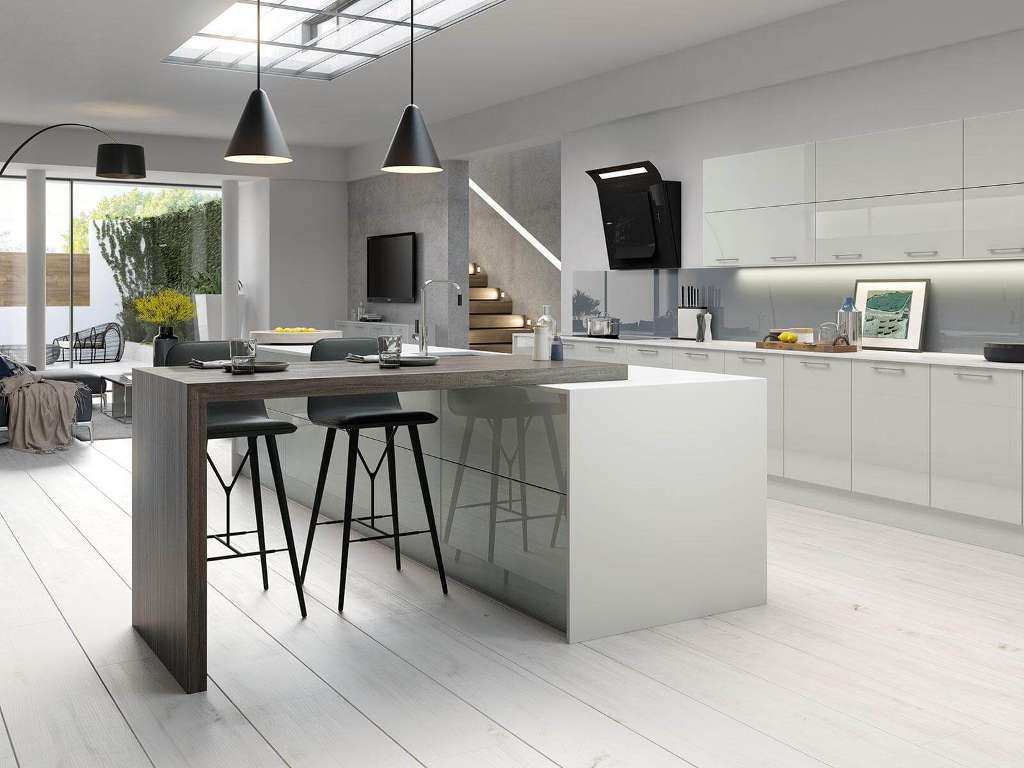 Modern
A Modern kitchen stand as a testament to avant-garde design and innovation. A marriage of contemporary aesthetics and the latest in kitchen technology, these spaces are a melange of style and functionality.
Adorned with clean lines, bold colours, and an affinity for open layouts, modern kitchens are crafted for those who thrive in the present.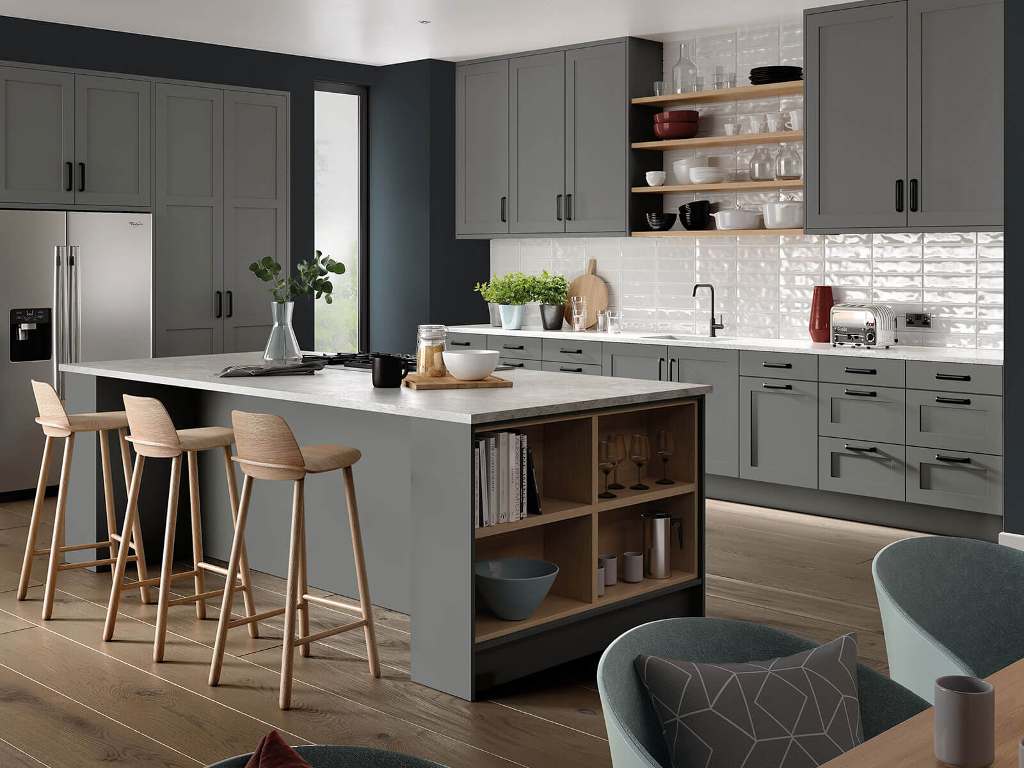 Shaker
Rooted in the ethos of the Shaker movement, a shaker kitchen harmoniously blend form with function.
Renowned for their unique panelled doors and enduring allure, these kitchens tip their hat to tradition whilst embracing the conveniences of modern design paradigms. It's a style that lauds simplicity intertwined with impeccable craftsmanship.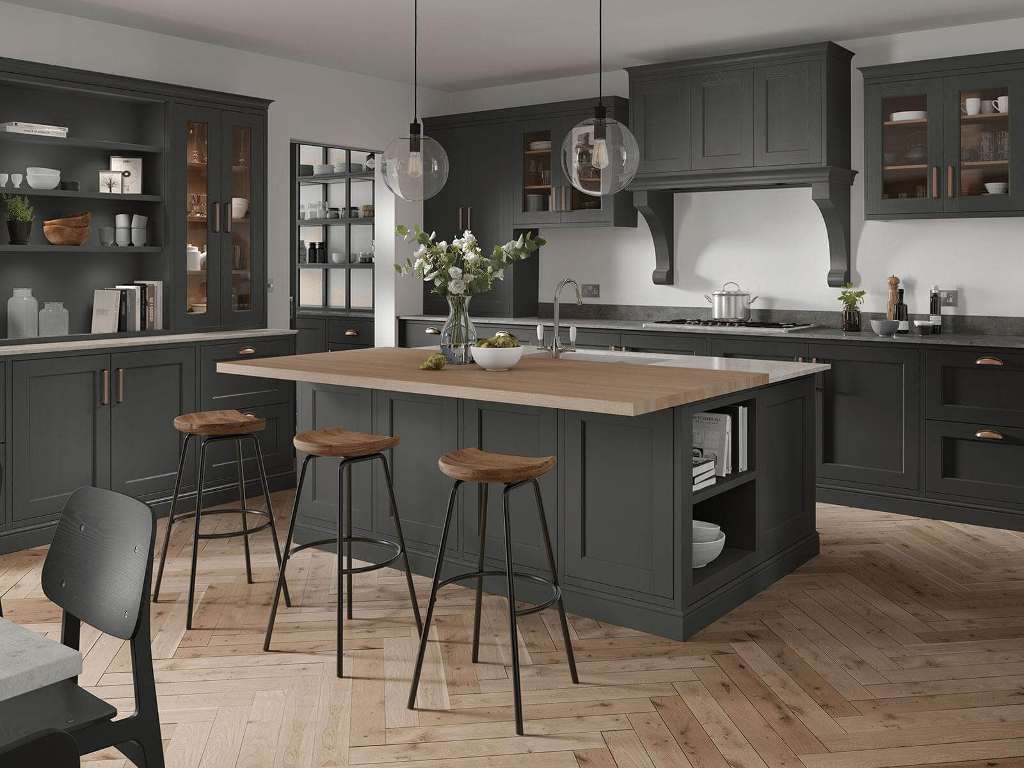 Traditional
Drenched in historical allure and charm, the Traditional kitchen serves as a tribute to the revered designs of yesteryears. Embellished with intricate detailing, classic colour palettes, and ornate accents, they transport you to a reminiscent era.
They're the quintessence of warmth and character, perfect for those who value a classic kitchen design with a myriad of paint ideas, ensuring the kitchen remains the home's heart.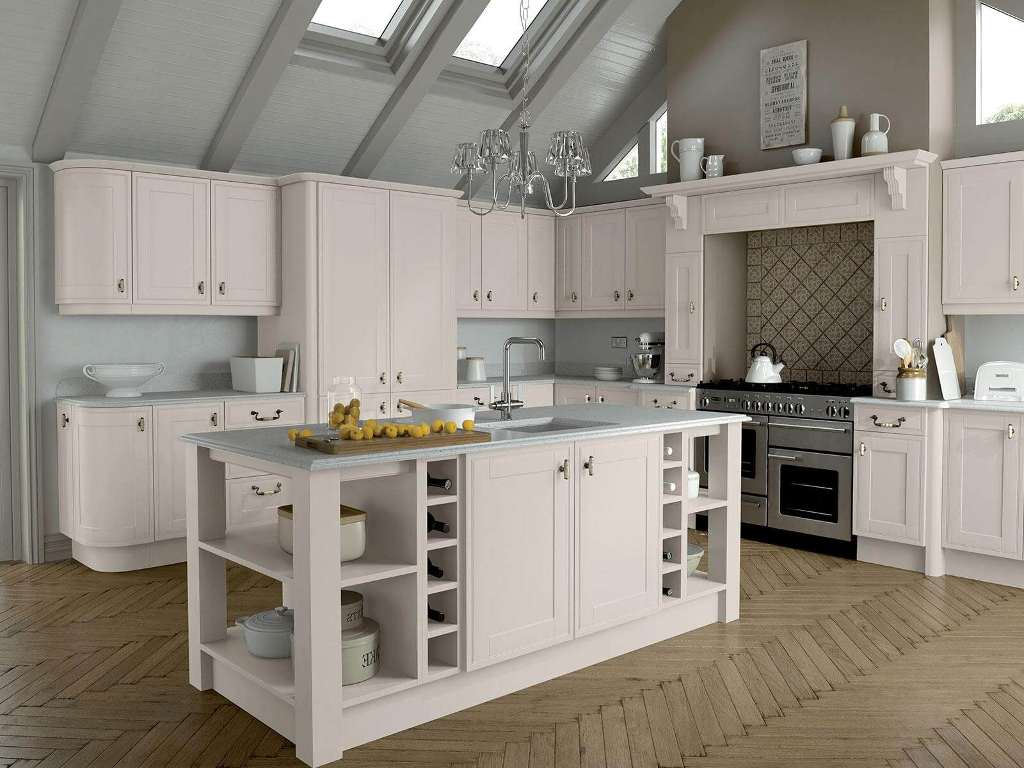 In-Frame Effect
An In-Frame Effect kitchen will artfully meld the aesthetics of traditional in-frame designs with contemporary kitchen construction finesse.
Emulating the visual charm of doors nestled within a wooden frame, this kitchen style proffers the classic appeal of in-frame kitchens coupled with the merits of modern-day craftsmanship.

See & Feel The Difference...
Greater Choice

Access to over 250 diverse kitchen styles and colours, catering to every unique taste and preference.

Smooth Operation

Enjoy the silence and convenience of Soft Close Doors, designed for everyday seamless usage.

Enhanced Usability

Experience user-friendly standard Soft Close Drawers, designed for comfort and durability.

Durable Construction

Experience the strength of our 2mm Solid Cabinet Front Edges, designed for long-lasting resilience.

Sturdy Design

Trust in the quality of our 18mm Thick Cabinet Side Panels, crafted for stability and strength.

Improved Integrity

Enjoy the solid build of our 18mm Thick Cabinet Back Panels, ensuring robustness and durability.

Clean Look

Take advantage of the built-in Service Void, a feature designed to neatly tuck away pipes and cables.

Easy Installation
Relish in the convenience of our Supplied & Delivered Rigid kitchens, easing your installation process.
Time-Saving Setup
Save time and effort with our Pre-fitted Door & Drawer Frontals, ensuring a quick and hassle-free setup.

Space Optimisation
Choose from 6 Wall & 4 different Tall Unit Heights, allowing efficient use of your kitchen space.

A Perfect Fit
Discover the vast possibilities with over 1000 kitchen Units Types, offering an unmatched level of customisation.
Quality Craftsmanship
Appreciate the craftsmanship of every Kitchen Unit, hand-built to guarantee exceptional quality.

Unrivalled Benefits of Choosing a Better Kitchens

Experience a world of exceptional design, unrivalled quality, and bespoke functionality with our kitchens. We pride ourselves in offering more than just a product; we offer an experience crafted to perfection. The following are some outstanding benefits you enjoy when you choose us for your kitchen needs.
Explore each one to understand how we blend innovation, style, and practicality to deliver kitchens that are not only visually stunning but also remarkably functional. Let's embark on this culinary journey together!

Top Tips When Deciding

Identify Your Needs: List out your essential needs in a kitchen, such as the amount of storage, work surface area, and appliance integration.
Set a Budget: Determine a budget to narrow down your options and compare kitchens within your price range.
Compare Quality: Look for indicators of quality such as the materials used, finish, and customer reviews.
Check for Pre-Assembly: Understand whether the cabinets come pre-assembled or require assembly, which might affect your decision.
Review Colour and Style Options: Explore the range of door styles and colour options available to ensure they match your taste.
Consider Long-term Value: Look for durable options that will stand the test of time and offer good value for money.
Investigate Online Savings: Check if the brands offer online savings or price-match guarantees to get the best deal.
Seek Professional Advice: Don't hesitate to consult with kitchen design professionals for expert opinions and advice.
Read Brand Comparisons: Utilise comparison charts and read up on how different brands stack up against each other in terms of quality, value, and customer-centric choices.
Visit Showrooms: If possible, visit showrooms to get a feel of the kitchens and assess the quality first-hand.​
Ease of Comparison
Choosing the right kitchen is a significant decision, and comparing options should be straightforward. Our comparison chart lays out key features side by side, simplifying your choice. Whether it's the variety of door styles, colour options, or online savings, see at a glance how different brands measure up. Plus, with our online price-match guarantee, you're assured of getting the best deal. Making an informed decision has never been easier.

Long-term Value
Investing in a kitchen is a long-term decision. Our comparison showcases how different brands fare over time, considering factors like durability, maintenance ease, and timeless design. Uncover which brands offer the best value for your investment in the long run. With our comprehensive way to compare kitchen, we're making a choice that stands the test of time is within reach.

Customer-Centric Choices
A kitchen should cater to your unique needs and tastes. Our comparison elucidates how various brands prioritise customer preferences. Explore the range of customisable kitchen options, customer service quality, and post kitchen purchase support offered by different brands.
Our comparison empowers you to choose a kitchen that not only meets, but exceeds your expectations. Your satisfaction is paramount, and with our detailed comparison, when you want to compare kitchens styles that resonates with your lifestyle is effortlessly achievable.

FAQs: Decoding Kitchen Suppliers Comparisons

Navigating the world of kitchens can be quite a task. There are multiple facets to consider, from price to quality, design, and fitting. Our Frequently Asked Questions section aims to simplify this journey for you. It provides clear, concise, and honest answers to your burning questions.
In the spirit of transparency and trust, we've compiled the most common queries about kitchens to compare. With Better Kitchens, discover a seamless, customer-centric experience that's committed to delivering high-quality, value-driven DIY kitchens to homes across the UK.
Comparison Conclusion
Better Kitchens outperforms the competition in most categories, offering a wide range of features and services that are not commonly found in other brands.
This makes them a top choice for those seeking quality, variety, and customisation in their kitchen design.

Please note that this information is subject to change and it's always best to check with the individual suppliers for the most up-to-date information.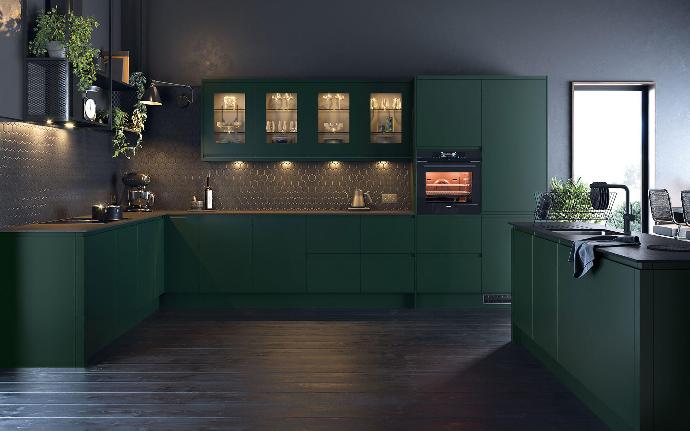 Take the Next Steps

You've explored our FAQs, learnt about the outstanding quality and value that Better Kitchens provides, and seen why we stand out in the realm of kitchen supply in the UK. It's time to take the next step. Explore our range of bespoke, competitively priced kitchen designs today. We are here to guide you through every step, from selection to after-sales support.
Our commitment is to a trustworthy, customer-centric experience that leads you to your dream kitchen. Don't just take our word for it, dive in and start your journey with Better Kitchens now.
Let's create the heart of your home together! Start Your Journey Here.